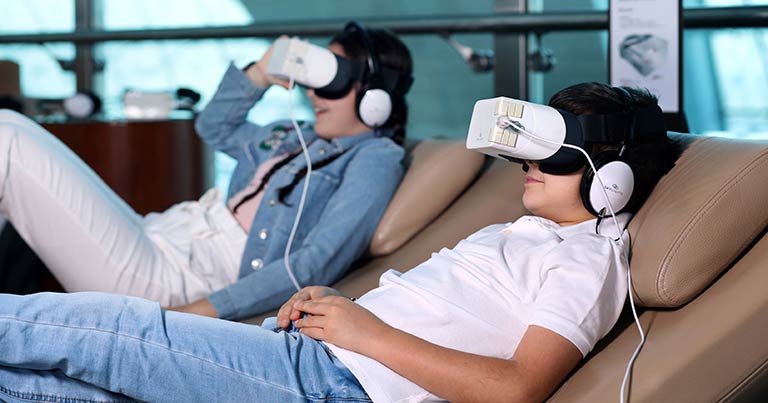 A handful of airlines have already trialled virtual reality (VR) headsets onboard aircraft to explore their viability as inflight entertainment (IFE) devices but what impact could the technology have on the passenger experience in the airport environment?
Some airlines – such as Lufthansa – have already dabbled with VR in the airport but three new announcements in the space of a few days suggest that immersive entertainment could have a future in airport lounges. Etihad Airways and Emirates have both teamed up with SkyLights and are trialling the Bravo Evo headset, while travellers visiting Aviapartner's AP Passenger Lounge at Rome's Fiumicino Airport can now use Inflight VR's own solution.
Etihad Airways
Etihad Airways is trialling SkyLights' virtual reality (VR) entertainment technology at its flagship First Class Lounge and Spa and Business Class Premium Lounge at Abu Dhabi International Airport's Terminal 3. The aim of the month-long trial is to gather customer feedback to determine the airline's future lounge entertainment offering at Abu Dhabi's Midfield Terminal. The SkyLights headsets deliver an immersive, high-definition, cinematic experience in 2D and 3D, and feature noise cancelling headphones.
Linda Celestino, Etihad Airways' Vice President Guest Experience and Delivery, said: "As with the Etihad inflight experience, we are constantly investigating ways to enhance our service and hospitality offering on the ground through innovative technology and customisation. By conducting trials such as this, we already understand that modern travellers expect more information and seek increasingly connected and immersive experiences which engage and entertain them on every level. Gone are the days when a premium lounge experience just meant comfortable design, luxurious amenities and fine dining."

She added: "The development of this type of technology could also allow us to provide more personalisation and end-to-end entertainment solutions across all customer demographics, reinforcing our strategy of providing greater choice at every stage of the customer journey."
Throughout the trial, Etihad staff will assist guests who are interested in using the headsets at dedicated areas within both lounges. Each session will end with a short manual questionnaire.
Emirates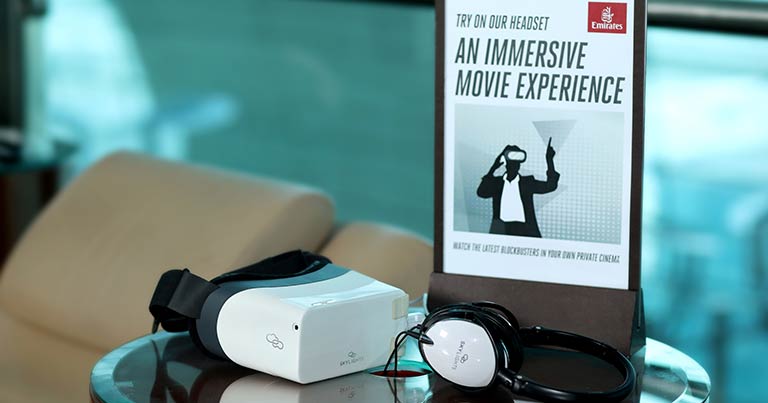 Fellow Middle East-based carrier Emirates is trialling SkyLights' theatre headsets in two lounges at Dubai International. The headsets are being trialled in the Business Class lounge during April and in the First Class lounge in Concourse B in May.
A mix of content will be available to passengers, including 3D and 2D movies, box sets, documentaries and 360-degree videos. Movies include Alien: Covenant, Batman vs Superman: Dawn of Justice, and Boss Baby, as well as episodes of TV shows like Cosmos and Planet Earth.
Aviapartner at Fiumicino Airport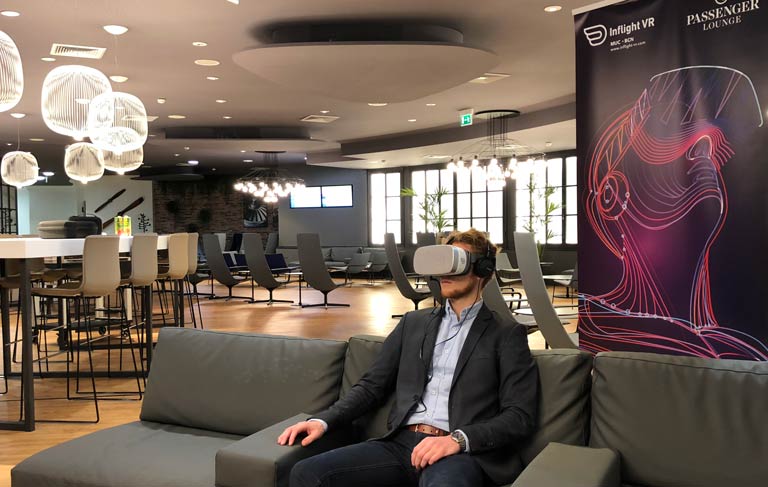 In Europe, passengers visiting Aviapartner's AP Passenger Lounge at Rome's Fiumicino Airport can also enjoy a fully immersive VR entertainment experience, thanks to a partnership with Inflight VR, which is a member of the FTE Startup Hub.
Even though Inflight VR's main focus is on virtual reality inflight entertainment solutions for airlines, this project highlights the potential in airport lounges as well. Travellers will be able to immerse themselves in a 3D cinema or theatre, a virtual shopping mall, or even experience diving in the ocean through VR technology.
"We have partnered with Aviapartner because they wanted to give their passengers something truly special, an entertainment that offers more than just movies", said Inflight VR Head of Business Development Raphael Baumann. "Our shared mission of delivering passengers the best possible entertainment experience not just in air but also at airports is the foundation of our partnership."
Inflight VR's virtual reality lounge entertainment will be accessible to all lounge visitors for at least the next six months. "We are very excited to start this partnership with Inflight VR as their product and vision fits perfectly with our innovative offering," explained Italo Russo Silva, General Manager of Aviapartner Group Lounges. "We are convinced that this partnership will result in a great value add for our customers."
As the saying goes, the proof of the pudding is in the eating so the success of these trials hinges on the response of the users. If feedback is positive, virtual reality headsets could become a familiar feature in airport lounges around the world.