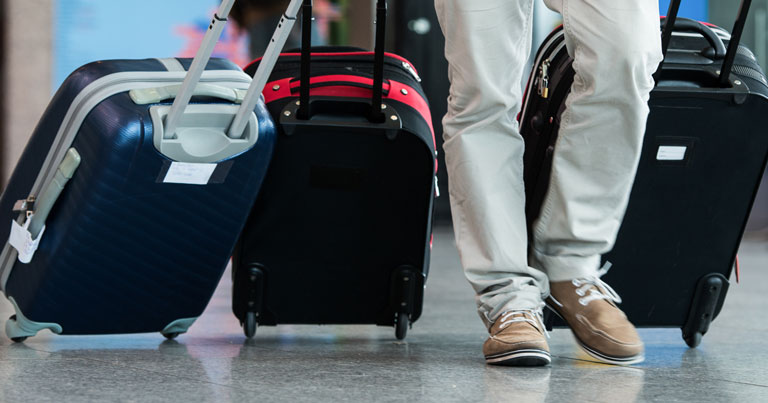 Passengers flying from Amsterdam Airport Schiphol are able to have their luggage collected from their home or hotel and checked-in at the airport. From this week, the existing self-service bag drop technology, provided by Scarabee Aviation Group, is being used for this service.
Schiphol first trialled the baggage collection service, operated by PostNL, in March 2017, which allowed for a PostNL employee to collect passengers' luggage and deliver it to the airport.
A PostNL employee collects the luggage and scans the boarding pass at the doorstep. The information is verified via the Schiphol systems with the relevant airline, which means that the baggage is checked in immediately. At the airport, the suitcase is loaded onto the aircraft through the regular process and can then be collected by the passenger at the baggage claim at the destination airport. This allows the passenger to travel to Schiphol without any hold baggage and to proceed to security upon arrival at the airport.
Henk-Jan Gerzee, Chief Digital Officer, Royal Schiphol Group, comments: "Schiphol continuously innovates to make the travel process as pleasant as possible. With smart digital solutions, we optimise the passenger flow and further improve the passenger experience."
Michael Tan, CEO of Scarabee Aviation Group, added: "The step from self-service bag drop to online bag drop is an important innovation in the travel process. The cooperation between Schiphol Airport, PostNL and Scarabee results in more choice for the passenger with a carefree journey in prospect. The passenger can get on board knowing that his or her suitcase is in good hands"
Liesbeth Kaashoek, Director of Parcels and Logistics at PostNL, also explained: "By working together to professionalise the baggage service, Schiphol, Scarabee and PostNL ensure that the process is even smoother. In addition, we relieve the burden from travellers and offer them convenience. We see, for example, that 40% of the users of the baggage service are switching to public transportation. Travelling to the airport without suitcases should be a natural choice."
The PostNL baggage service has two variants. For the check-in service, luggage is collected from the doorstep, sealed and checked in by PostNL for the passenger. This check-in service is currently only available for passengers travelling with Corendon but it is expected to be extended to other airlines. In addition, there is a standard service whereby luggage is collected from the doorstep and delivered to the airport. The traveller can then pick up their suitcases at the airport and check them in themselves.