Biometric-enabled passenger processing is becoming a more common sight at major airports across the United States, largely driven by the ongoing rollout of the U.S. Customs and Border Protection's (CBP) biometric entry/exit programme. Ahead of Future Travel Experience Global 2018 (10-12 September, Las Vegas), where biometrics will be among the technologies in focus, we take a look at some of the latest biometrics implementations at US airports.
Orlando International Airport commits to 100% biometric exit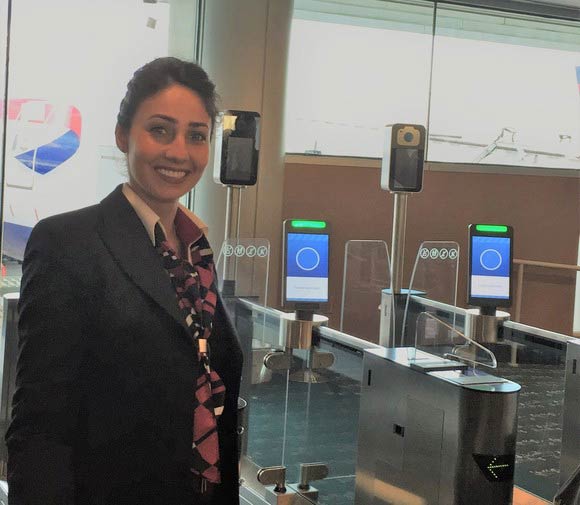 Greater Orlando Aviation Authority (GOAA) has committed to being the first US airport to fully deploy the U.S. CBP biometric entry/exit programme. Orlando International Airport (MCO) is now working with SITA to integrate Smart Path technology at 30 international boarding gates.
Earlier this year, GOAA, SITA, British Airways and CBP partnered to incorporate the US biometric departure check for British Airways' customers. The trial's success has prompted airport-wide implementation of the technology.
The system makes passenger boarding quicker and easier, while it also incorporates the new secure biometric exit checks. British Airways is said to have boarded flights of almost 240 passengers in around 15 minutes. The technology means passengers just need to look at the camera, removing the need to present boarding passes or passports at the gate.
Newsflash: International Airlines Group (IAG), British Airways, IATA and U.S. CBP have just published an exploratory white paper, written by Innovate Identity, entitled "Biometric Boarding using Identity as a Service: The potential impact on liability in the aviation industry". The white paper outlines the paperless biometric boarding trials out of Los Angeles International Airport (LAX) and MCO, challenges the current liabilities that airlines hold when a government-run identity management system is being used to process passengers, and sets out a vision for the future airport experience. You can download the white paper here. British Airways' Design Manager, Raoul Cooper, will discuss this further at FTE Global 2018.
SJC rolling out biometric processing for international passengers
Mineta San Jose International Airport (SJC) is also working with U.S. CBP to use facial recognition technology to process international travellers. The airport has committed to processing all arriving and departing international travellers with facial biometrics. It plans to implement biometrics for all departing travellers at seven gates this year, as part of the biometric exit mandate.
Mayor Sam Liccardo stated: "The use of biometrics technology will help cut down wait times and enhance the overall experience for our international travellers, especially as we continue to see unprecedented growth at SJC."
SJC has experienced a significant increase in the number of international passengers arriving to its International Arrivals facility, growing to 438,800 in 2017 from 199,900 in 2015.
LAX and Lufthansa examine the benefits of biometric processing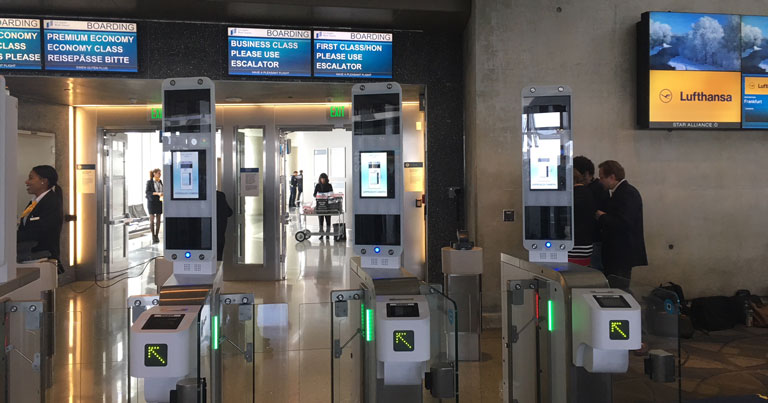 Back in March, Lufthansa Group launched one-step biometric boarding utilising facial recognition at Los Angeles International Airport. The project was enabled through a collaboration with Amadeus, U.S. CBP, Los Angeles World Airports (LAWA) and Vision-Box. According to the airline, during the initial trial Lufthansa boarded approximately 350 passengers onto an A380 in about 20 minutes.
Dr. Björn Becker, Senior Director, Product Management Ground and Digital Services, Lufthansa Group, commented: "The increasing need for airlines, airports and authorities to offer faster and more convenient processes for guests to move through the airport creates a unique opportunity for the use of biometrics."
Following a successful trial, Lufthansa intends to expand the use of biometric processing. "We anticipate that in near term, biometric boarding, as well as other aspects of the air travel experience, will be widely utilised across the US and beyond," added Becker, who will deliver a joint presentation with Justin Erbacci, Chief Innovation & Technology Officer, Los Angeles World Airports, at FTE Global 2018 in Las Vegas.
Miami International Airport opens new inspection facility with facial recognition technology
Miami International Airport (MIA) and U.S CBP celebrated the opening of the newly renovated Concourse E federal inspection facility for international arrivals in March 2018. The facility makes use of facial recognition technology to secure and expedite the passport inspection process.
A facial recognition pilot programme had been in place since November 2017, and during this pilot the Concourse E facility screened as many as 10 passengers per minute. The new facility also reduces the walking distance for Concourse E and F passengers who previously only had access to the Concourse D passport hall – decongesting one of the country's busiest arrivals facilities.
Miami-Dade County Commissioner Rebeca Sosa, Chairperson of the County's Economic Development and Tourism Committee, said: "Aside from welcoming 96% of all visitors to Miami, our airport also welcomes 70% of international passengers to Florida. With improvements like the new Concourse E passport clearance facility, MIA continues to deliver on its commitment to providing a world-class experience for travellers."
Maurice Jenkins, Miami International Airport's Director Information Systems & Telecommunications, will deliver a joint presentation with U.S. CBP Executive Director, Planning, Program Analysis & Evaluation, OFO, Colleen Manaher at FTE Global 2018. Manaher will also lead a dedicated U.S. CBP briefing during the conference.
Delta explores facial and fingerprint recognition technology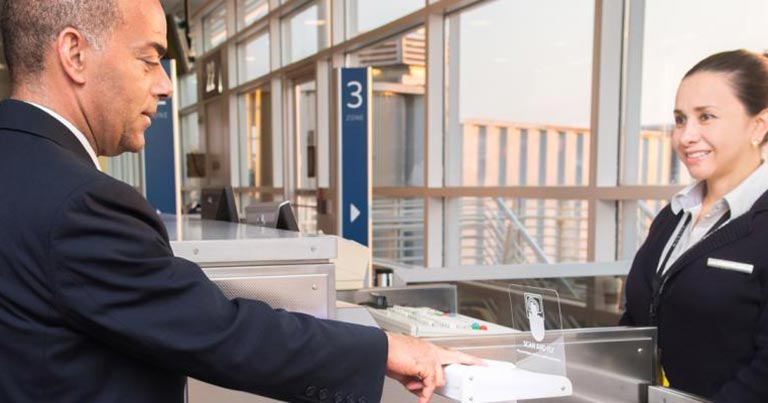 Not all biometrics-related projects make use of facial recognition technology. Although Delta Air Lines has been trialling biometric boarding using facial recognition at some US airports, fingerprint recognition is also being used for other purposes. Delta Sky Club members who have signed up for CLEAR's biometric service can use their fingerprints to enter all 50 US Delta Sky Club lounges. A fingerprint recognition-based boarding process has also been trialled for domestic flights at Reagan Washington National Airport.
The experience is made possible through Delta's biometrics programme – Delta Biometrics powered by CLEAR – which is free for Delta Sky Club members who are US citizens or permanent residents.
"From unlocking our phones to entering the workplace, more and more people have the option to use biometrics as a form of identity verification for daily activities," said Gil West, COO, Delta, who is also among the high-level speakers at FTE Global 2018. "Having that option is quickly becoming an expectation that we are working hard to meet through this programme.
"Delta Biometrics and our work to make this kind of programme available across Delta touch points is part of our ongoing commitment to finding secure, innovative solutions that actually improve the customer experience while giving our employees tools that help them engage more meaningfully with customers. We will continue to gauge employee and customer feedback to refine the offering, and evaluate additional touch points where biometrics can make travel seamless," West added.
The 'On the Ground' conference at Future Travel Experience Global 2018 (10-12 September, Las Vegas) will include a session entitled "Implementing advanced passenger processing with automation and biometrics". Attendees will get to hear from senior figures from the likes of British Airways, Heathrow Airport, Miami International Airport, Lufthansa, Los Angeles World Airports, U.S. CBP and TSA, who will share their experiences and lessons learned from recent biometrics-related projects. U.S. CBP will also lead a dedicated briefing for attendees. Find out more here >>