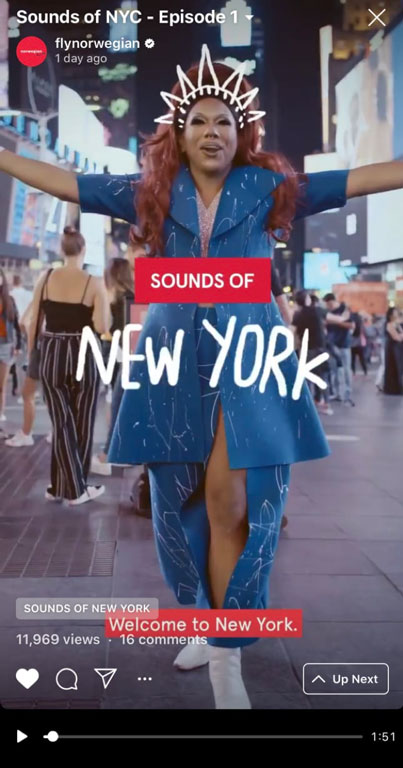 Norwegian Air has launched a first-of-its-kind social media campaign to promote its destinations through the sounds of each city and creatively inspire travel through audio senses.
The new "Sounds of a City" campaign explores iconic noises and voices of locals in major cities within Norwegian's route network. The first city highlighted is New York, featuring iconic characters including a drag queen, a taxi driver, a waitress and the owner of the iconic Katz's Delicatessen.
The series, created in partnership with content creators Ink, will feature five episodes for each city. The airlines has announced that the next city to be featured will be London, with more to follow soon.
The mobile-first concept has been shot vertically, with Facebook's guidance, and includes framing and composition techniques, as well as replicated social media behaviours, including swipe ups.
"We have been working on the concept development for a year," says Norwegian's Senior Vice President of Marketing Kei Grieg Toyomasu. "Since it is an industry-first, it required many workshops, brainstorming sessions, and post-edit discussions to get to the final results, which we have done hand-in-hand with Ink and Facebook CS. Many of these destinations have been advertised over and over for decades, so we wanted to present them in a new perspective. We believe the essence of travelling the world is to meet people, and communities play a crucial role in making the world closer. We want to shine the light on the locals, on authentic characters living in these cities. Through sounds we want our customers to have a full experience of the city not only during their trip, but prior to it, when they are still just only dreaming about it. Through this social media campaign, we are where our customers are: on their mobile, helping them to escape their daily routine and taking them to more exotic places, right from the palm of their hands and ears."
The series is available on Norwegian's Instagram account, @flynorwegian.