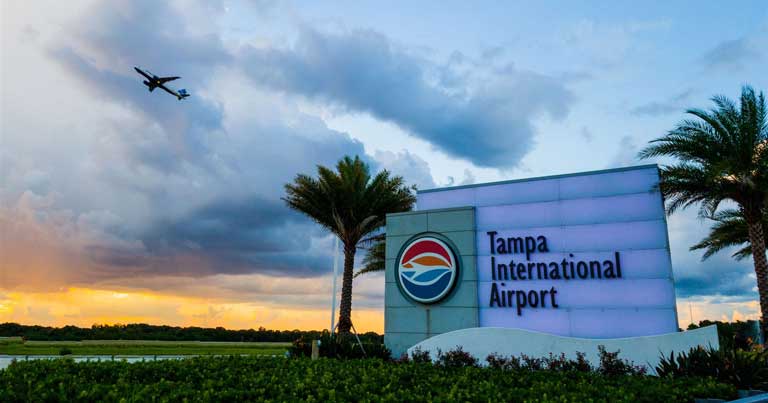 Recently, Future Travel Experience (FTE) published one of its most important industry advancement efforts yet – The Post-COVID-19 Passenger Experience Think Tank – which was created to support the air transport industry through the ongoing crisis. So, when we recently spoke to one of the members of the FTE Innovation Hub, Doug Wycoff, Sr. Manager Client Support & Innovation, Tampa International Airport (TPA), we were keen to find what immediate and long-term strategies the airport is planning in order to adapt and thrive in the post-pandemic world.
As it navigates through one of the most challenging periods in the industry's history, Tampa International Airport is starting to see passenger numbers steadily climb back up. Wycoff shares: "We dropped as low as 1,000 outbound passengers on a couple of days in end March, early April timeframe. The good news is that since last week we have been averaging 10,000+ outbound passengers. We're getting there on a steady basis. We are excited and optimistic."
Now that the airport is seeing sustained growth, there's reason for optimism that TPA is headed in the right direction, and that travel in and out of Tampa Bay may rebound faster than in other parts of the country. According to the airport, from the week of 12 April through the week of 7 June, the total number of passengers travelling in the United States increased by about 356%. In that same period, TPA passenger numbers grew by about 476%.
TPA Ready – social distancing, face masks and the effectiveness of temperature checks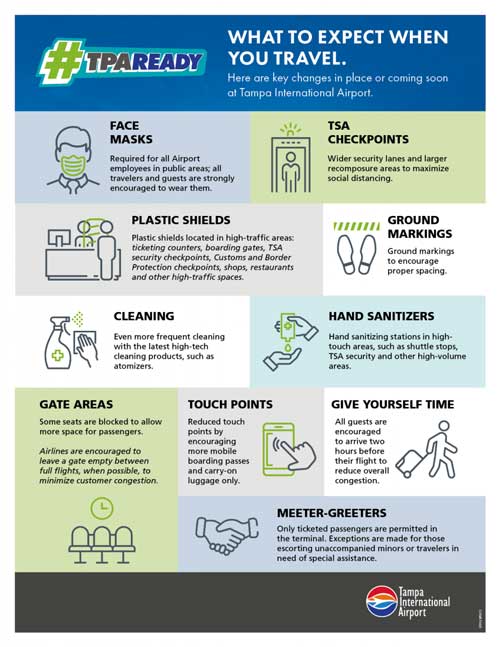 But while passenger numbers are growing, COVID-19 remains a threat. Tampa has launched an all-encompassing, airport-wide effort that mandates best practices for social distancing, mask usage, plastic shield barriers, surface disinfection and touchless transactions, all designed to slow or stop the spread of viruses at the airport terminal.
"We have a very proactive team that came up with TPA Ready. TPA Ready is a note to the world to ensure everyone that we are ready. We have all of the social distancing signs and floor marks in place, we put up acrylic barriers for tickets counters and all airport employees must wear masks."
In the short-term, Wycoff shared that the airport is reviewing temperature checks software, however, it is yet to make a decision on how to enforce this. Indeed, in the US airlines and airports have urged the Transportation Security Administration (TSA) to administer temperature screenings of all passengers at TSA airport security checkpoints, however, Wycoff explains that no decision has been made yet. But as talks of temperature screenings continue, the TSA has expressed concerns over the effectiveness of temperature checks as only a proportion of people with COVID-19 display a raised temperature and many remain asymptomatic, and other illnesses can also cause elevated temperature ­– a point also raised in the FTE Post-COVID-19 Passenger Experience Think Tank. Regulators and airports such as Tampa International would also have to figure out where to have such screenings, ideally at entrances to large public spaces, like departure halls.
Collaboration between the different parties in the travel chain plays an enormous part here. "There's a continuous need for collaboration between airlines, airports and TSA," stresses Wycoff. "For instance, temperature checking might become a new normal with random temperature checks, but everything that is put in place needs to be in collaboration with the airlines. The last thing you want is to delay the passenger experience. It truly has to be between airlines, airports and TSA so that everyone is on the same page to create the same solutions. Airlines want planes to be full, we want passengers to be safe and healthy, and TSA wants to ensure there is no liability. That needs to happen. At the moment everyone is in reaction mode, but once everyone has had the chance to breathe, when there is a vaccine out there, we can start taking steps proactively long-term."
Contactless experience through self-service bag-drop and e-gates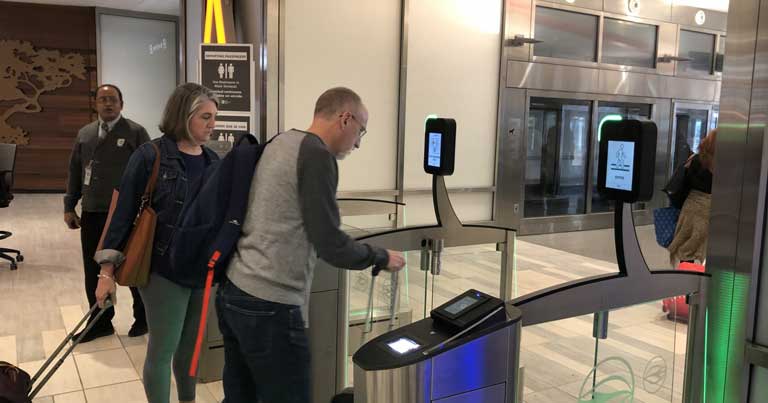 Over the past few months, however, the airport has also used this slow period to get ahead of numerous projects that will enhance the customer experience and plan for the longer-term. Tampa Airport is recognising that processes and procedures will need to change to support the new norms of minimising contact between passenger and staff and is therefore placing an emphasised importance on self-service solutions to ensure a contactless journey.
In February, before the coronavirus outbreak, TPA implemented new e-gates at the entrance to the Airside A shuttle lobby with the intention to deploy the e-gates at the remaining three shuttle entrances later in the year. "Before, passengers needed to show us their boarding pass, but we are now installing e-gates across all four shuttle entrances over the next six months, which will allow passengers to travel free by tapping their phone on the boarding pass reader which then validates their journey," explains Wycoff.
Another area of focus the airport is researching is the integration of self-bag-drop for checked luggage. This type of technology is already widely used in Asia, Europe and Canada, but in the US, it has only been adopted by a handful of airports. "LaGuardia is one of a few other airports in the US that has a self-service bag drop and we'll hopefully be right behind them to be able to test and have a proof-of-concept on that. That's a big step in North America because we always have a touch it, feel it approach, but we are now moving forward."
He continues: "Tampa International takes great pride in being a leader and innovator of creative solutions and we will continue to look after our passengers and the passenger experience. We will continue to promote whatever is required within the confines of the situation in the world. Social distancing will be a key factor in the world even after the pandemic. Our big thing is to allow passengers to feel comfortable and we want to be able to appeal to as many people as possible for that experience."