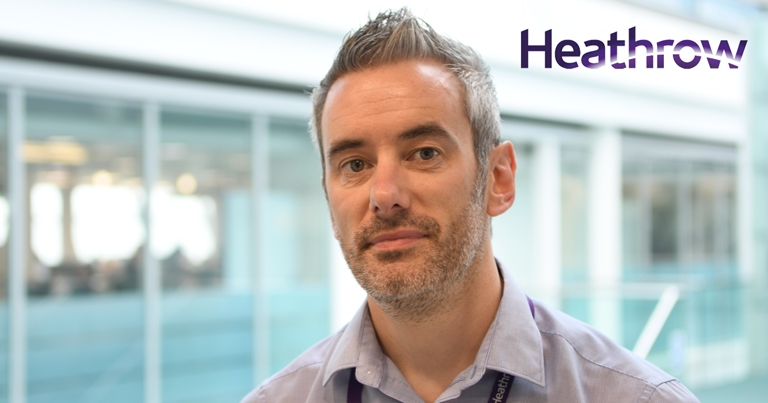 As UK's biggest front door and only hub airport, Heathrow continues to adopt an extensive array of technologies to protect passengers and staff from the COVID-19 outbreak. Despite the uncertainties brought by the pandemic, innovation remains at the heart of the airport's operation and its ticket to recovery. FTE speaks to Ben Wagenaar, Innovation Architect, Heathrow Airport, to find out more about the technologies currently on his agenda in the short and long-term.
As part of the Innovation and Automation team within Heathrow, Wagenaar focuses largely on researching new and emerging technologies to help solve business challenges around the airport. "Airports put safety and security top of their list and everything they do and they're very risk-averse organisations. For me, the bedrock of innovation is the trial. So, the innovation function is about trialling all this new technology and giving evidence that it's going to work," he explains.
Embracing a startup mentality
Heathrow's innovation approach is based upon the 'Fail Fast' philosophy, widely adopted by Silicon Valley startups, that values extensive testing to determine whether an idea has value. This approach can be especially beneficial during such times of uncertainty. Wagenaar explains: "In the past, we have had trials that either didn't work out or our stakeholders would withdrawal their support, so we will just stop the trial. But we will bank our learning and move on."
He adds: "For us, it's a creative leap forward in a process, product or service. On the low end of the scale you have continuous improvement, which is the process of driving Lean Six Sigma and we have people who have been trained in this and they have improved our security flow, for instance, and various other things. At the other end of the scale, you have capital programmes where you bake the innovation in from the start. An example of this is our driverless pods between T5's car park and the terminal, which have been very successful with our customers. So, the general innovation is focused on creatively trying to improve the processes as much as we can, but we need technology to take a creative leap."
For Heathrow's innovation team looking into parallel industries is a big part of the decision-making process when researching new and emerging technologies. "When we have a business challenge, we go through a process of solutionising. We do our research and start to think how we could solve this, and we also look at other industries."
One instance, Wagenaar shared, is a trial the airport undertook back in 2017, exploring ways to ensure there would always be a baggage trolley available when a passenger needed one. "Other airports have solved this by using CCTV cameras, but we thought we could do this even better. So, we looked at the warehousing and the logistics industry and we worked with a partner to test RFID (radio-frequency identification), which has been used in warehouses for 20 years and it worked very well."
UV cleaning, touchless tech and social distancing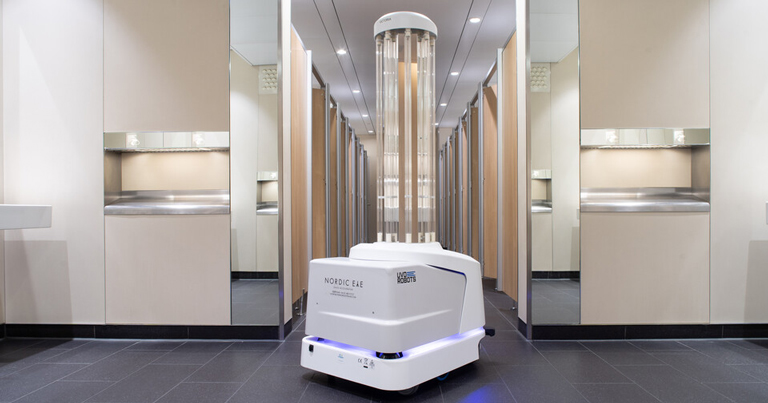 In the past few months the airport has kicked off a number of pioneering technologies, including UV cleaning robots which use ultraviolet rays to quickly and efficiently kill viruses and bacteria at night; UV handrail technology has been fitted to escalators to ensure continuous disinfection of the moving handrails; and self-cleaning anti-viral wraps have been fitted to security trays, lift buttons, trolley and door handles, aiming to provide long-lasting protection from COVID-19.
Wagenaar and his team are also currently reviewing technologies which could remove the need for passengers to touch self-service check in machines, allowing them to control the kiosks from their phones. He explains: "We are trialling solutions around the touchless journey. We think that as passengers return, they will be a lot more conscious about the things they touch and come into contact with. So, one of the things we're looking at is the kiosks. We have done two things on that – we developed a UVC cleaner, which is like an arm that moves across the kiosk and cleans the screen. And another one I have been involved with is a screen mirroring solution. Here, you use your phone to scan a QR code on the kiosk, and that launches a mini website on the passenger's mobile device, so that they can operate the kiosk through their phone. Passengers can complete the whole check-in and bag drop process without touching the screen. We have surveyed passengers and they thought it was a good functional solution."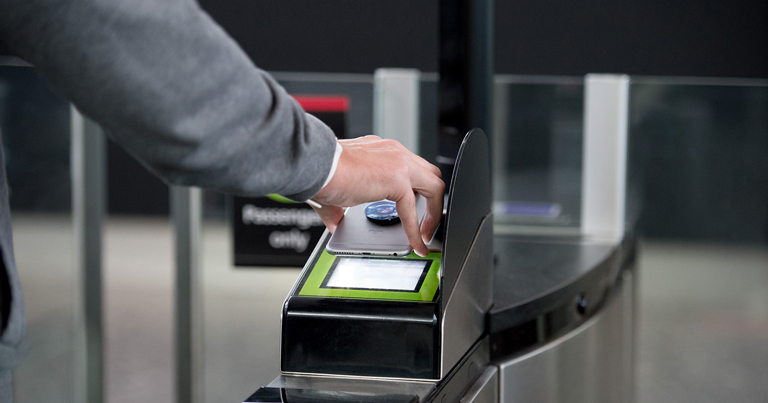 One of the main challenges for airports once passenger traffic bounces back would be to ensure that social distancing measures remain in place. Heathrow, for one, recognises that there are parts of the passenger journey where social distancing may not always be possible, and the airport has put in place a number of measures, such as COVID-19 marshals to help enforce social distancing as well as the use of Perspex screens and mandatory mask use.
Moreover, Wagenaar also highlights that crowd management is a major focus for the innovation team. "We have worked with some of the crowd management solutions, such as Xovis and CrowdVision and we did a pilot with one of them to look at social distancing. More specifically, it was to get a statistic on areas with high density. So, we can use the system to alert us when it thinks we will have big queues so that we can intervene and help people stay apart."
Building back better
Looking at the bigger picture, a true recovery from COVID-19 won't just be about putting things back together the way they previously were, but Wagenaar says that a big part of the industry restart would be around the trend of 'building back better'.
"Longer term I think the focus would be on sustainability, automation and also scaling up. Particularly if you look on social media, there is a great debate now that people want to restart in a build back better kind of way and that is relevant to airports as well."
He continues: "This also ties in with automation and scaling up. During the pandemic, we scaled down to save money, we closed T3 and T4, and in the long term as demand comes back, airports would want to scale up their services and get everything restarted, but they wouldn't want to go back to the old days of high costs. For instance, if you're running a new passenger service, you wouldn't want to keep resourcing it with people, but airports will look more and more into automating these processes. And automation sits with sustainability and scaling up, because it's about saving money. We're quite lucky that Heathrow, for instance, moved to an all-electric vehicle fleet, as it's the right thing to do for the environment, but it actually saves us money."
The topic of automation raises some questions around protecting human resources, while also ensuring that airports can still provide a human touch, but Wagenaar explains that automation in itself has the potential to create new jobs and provides an opportunity to upskill staff and expand their capabilities.
"If you look back through history this has been shown many times, as we develop more technologies to make our life easier, that in itself creates new jobs," he says. "There's lots of examples in robotics where we have automated tasks, we have evidence that it actually created more jobs and replaced some of the manual handling. And secondly, airside areas in airports in particular, such as baggage sites, could be really dangerous places. So, one of the things we discussed a few years ago around our innovation strategy was around safety. And that's where driverless vehicle technology, for example, is great because it takes people out of dangerous situations."
Looking ahead, there's still so much uncertainty about when passenger traffic will bounce back, but from our conversation with Wagenaar it becomes evident that Heathrow's innovation team is well equipped to help solve the upcoming challenges by trialling solutions that have the potential to open up the aviation sector in a quick, safe and sustainable manner.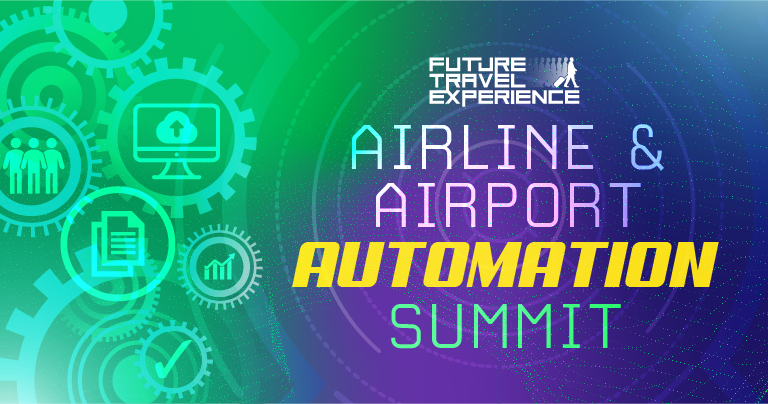 Automation will be a leading topic during the upcoming FTE shows this year. At Virtual Expo 2021 (25-26 May), we will be hosting a session on "Automation, robotics & employee augmentation in air transport", while FTE Global (8-10 September, Las Vegas) will feature a dedicated Airline & Airport Automation Summit. Sign up for the FTE newsletter for more details.