Despite the COVID-19 pandemic, Royal Schiphol Group continues its investment in innovation, technology and new solutions to create smart, future-proof ground handling processes. Ahead of her presentation at the upcoming FTE APEX Virtual Expo, taking place on 25-26 May, Rosina Kotey, Innovation Lead, Royal Schiphol Group, spoke to FTE about the airport group's new vision to operate fully autonomous and sustainable airports by 2050.
"An innovation mindset is crucial"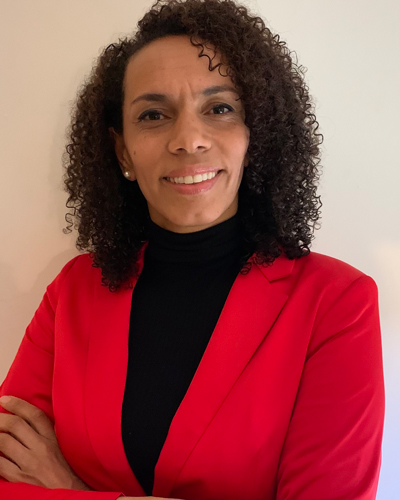 Royal Schiphol Group's innovation approach is based upon McKinsey's Three Horizons Model, which the airport group calls "earth, moon and mars" innovations. Kotey describes the 'earth' model as the incremental innovation which addresses day-to-day challenges; 'moon' defines transformational innovation and more fundamental changes to the workings of existing value chains; while 'mars' as a more disruptive innovation, which sees the introduction of new value chains and operating models. "Schiphol's innovation department orchestrates all innovation for the entire group and focuses on exploring moon and mars innovations, whereas earth innovations are driven by the rest of the organisation of Royal Schiphol Group," she explains.
"An innovation mindset is crucial, which is not only having the ability to have novel ideas but being completely comfortable with dealing with not knowing the outcome at the start, seeing failure as an imperative part of growth and progress. Not being afraid to say I don't know the answer… yet! But always being eager to investigate, research, experiment in order to find out what the answer is. We call it having a "Rockstar" mentality!"
A fully autonomous airport by 2050
Deriving from the 'moon' and 'mars' innovation philosophies, Royal Schiphol Group has laid out a future-looking vision to create a fully autonomous airport by 2050. In line with these ambitions, in February the airport group launched its new 'Autonomous Airside Operations' programme, which will see all airside vehicles be replaced by an interconnected fleet of autonomous, emission-free vehicles and all associated processes will be automated.
Kotey explains: "We identified several building blocks and themes and initiatives that we need to focus on to achieve our ambition. We are now building the roadmap towards a fully autonomous airside operation in 2050. A main part of how we build towards the future is by researching and experimenting. We take a stage gated approach in order to de-risk and validate the assumptions we have."
Creating such a vision for the future and successfully implementing it is, of course, a massive undertaking for any organisation. Kotey tells FTE that her team has approached the challenge by breaking it down into three key tracks – hardware, intelligence, and transformation.
The hardware track, she explains, focuses on technology such as robotics, drones and autonomous assets and vehicles, in order to build a more sustainable and zero emission ground operation. An autonomous operation needs data and intelligence at the base of its operation, so the intelligence track utilises elements such as real-time data insights, adaptive routing, integral planning and forecasting and supporting infrastructure. "This intelligent structure consists of multiple layers that interact and build on each other. Prioritisation, planning and executing tasks according to the most important KPI's, looking for the most optimised way to operate at all times depending on the situation at hand. All the Intelligence themes and initiatives have a focus on data, artificial intelligence and machine learning."
However, to make the transition from the current state of operations towards a fully autonomous airside operations, Kotey says, there is still a lot that needs to be defined. "Many new processes need to be developed in a step change approach, while working towards a completely new operational reality. While the ambition for an autonomous airside is clear, many organisational aspects remain uncertain. We need to develop an integration strategy and an agile implementation plan that takes things such as the human factor in relation to autonomous technology, the required change in the internal and external stakeholder landscape, but also liability and legislation into account."
Trials of autonomous vehicles and sustainable taxiing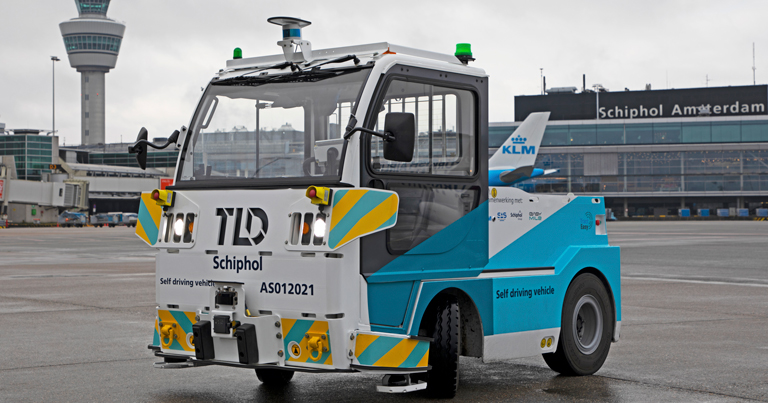 Since the inception of the 'Autonomous Airside Operations' programme, Royal Schiphol Group's ambitious vision has started to materialise in a series of trials and feasibility studies.
A more notable example is a recent project launched in partnership with KLM Royal Dutch Airlines' ground handling department, which observed how an autonomous baggage tractor can take baggage to the aircraft on the apron at Amsterdam Airport Schiphol. The aim of the trial was to discover whether the technology is safe and efficient and how self-driving vehicles can be integrated with other traffic at the airport. Sharing some of the findings of the pilot, Kotey says: "In the entire month of February, we did over 200 missions under many different circumstances. We had snowfall, rain, heavy wind, and clear sunny days in which we operated. This gave us the opportunity to experience the behaviour of the "TractEasy" in these different weather circumstances. We are working on a report on the findings of the trial, but a key finding that we can already share is that although we feel the technology needs some maturing, we still see opportunities to start with implementation of autonomous vehicles on a very small scale in low traffic areas. We will continue to investigate use cases that might be suited for such implementation." Indeed, Rotterdam The Hague and Eindhoven airports are also expected to start testing autonomous baggage tractors this spring.
In another recent trial, Royal Schiphol Group explored the feasibility of sustainable taxiing. During the trial, aircrafts were brought to the runway by a special tow vehicle, also known as the "taxibot". The vehicle is powered by a hybrid combination of electric and diesel engines and taxiing with the use of the "taxibot"consumes at least 50% less fuel aircraft engines would normally use while taxiing. The trial was conducted in partnership with a large ecosystem of partners, including Schiphol Airport, Air Traffic Control the Netherlands, the Dutch Ministry of Infrastructure and the Environment, Corendon Dutch Airlines, KLM, Transavia, easyJet, and the airline handlers dnata and KLM Ground Services.
Indeed, Kotey points out that close cooperation with all airport partners is instrumental in helping Royal Schiphol Group achieve its vision. "Working together with several different airlines and ground handlers together with the Dutch Air Traffic Control is a fantastic opportunity to have all viewpoints and expertise at the same table. I think the saying "If you want to go fast go alone, if you want to go far go together" says it all. To make a system change possible it is imperative to work together. We are incredibly pleased to have the involvement of our sector partners and invite others to join as well. We "the sector partners" have recently started working on the roadmap for sustainable taxiing as standard procedure at Schiphol Airport towards 2030."
Emission-free airports by 2030
Creating a more sustainable future is at the epicentre of the company's overall vision. "We want our airports to be the most sustainable in the world," says Kotey. "That is why we have drawn up a route plan. It contains a number of concrete steps that will make our airports emission-free by 2030, for example with electric vehicles, sustainable energy and use energy efficiently, and sustainable taxiing."
While the outlook for the coming years remains uncertain, it is clear that Royal Schiphol Group is on the right track to achieving its ambitious vision to build back better in a more sustainable way and lead the industry by example.