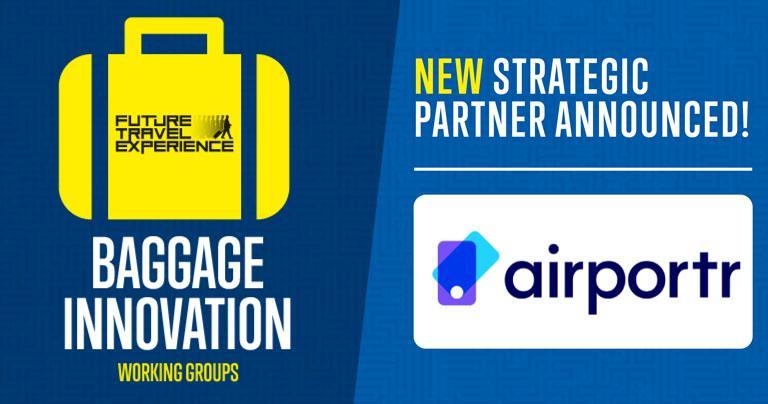 Future Travel Experience (FTE) is excited to announce that AirPortr has signed up as a Strategic Partner of the new FTE Baggage Innovation Working Groups. We've launched these industry-wide Working Groups to help drive transformation in baggage and we're delighted to have the support of AirPortr – a truly innovative player in the baggage space.
AirPortr's digital platform connects airlines, airports, delivery partners and people, to orchestrate baggage free journeys, making air travel more efficient, seamless and sustainable. Baggage is collected, checked-in, digitally cleared through customs on arrival and delivered, at an unrivalled speed and cost, transforming the passenger experience, whilst unlocking operational efficiencies and increased intermodal travel. The company has been adopted by some of the world's largest airlines and airports and is scaling its offering globally.
Randel Darby, CEO and Founder, AirPortr, commented: "We're at a critical juncture in the evolution of travel, where digitisation, biometrics, and contactless journeys are coming together to shape the passenger experience of the future. We're very excited to be partnering with FTE to help define the role that baggage plays in that transformation."
The free-to-join Working Groups will build upon ideas forged by senior executives at the likes of Pittsburgh International Airport, Wizz Air, Bangalore International Airport Limited, AirAsia and Virgin Atlantic, and will focus on the following topics:
Advancing off-airport baggage collection, check-in and delivery
Simplifying baggage infrastructure and processes at the airport
Unlocking opportunities presented by modern baggage messaging
Creating new commercial models for new baggage approaches
The first round of Zoom calls for each of the Baggage Innovation Working Groups will take place during the week commencing 13 September 2021. The forward-thinking groups will be led by expert Captains including Darin Juby, Director Baggage Services, Greater Toronto Airports Authority; Jason Odey, Director, Global Baggage Excellence, Air Canada; Idar Sørgjerd, Manager, Baggage Handling Service, Technical Infrastructure & Innovations, Avinor; Kevin Kleist, Head of Emerging Trends, Southwest Airlines; and Andrew Price, Consultant, Pegasus Aviation Advisors and previous Head of Global Baggage Operations, IATA.
Following subsequent calls, the main developments, recommendations and next steps will be presented to the industry during FTE Global+ 2021, taking place at the ARIA Resort in Las Vegas, 7-9 December, and the Working Groups will continue their work into 2022 and beyond.
Learn more and register for the first Working Group calls >>