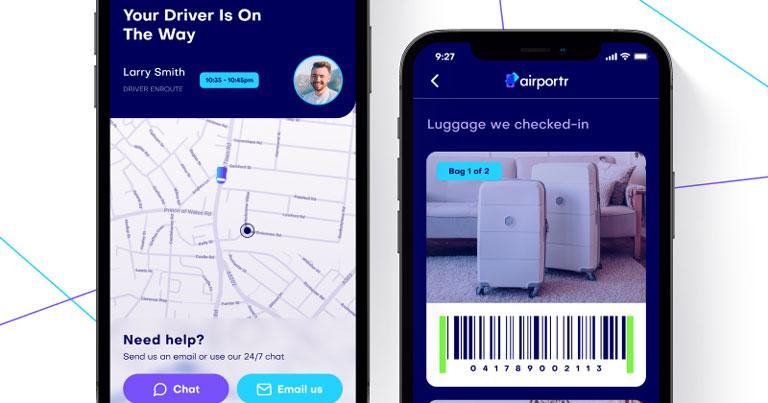 By Randel Darby, CEO and Founder, AirPortr
Being part of the FTE Baggage Innovation Working Group (BIWG) has been a momentous experience. Off-airport baggage collection is a concept I've been championing for years so to see some of the greatest minds from across the industry come together to turn pioneering ideas into reality is incredibly exciting.
Paradigm shift in thinking
The first round of the Working Group's online meetings, which took place in September, laid bare a need to shift the way in which people think about baggage. Baggage has been historically neglected as part of the airport and airline 'underbelly', but this way of thinking has led to creation of unsustainable business models and gaps in the customer experience which can no longer be ignored.
The truth is, baggage still involves a lot of manual process. It is still being rolled in cages at airports or delivered airside using vans and these inefficient processes are incredibly costly. Terminals are built to handle passengers and bags together in one vertically integrated space, but this brings enhanced security requirements. It also means that baggage consumes valuable space and energy in terminals and a significant footprint is built and maintained to handle peak baggage volumes – often costing an airport tens of millions of pounds.
There is, however, huge potential to transform baggage from a cost to a profit centre by productising it in the same way as other parts of the traveller journey have been (for example online check-in). By digitising baggage, airlines and airports can drive operational and cost efficiencies, open new revenue streams, and reduce the impact of loss and damage claims which are estimated to cost the industry billions of dollars each year.
It's clear that baggage is ripe for innovation and those who shift their way of thinking soon will put themselves ahead competitively.
Change is challenging
Looking more closely at how the industry can address the baggage issue, the BIWG discussed the uptake of off-airport baggage collection, check-in and delivery. Although the off-airport baggage market is undoubtedly developing at pace, the industry has become somewhat of a graveyard for failed off-airport baggage proof of concepts (PoCs). Why is that and how can we set about doing things differently?
At the heart of any off-airport proposition there needs to be a customer-focus to drive success, and previous PoCs have arguably failed in this regard. Airlines need to communicate the product offering clearly to influence passenger behaviour, and the customer service levels need to be fast and flexible to meet customer expectations. What we have also learned is that technology, such as real time bag tracking, will be instrumental in making the off-airport vision a reality. Finally, customers need to trust the service. A seamless, consistent digital experience, comprehensive tracking, and brand-authority all help to achieve this.
There are also wider industry hurdles to overcome. The market itself is fragmented and the lack of standardisation hinders widespread progress. There are few players globally, each with different business models and no economies of scale, which makes industry-wide change a challenge. Legacy airport infrastructure needs to be addressed too: baggage still comes through the front door and is handled through the same system that is has been for decades.
Trying to implement off-airport solutions in a fragmented market with legacy infrastructure, heavily influences costs. As long as the price remains in the 'added value luxury' category, industry-wide uptake of this vision to unlock off-airport baggage processing, at scale, will not be achieved.
The future of baggage
Despite the hurdles, a coherent vision for the future of baggage is emerging. Amongst the ideas that the Working Group discussed was the increased use of electric vehicles for baggage pickup and delivery in urban areas. Pair this with the creation of baggage hubs and transportation networks which use autonomous vehicles or rail to link cities and airports, and you can unlock super low-cost and footprint delivery models. This may sound futuristic but it is within our grasp.
Also consider systems where baggage is delivered from cities and other on-airport locations (i.e. car parks, hotels) into Amazon-style fulfilment centres at airports. These centres will have a high degree of automation with workflows for departing and arriving baggage screening and processing. Robotics can pre-build ULDs which are 'called' for flights when loading commences. There is even potential to combine passenger baggage with cargo in ultra-efficient superhubs.
With all the above happening behind the scenes, passengers will travel to the airport without baggage and terminals will become passenger-only spaces with a MaaS focus. More ride-sharing or intermodal journeys into airports and seamless transitions through security.
And there are huge opportunities to break down data silos and use integrated platforms and modern messaging. If passenger and baggage identity data can be tied together, suddenly you unlock concepts such as tagless bag identification and tracking, bag image-sharing and notification of passengers when a bag is mishandled and automated service recovery, removing the need for lost bag reports.
The FTE Working Group sessions reaffirmed that there is an immense amount of disruption in this space to be driven forward. But the question of how transformative the next decade will be for baggage will be determined by the actions of the entire industry. Airports need to get ahead in provisioning infrastructure for these services or risk falling behind. Airlines need to integrate these ideas into their digital and ancillary strategies now. And governments and authorities like IATA need to build standards – from vetting and training to security and data collection – in order to help the product evolve fast.
Following the success of the recent BIWG online meetings, which were led by baggage experts from the likes of Greater Toronto Airports Authority, Air Canada, Southwest Airlines and Avinor and brought together baggage professionals from around the globe, we will be hosting the next free-to-attend BIWG video call on Wednesday 3 November, 15:00-17:00 GMT. In our upcoming call we will be explaining the Baggage Transformation Framework and how it combines the BIWG, the new Airport Labs Network (the set of partners who will help us test the ideas out), and FTE's platform for knowledge sharing to drive the industry forwards. Register today to ensure you don't miss this opportunity to be part of a brighter baggage future.