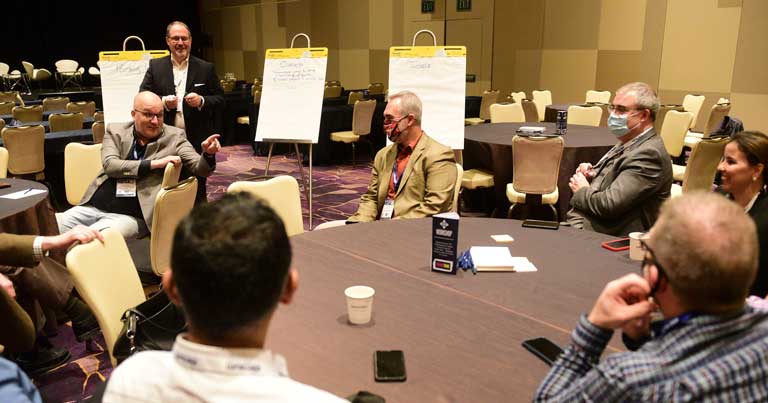 BagsID and NACO (Netherlands Airport Consultants) co-hosted an eye-opening Jump Seat Debate on Sustainable Baggage Handling at the FTE Global 2021 in Las Vegas last December. With baggage operations executives from some of the world's largest airlines and airports in attendance, the workshop brought both new ideas and unexplored challenges to light, allowing the brightest minds in the business to share their unique views and unmet needs.
Here, BagsID shares some of the discussion points and innovative new ideas that came up during the discussion:
Improving passenger experience by creating one process, one system and one integrated app for baggage tracking across all airports and airlines.
Overhauling baggage messaging, internally – moving away from Type B messaging into modern technologies that translate across carriers and countries.
Creating an industry-wide North Star – passengers and bags moving successfully to their final destination, efficiently, cost effectively and happily – which could include more efficient operations: image sharing (inside and outside of the bag), broker arrival data, baggage location on lateral display, and dynamic reclaim allocation, among other ideas.
Hiring challenges and increased starting/hourly rates and the need for automation to reduce manual labor needed and reduce double and triple handling of bags.
Old baggage technology in most airports and buying new systems with the same heavy carbon footprint when there are more sustainable solutions in the long run.
Calculating and sharing costs saved by spending more upfront on more sustainable solutions.
How to continue to lead as innovators and bring the slow-to-adopt and underfunded airlines and airports along with that effort.
How to educate, inspire and reward passengers to pack more efficiently, reduce weight and use lighter bags.
Passing carbon offset information and options to end consumers.
With net zero aviation on the horizon, why is baggage not a larger part of this conversation, or any part of it at all?
Why did the industry invest to get rid of the paper tickets, but not yet bag tags?
Moving to commonality and standardisation that all airports and airlines must support – so the tide rises for everyone and laggards don't hold up progress.
There were even more exciting discussions and insights that came out of this session – the same level of insight and inspiration is expected for the next FTE Baggage Innovation Working Group, which will be taking place on 16 February, 2022. BagsID is once again a Strategic Partner for the initiative, pledging its continued commitment as an integral part of BIWG – designed to help drive transformation in baggage and inspire industry-wide improvements. Not only is BagsID aiming to make the way we travel with baggage more innovative, their baggage intelligence, and data gathering abilities through computer vision technology has put them firmly in the driving seat on their quest to reimagine baggage handling. Moreover, the company recently joined forces with NACO to launch the Green Baggage Alliance, an initiative that aims to bring greater awareness to the impact of baggage on the airline industry's carbon footprint.
To participate in this year's FTE Baggage Innovation Working Group, please contact our team here.
For more information about BagsID and the Green Baggage Alliance visit: BagsID.com and GreenBaggage.org.