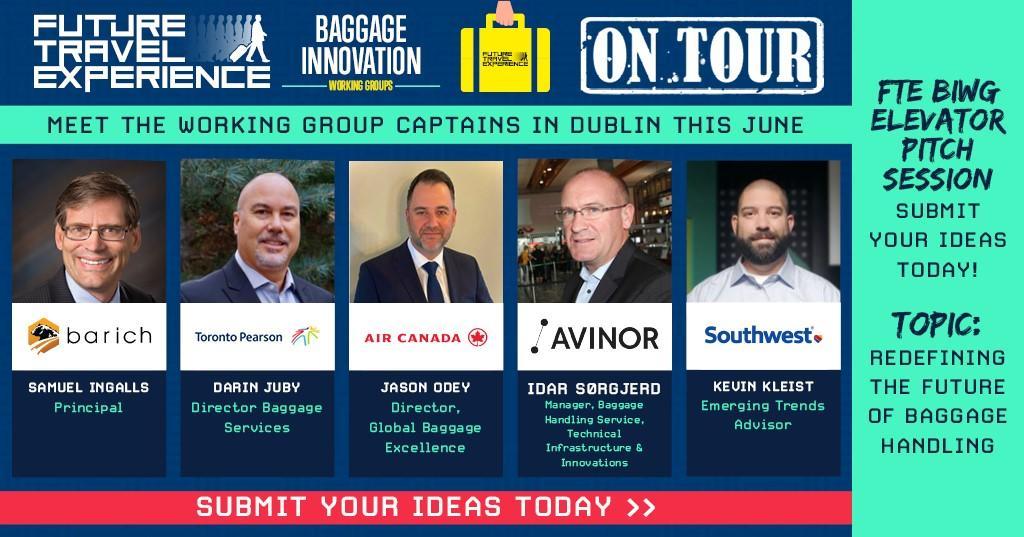 The FTE Baggage Innovation Working Group (BIWG) is now firmly established as the industry-leading forum which aims to define the future of baggage. It brings together the most innovative and progressive baggage supply chain companies, airlines and airports from across the industry to provide a unique community for cooperation and industry advancement. It is the platform for developing new techniques, technologies, and business models to deliver tangible change in the baggage sector. Our members regularly come together to learn from one another and collaborate on game-changing proof of concepts (POCs) to reduce costs, improve passenger experience, and test innovations.
The FTE BIWG is driven forward by some of the sector's most respected and progressive figures including:
Darin Juby, Director Baggage Services, Greater Toronto Airports Authority
Samuel Ingalls, Principal, Barich, Inc.
Jason Odey, Director, Global Baggage Excellence, Air Canada
Idar Sørgjerd, Manager, Baggage Handling Service, Technical Infrastructure & Innovations, Avinor
Kevin Kleist, Emerging Trends Advisor, Southwest Airlines
We now want to share the output from the group with the wider air transport community at FTE events, and use our shows to also seek new inspiration from participants on where we should direct our energy in the future in terms of our POCs, and focus areas. We are doing this at FTE EMEA in Dublin on June 7-9 in the following ways:
1. The BTE BIWG POCs Briefing Session
The FTE BIWG will have its own dedicated booth at the show and between 13.30 and 15.30 on 8 June the FTE BIWG captains and the vendors involved in our latest POC efforts will be available to meet participants who want to learn more about the results from the recent trial of reclaim optimisation at Toronto Pearson Airport. Southwest and Air Canada will also share details of the trial they are driving on leveraging computer vision technology to move baggage between the US and Canada.
2. The FTE BIWG Elevator Pitch Session
To inspire the group's next steps we now invite attendees to our Dublin show to come forward with suggestions on how the future of baggage handling could be reimagined over the next 10 years. Submit your suggestions by next Friday, 20 May and a selection of entrants will be invited to participate in a pitch session on stage at FTE Dublin on 8 June in front of our BIWG captains, and other interested attendees. Crowdsourcing ideas were fundamental to the creation of the BIWG, and we hope it will be pivotal again to shaping out future direction.
Submit your ideas for the FTE BIWG Elevator Pitch Session by Friday, 20 May