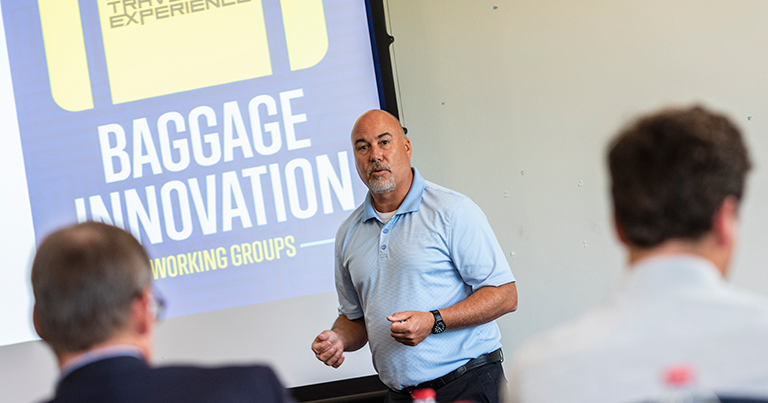 The FTE Baggage Innovation Working Group (BIWG) is the industry forum where the future of baggage handling will be defined. Its fast-growing member list brings together the most innovative and progressive baggage supply chain companies, airlines, and airports, providing a unique platform for cooperation and industry advancement.
"There are not many forums for baggage professionals to share knowledge and collaborate in the flow of baggage in our industry," says Darin Juby, Director Baggage Services, Greater Toronto Airports Authority, and Head of Baggage Transformation, Future Travel Experience. "The BIWG is unique in that it brings together airports, airlines and industry professionals to consider the possibilities of what we could do as a cohesive group – the possibilities are endless! The three facets of industry allow Proof of Concepts (POCs) to happen in the real-time 'Labs' of airports and airlines."
Indeed, the POC around baggage reclaim optimisation recently completed at Toronto Pearson International Airport is an example of this game-changing collaborative approach. Together with Copenhagen Optimization, a partner of the BIWG, the airport identified four key challenges with baggage reclaim that the POC aimed to address: capacity, efficiency, customer experience, and operational savings.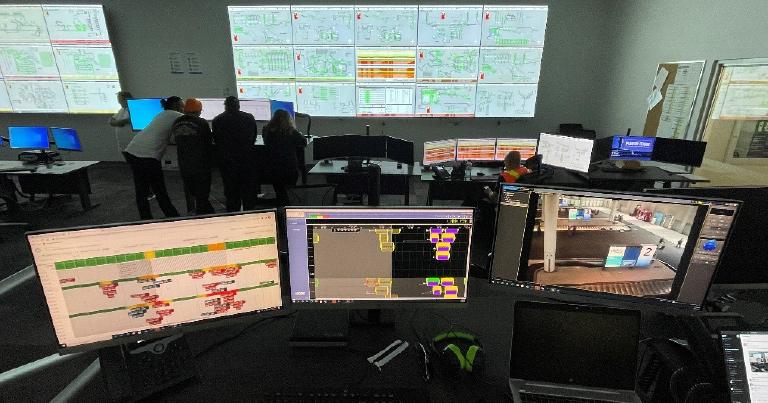 "The purpose of the POC was to optimise the efficiency of inbound baggage claim carousels, which are currently done manually with personal preferences playing a part," Juby explains. "Copenhagen Optimization used our real-time data and ran the system using their modified software to actually allocate a real-time operation to prove out the benefits."
After completing remote pre-work, the Greater Toronto Airports Authority and Copenhagen Optimization teams met over three days at Toronto Pearson to test, modify and calibrate the POC. It was extremely successful in demonstrating that automated and optimised belt allocation can enhance efficiency, capacity and passenger experience, while also giving more flexibility for maintenance times.
"A key finding was that by using actual data on past operations a better plan can be made," says Juby. "Then on the day of arrival, when real-time information is available – the estimated time of arrival, the actual number of bags expected, and the percentage of real-time bags inducted – then a true optimised allocation can be achieved. In addition, we proved out that we could close bag claim carousel assets during the day to reduce maintenance costs and also spread out the load to reduce wear and tear on the carousels."
Importantly, the POC showed that there is less congestion with automatic optimisation and allocation. Belt requirements are evaluated according to the number of bags on each flight.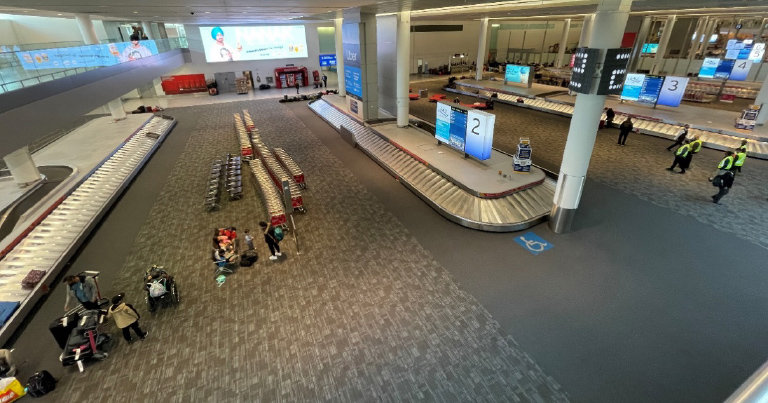 "Planning according to actual baggage numbers on each flight creates transparency and adds additional potential for optimisation," Juby comments. "The baggage numbers are used to fully utilise the belts and avoid any overload due to unforeseen baggage numbers. This is both an advantage in avoiding overload of facilities and overcrowding of passengers."
Following the successful POC, Greater Toronto Airports Authority is working with Copenhagen Optimization on how it could fully integrate this learning, as well as apply it to other aspects of Toronto Pearson's operations.
Current members of the FTE Baggage Innovation Working Group include Amadeus, AirPortr, BagsID Network, BAGTAG, Brock Solutions, SITA, Air Canada, Avinor, Barich Inc, Collins Aerospace, Copenhagen Optimization, Greater Toronto Airports Authority, Southwest, Air France, Air New Zealand, American Airlines, Auckland Airport, Avery Dennison, Cathay Pacific, Cognex, Daifuku, Dublin Airport, Efficient Technologies, eezeetags, Eithad Airways, Fiji Airways, Fraunhofer, Hamad International Airport, Harry Reid International Airport, Iberia, ITA Airways, Materna IPS, Neom, The Owens Group, Ross & Baruzzini, SkyTeam, Studdiford Technical Solutions, Shabstec, Tarom, Travel Sentry and US Transport Security Administration (TSA). Interested in joining the FTE Baggage Innovation Working Group? Visit our website to find out more about membership options ­– airlines can sign up for free >>
FTE BIWG: "Information sharing, interactive discussion and collaboration"
The next FTE Baggage Innovation Working Group meeting takes place on 26 July 2022. "Participants can expect some information sharing coupled with interactive discussion and collaboration from industry leaders with a passion for innovation," Juby explains. "The focus is split between POCs and industry information sharing and discussions, including how we might share additional information on individual bags."
Indeed, upcoming POCs with Avinor and Southwest Airlines will further explore the topic of information sharing. The BIWG has collectively shown interest in working on how to improve the information available on each bag and share it among airlines, airports, and government agencies. "This could include images of bags to be used for processing, tracking and identifying lost bags," says Juby.
He encourages progressive industry players to join the BIWG and participate in the next meeting. "The BIWG has the freedom to consider 'how might we' and we have a unique, passionate group who truly want to make a difference in how bags move with their passengers – we always start with 'yes'."
Interested in joining the FTE Baggage Innovation Working Group? Visit our website to find out more about membership options ­– airlines can sign up for free >>