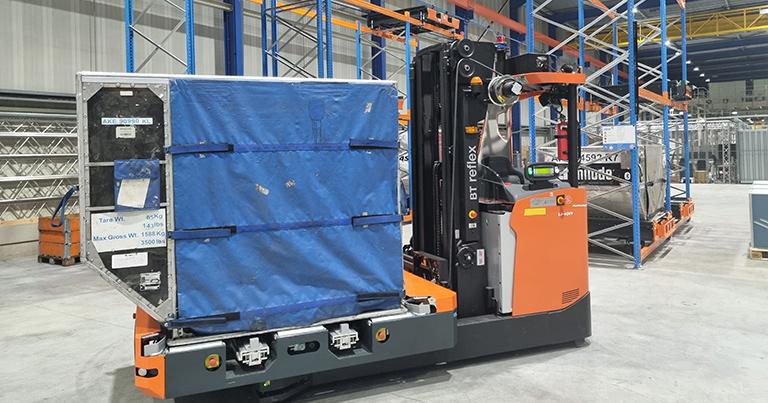 Avinor and Vanderlande – both members of the FTE Baggage Innovation Working Group – have formed an innovation partnership to explore ways of fully automating the last mile of the baggage handling process. Vanderlande will supply two innovative solutions – BAGLOAD for integrated robot loading and FLEET Batch for the transportation of ULDs. These solutions will be trialled at Oslo Airport. The ultimate goal of the partnership is to enhance the efficiency and reliability of baggage handling, benefiting the airport industry as a whole.
Avinor received funding of around NOK 15 million (€1.3 million) after Innovation Norway selected its project proposal. The airport operator chose Vanderlande as its technology partner through a tender process, and the newly-formed partnership runs from August 2023 to November 2024.
"The main objective of our innovation partnership is to increase the efficiency of the baggage handling process while removing repetitive heavy lifting duties currently undertaken by baggage handlers," said Ole Petter Storstad, Director of Technology and Infrastructure, Avinor. "We're excited to work with Vanderlande, whose current level of technology provides us with confidence that a viable solution can be developed and rolled out across the entire industry."
The first phases of the innovation partnership will take place at Vanderlande's testing facilities in Veghel, The Netherlands, and involve further developing and prototyping the technologies. From September 2024, the two products will be subject to a three-month trial at Oslo Airport, where Avinor has built a dedicated project test centre. This facility is connected to the BHS, so assessments will be undertaken in a truly 'live' environment.
"We're delighted to be partnering Avinor in this ambitious project, and I believe their choice is recognition of our strong focus on automating the end-to-end baggage handling process," said Andrew Manship, Executive Vice President Airport and Parcel Solutions and Board Member, Vanderlande. "The collaboration will supercharge our development work, and a successful outcome will benefit the airlines, handling companies and all individuals currently engaged in difficult manual work."
Hear more from Avinor at FTE Global, Los Angeles, 19-21 September 2023. Idar Sørgjerd, Department Manager, BHS, Tech & Op. Excellence, Avinor, is speaking in the Future Airports conference track in a session focused on "Achieving a revolution in baggage by 2030".