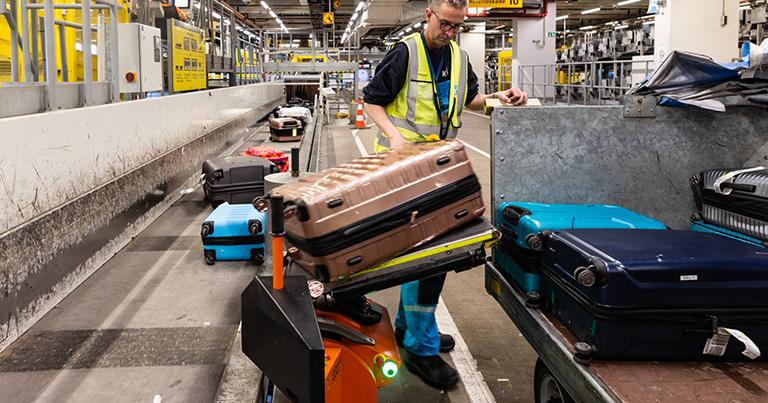 Amsterdam Airport Schiphol, an Airport Lab Network Partner of the FTE Baggage Innovation Working Group, has purchased 30 new lifting aids as it continues to improve working conditions in the baggage hall. This piece of equipment, known as the Transfer Belt from Power Stow, has been specially developed to easily and quickly unload the baggage of transfer passengers, but can also be used for arriving travellers' baggage.
The lifting aid has been extensively tested by baggage handler employees over the past two months. Using the lifting aid significantly lightens their physical workload.
"One of our top priorities is to improve the working conditions of baggage staff," said Ruud Sondag, CEO, Royal Schiphol Group. "We're working hard on that by, for example, fast-tracking the purchase of 19 new baggage robots and these 30 new lifting aids. People must come first at Schiphol. The reactions from baggage hall colleagues made it clear that they're positive about this lifting aid. We therefore decided to order them right away. Together with Power Stow, we're looking for ways to further accelerate the production of the lifting aid and to make adjustments to it as swiftly as possible so that it's even better."
The transfer belts will be installed in various baggage halls. All baggage handlers will be making use of the lifting aid, and all workplaces where transfer baggage is handled will be equipped with a lifting aid.
Hear more from Royal Schiphol Group at FTE Global, Los Angeles, 19-21 September 2023. Lennert l'Amie, CIO, Royal Schiphol Group, will deliver a special presentation in the Future Airports conference track on "How central will technology be to Royal Schiphol Group's Vision 2050 to create the world's most sustainable and high-quality airports?" He will also participate in the Airport Technology Leaders Conversation.