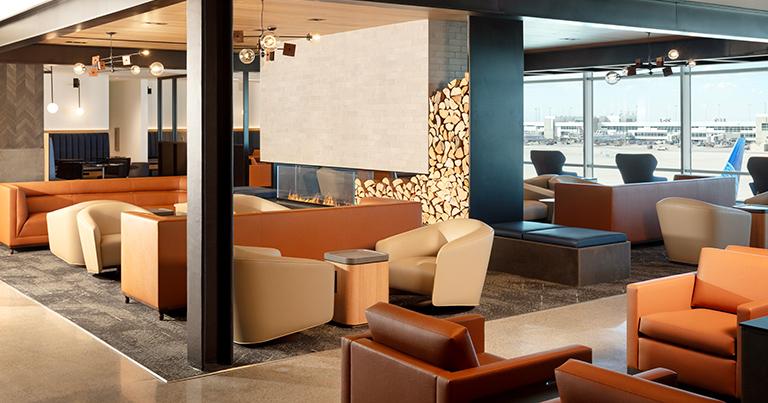 United Airlines has announced the opening of its largest United Club at Denver International Airport. The new 35,000 sq ft club is located in the B Concourse, providing a modern take on the United Club experience with a new feature bar offering beer flight boards to taste a seasonal rotation of premium local and craft beers. This club is the second in a series of new locations to open in Denver this summer, after a new 24,000 sq ft United Club opened in the A Concourse, featuring a ski lodge aesthetic and design touches inspired by the Colorado outdoors.
The airline will open an additional revamped club location in 2025 and once open, Denver International Airport will feature more than 100,000 sq ft of United Club space.
The opening of these new clubs follows United unveiling a new club concept, United Club FlySM, in Denver last year, that is a first-of-its-kind concept for a U.S. airline. Since opening, United Club Fly has been visited by more than 100,000 travellers who have enjoyed the elevated convenience to grab food or beverages on the way to their flight.
"The new United Club locations are designed and operated to reflect feedback from our customers and match the way their travel has evolved in recent years," said Alexander Dorow, United's Head of Clubs & Lounges. "We're growing our hub in the Mile High City, and the expansion and renovation of United Club locations represents our commitment to Colorado and our customers' experience."
This expansion is part of the United's nearly $1 billion investment to further improve the customer experience in Denver.
Hear more from United Airlines at FTE Global, taking place in Los Angeles, 19-21 September 2023. Kristen Berndt, Senior Manager, Baggage Strategy & Innovation, United Airlines, is speaking in the Digital & Innovation conference track in a session focused on "The role of Innovation: How can air transport go to the next level, and learn from other industries". Meanwhile, Devon Heyns, Director – Customer Innovation & Solutions, United Airlines, will deliver a presentation in the Future Airports conference track entitled "How central are biometrics to United's strategies going forward, and what does the airline want to see from the sector next to help it realise its ambitions in this field?"
Register for FTE Global 2023 >>
See the FTE Global 2023 schedule at a glance >>