Some 60% of Air Canada passengers currently check-in using a Common Use Self-Service (CUSS) kiosk, which also offers self-tagging of bags. Seven CUSS kiosks were first deployed at Montréal-Trudeau in 2004 with Air Canada and WestJet – today, there are 47 CUSS kiosks.
In parallel, the airport ran a pilot project with Air Canada and US Airways offering six kiosks in the transborder (Canada-US flights) sector with baggage self-tagging. The pilot, which also involved the Transportation Security Administration (TSA) and Transport Canada, was the first of its kind in the world and resulted in an 86% favourable rating.
Currently, Montréal-Trudeau is the only airport in Canada where passengers are allowed to self-tag their baggage for US and international flights, which include 30 domestic, 23 transborder and 71 international destinations. Eight carriers make use of the CUSS kiosks located at the airport, including American Airlines, Air Canada, Air France, Jazz, KLM, Northwest, Porter and WestJet and Northwest, plus a potential six more by the end of the year.
Rostworowski said: "Today's air traveller wants more control over their journey, especially when it comes to processing at the airports. They want to avoid line-ups and delays. We are providing a wide range of self-service tools that offer many options, allowing passengers to match the technology with their needs."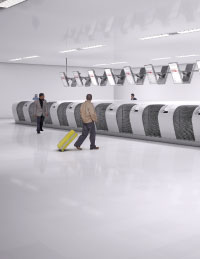 Facilitating full bag drop process
The BagDrop unit is described by Edwin Sneekes, director, BagDrop systems, as the missing link in the self-service check-in process. Fully automated, the unit runs autonomously and facilitates the full bag drop process. "Web and kiosk check-in has increased significantly over the last years, self tagging and common baggage drop off are important parts of the IATA and ACI improvement programmes and are taking off. The logical follow up is the fully integrated BagDrop unit, which complies with the industry standards and improvement programmes and will certainly contribute to a positive passenger travel experience," said Sneekes.
The configuration of BagDrop is flexible and modular and can be set up to be common use or dedicated to a particular airline. BagDrop can interface with any DCS or CUSS platform. The unit also offers specific branding opportunities, for example by adapting the user interface, the overhead flight information display, the unit body colour to match the colour of the airline, or the shape of the unit can even be adapted to match the terminal design.
In May 2007, two BagDrop units were placed in Terminal 3 at Amsterdam Schiphol for a pilot lasting almost a year. "The results of the tests were positive, from an airport, airline and passenger point of view and gave input to further improve the bag drop solution," said Sneekes. "For us as BagDrop systems BV this confirmed what we believed in and we further developed to the new version of the BagDrop unit, from a user perspective, a process and functionality perspective, a technical perspective and from a design perspective."
The self-service bag drop process means the processing time per passenger is reduced – it is claimed by 40% compared with IATA standard handling time.
"The real value of the BagDrop is increased check-in capacity, reduction of operational costs, creation of additional income and improvement of airport and airline image and passenger experience. The increase in check-in capacity means that an airport can postpone terminal expansion and investment," said Sneekes.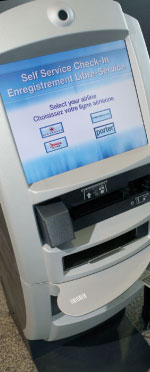 Innovation supports simplified process
In 2007, 25% of all passengers at Montréal-Trudeau obtained their boarding pass from a CUSS kiosk, representing 1.5 million travellers. About 30% of these passengers also used self-tagging in their self-service process, clearly demonstrating the effectiveness of the self-service systems.
Rostworowski said: "With a number of self-service innovations available for use, Montréal-Trudeau International Airport is becoming a leader in simplifying – and speeding up – the airport process for passengers, making life easier for travellers and airlines alike."
In addition, self-tagging services prevent airports having to undergo costly airport expansion or refurbishment. Brock Solutions, an engineering solutions company, worked alongside Montréal on the self-tagging concept. Stokes said: "Montréal needs to cope with increasing growth, yet the airport is landlocked so self-service technologies here are particularly beneficial. This highlights the infrastructural benefits of self-service technologies, as the airports simply make their current space more efficient rather than have to undergo expansion. Plus, retail and F&B opportunities present themselves as it enables desks to be replaced with coffee shops."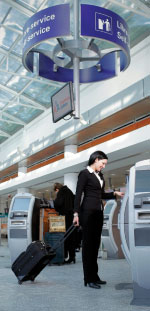 Phased introduction
ADM has been introducing its new self-service tools in a carefully phased programme that involves consultation and coordination with all major stakeholders in the airport community, including air carriers, security and regulatory authorities, IATA and of course, the users. The airport authority also makes extensive use of pilot programmes that test concepts and work out any potential pitfalls before a full-scale implementation is launched.
Rostworowski said: "We are taking the time to ensure we have the right solution and that everyone is on board. This has been so successful that many other airports and air carriers have been visiting us to learn more about our approach and in some cases, to join our pilot programmes. These tools allow us to increase capacity by being more efficient in terms of fluidity and throughput. It's a win-win situation for everyone."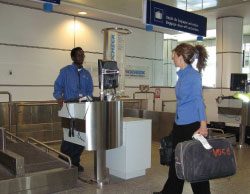 Self-service technologies are becoming increasingly popular. Stokes said: "The industry is now aware of the benefits and it understands that passengers are interested in more self-service capabilities. Web check-in was novel when it was initially suggested and now it has become the norm. We are turning into a self-service generation."
Challenges: 'Seeing is believing'
Introducing new technologies usually requires an educational process that familiarises passengers and the industry with the operational benefits of emerging technological processes, like self-tagging and common bag drop off.
Stokes said: "Two years ago when we spoke to the industry, they said it would never work and there was a lot of negativity. Airlines are very slow to pick up new ideas. Essentially, the new technologies require the airlines to make some degree of change, so to get them involved initially is a matter of persuading them to take a leap of faith. Our attitude is simply seeing is believing."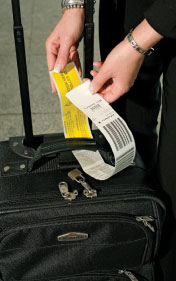 However, Brocks Solutions unique engineering solution requires no host changes. Stokes said: "The fact is that airlines don't have money to spend on host changes and self tagging is not a priority for them, so being able to offer a service which requires no host changes is a significant advantage."
Despite the collaboration hurdles, there has been rising global interest in the technologies, resulting in a number of verbal contracts with major international airports.
"There are more and more discussions with airports and others in the industry, especially in the United States, where self-tagging is very much at an early stage. We think self-tagging will be an important part of improving baggage options," said Stokes.
Common bag drop off: setting standards
Currently staffed by airline representatives, the five common bag drops at Montréal-Trudeau aim to speed up the passenger 'checked bag' process and are designed for self-service passengers (web and kiosk check-in). Quick to use, at less than five seconds per passenger, Rostworowski is keen to not only expand on the airports current five common bag drops, which serve both domestic and international flights, but to enable all airlines to share the drops.
He said: "At the moment, each drop is assigned to an airline. By the end of 2008, we hope to have the strategically located bag drops assigned to the airport, which will facilitate shared use between the airlines. Common bag drops have two key advantages – it increases airport efficiency and enhances the passenger journey. Airports are able to maximise the use of the real estate space, while passengers don't have to try and search for a particular area as they are able to enter the airport and immediately deposit their luggage."
With three more bag drops planned for June, totaling eight by the end of the year, Montréal-Trudeau is aiming to have up to 16 bag drops in 2009.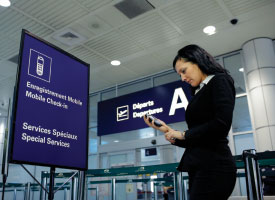 "The real question now for IATA and ACI and all airports and airlines, is what is the standard? How will the common bag drop off process special passenger fares, special luggage tags, excess luggage and so on? At what point should the passenger be redirected to a member of staff? The next step is setting boundaries," said Rostworowski.
Off-site fuelled growth anticipated
Montréal-Trudeau is expecting an annual 3.6% growth between 2008 and 2012, largely powered by technological advancements, which aid passenger flow. "We are anticipating growth with off-airport processes, web applications and mobile devices," said Rostworowski.
There is also an increasing demand at international airports for remote bag drop and off-site bag drop services – at resorts, conference centres, car rental offices and train stations, for example. In response, Aéroports de Montréal is planning to install a remote CUSS kiosk at the Palais de Congrès in downtown Montréal this year, which will enable conference delegates to obtain their boarding pass before going to the airport.
In accordance with IATA rules that state airlines will need to be 2D compliant by 2009, Montréal-Trudeau airport has started to phase in 2D barcodes, a high-capacity system that features black and white dots instead of the traditional bars.
Rostwoworski said: "Aéroports de Montréal has already ensured that all CUSS kiosks at Montréal-Trudeau can read 2D barcodes and is working with air carriers to generate 2D barcodes on all boarding passes. A major advantage of this system is that it can be used to build databases and better track the location of passengers who may be late for a flight."