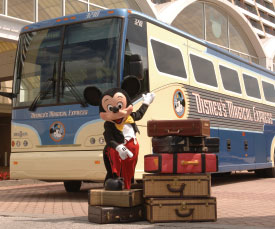 "The central aim of Disney's Magical Express is to ease one part of the vacation, to make the journey easier for passengers, which in turn raises the standard of their vacation and enjoyment with us at Disney. Effectively, the scheme allows the passengers to start their holiday at the airport, which means that families in particular arriving in Orlando can relax the minute they land. It is a phenomenal service which immediately resonated with guests," said Bentubo.
At present, almost half of all Walt Disney's guests – 2.1 million – use the service. As awareness increases, Bentubo expects that to rise 2-4% in 2009, with the rest of 2008 serving as a settling period.
Several weeks prior to departing for Disney World, passengers receive an Airport Transportation Booklet containing special bar coded luggage tags, which must be attached to their luggage before departure.

Upon arrival, a Disney representative directs passengers to the Disney Airport Welcome Center in Terminal B, where they board the complementary buses. The buses departing the airport are not scheduled and "move when we have guests to move," said Bentubo, but the bus from the hotel to the airport adheres to a scheduled timetable to minimise the risk of any passengers missing flights. Passengers' luggage is delivered after they check-in, however, guests do not need to be in their room at the time of the delivery and Bellman gratuities have already been covered.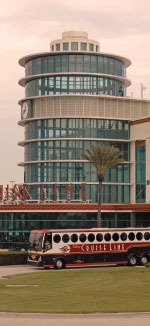 Disney: baggage handlers
"In line with this scheme and our current figures, if we effectively take 20% of the baggage from Orlando airport's hands, and with it the responsibility, then it enables the airport to focus more on the efficiency of the remaining 80%. As of yet, all parties have indicated that they are very pleased with the Magical Express scheme and with passengers clearly enjoying it as well, it would seem that the Express is a better scheme for everyone," said Bentubo.
Remote check-in at 19 locations either in or near the lobby or outside the resort entrance, allow passengers to check their luggage and receive their airline boarding pass at the Resort. However, this is only currently available for passengers flying domestically with a number of airlines, including American, Continental, jetBlue, Delta, Alaska, Northwest, US Airways, and United. Guests flying to international destinations have to check-in at Orlando International Airport, but as Bentubo explained, Walt Disney Express is very keen to extend the airline portfolio internationally.
"We are working on adding international airlines to the scheme so that we can reach a wider scope of passengers, so that as many guests as possible are able to benefit from the scheme and enjoy their time here at Walt Disney," said Bentubo.
Trouble in paradise?
The 2.1 million passengers that Disney handled in 2007 is nearly 9% more traffic than it handled in 2006. At peak travel times, Disney's Magical Express buses to Disney World and its Disney Cruise Line buses to Port Canaveral carried more than 12,000 passengers in a single day. During one month – September 2007 – Disney carried away more than one in every seven travellers who landed at Orlando International Airport.
Transportation companies that largely operate at Orlando International Airport are slightly dissatisfied about the free services popularity and the supposed detrimental affect it is having on their business.
"Whenever you create something that no one has ever tried before, there are going to be challenges. We've worked closely with the airport to create what has become an extremely successful service. Sometimes innovation requires a shift in the existing business environment, but in the long run, programs like Disney's Magical Express create new jobs, reflect positively on our region's reputation and drive additional visitation," said Bentubo.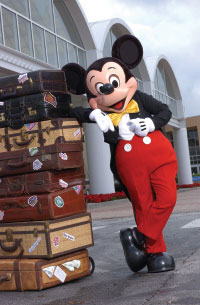 Disney's contract with Orlando International Airport allows the airport to make Disney add a second customer check-in location when the company carries more than 2.2 million passengers in any 12-month period. Considering last year's figures it is likely that Disney would have to divide its theme-park and cruise-line shuttle operations and rent more counter and queuing space at opposite ends of the main terminal. Paying nearly $1.3 million a year to rent counter, office and other operating space at the airport, Disney will need to take the correct operational steps to ensure that the highest level of service is maintained for its guests and the airport's passengers. Despite the controversy, Disney's Magical Express has undeniably eased congestion in airport check-in lines and at baggage-claim carousels, and on a local level, it has provided jobs, and been a healthy enticement for attracting tourists to Orlando.
In addition, Disney is working to reach an agreement with Southwest Airlines as every other major domestic airline already participates in the programme. This would significantly reduce the amount of baggage that has to be screened at the airport, but the plan is surrounded by doubts that the Magical Express would be able to handle the load. Southwest Airlines accounts for more than one fifth of the airport's traffic with a rumoured 80,000 of the 320,000 Southwest passengers opting for the service.
Bentubo said: "As we expand to other airlines we continue to monitor and make adjustments as needed. It is a priority for us to always ensure a seamless experience for all our guests and airline participants regardless of volume."