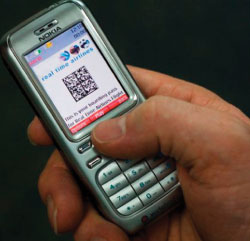 Self-service check-in via an airport kiosk has been one way to speed up passenger flow and travellers are now well acquainted with checking-in using touch screen technology. But as John Vinelli, IT manager, Greater Orlando Aviation Authority, explained, leisure and business travellers today aren't all following the same suit when it comes to managing their own check-in. "Airports are struggling with what the airport process actually means nowadays, especially if you don't check in a bag. I believe that as time goes on a larger number of people will be checking in at home, but the kiosk does have a benefit for people who don't normally check-in. Airlines seem to be pushing away from dedicated check-in and towards self-service," he said.
As mobile technology develops as a self-service option, Vinelli believes the airport kiosk could also adapt to provide an enhanced service in future. "Ideas have been suggested where you can get information from your car hire company or hotel check-in at the airport kiosk. If you can reduce the number of kiosks and increase the functionality to give them multiple functions, that makes sense," he said.
Cost benefits of web over kiosk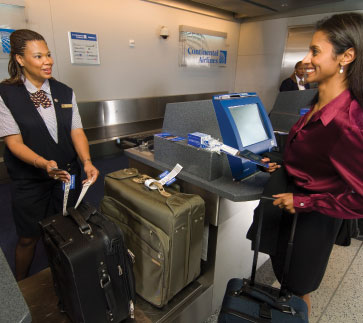 Doug Godard, WestJet's senior manager of Design and Strategy – guest services, explained that the airline has seen an annual increase in its internet check-in option – perhaps a sign that the kiosk is losing appeal. In fact, more passengers are now choosing to use the web than the airline's kiosk facilities – a trend that is saving the airline money. "From an airline perspective, the web is definitely the preferred method due to its low development costs, ease of deploying new product features and operating costs," said Godard.
As mobile solutions become available to more passengers with the right phone capabilities, customers are not going to be as dependent on the kiosk as they once were – at least during their initial arrival at the airport. "Mobile check-in with WestJet is still relatively small, but with the rapid technological improvements and acceptance among the various stakeholders, we feel it will grow in popularity over the coming years," said Godard.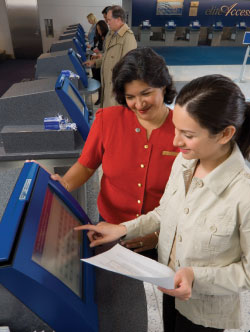 But while e-ticketing and mobile boarding passes are the domain of the computer and mobile phone, it's predicted that the kiosk will play a fundamental role in other key areas of the check-in process. "Self tagging baggage is one product change that we are actively pursuing with our kiosk application and with good results," said Godard.
IATA's Fast Travel Initiative, which is developing ways in which passengers can check-in using a variety of CUSS options, wants to ensure that the kiosk achieves its full potential. Paul Behan, project manager, said: "I think the airport kiosk will become far more important. What we want to see in future is the 'bags ready to go' project – the idea that you can process the bag yourself at the kiosk. It can read the passenger's boarding pass, which would have already been printed at home, as well as printing your bag tag for you to take to the agent to be weighed."
Similarly, Real Time Engineering, which has been investing in the next generation of mobile boarding passes, believes the kiosk will dominate when it comes to passengers with luggage. According to Alaistair Deacon, technical director, the hold baggage passenger still has to do some form of check-in through a kiosk, during the bag drop process. "Where I do see a changing role in the kiosk, I predict it will continue its role with passengers with hold baggage and will move to passengers doing self tagging. The kiosk may decline but it will play a key role in the final function in the tagging and dropping off," said Deacon.
Real Time Engineering is currently running the 'first pass' programme in conjunction with BMI across several of its domestic routes. Instead of printing documents online, customers can choose to have the 'paperless boarding process', where a bar code is sent as a picture message, ready for scanning at the security gate. Its success has prompted a further roll out to other BMI routes over the next year.
While experts are pushing ahead with mobile and web technology, check-in without the airport kiosk is an unlikely scenario, said Deacon. "The kiosk's role is not just about being a check-in machine – it's no longer the first port of call but will be an integrated point for all aspects of booking. The physical things you can't do on the internet – that's where the kiosk comes in."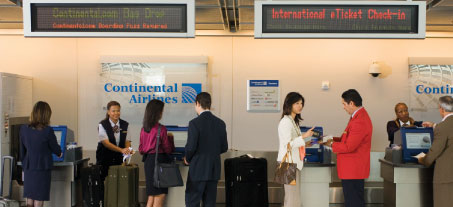 Continental Airlines currently uses some of the latest in self-service kiosk technology. It was the first carrier to launch the baggage service kiosk – used if a customer's bag doesn't arrive. Jared Miller, Continental's director of customer self-service, explained that self-service kiosks play a crucial role to the airline now and will continue to do so in the future. "The self-service platforms are a really big component to our customer service experience and we are continuing to invest in those platforms," said Miller. "The motivation for kiosks is that while we're always conscious of costs, our primary focus is to improve customer service and the kiosk puts more control in the hands of the customer. I think kiosks are playing more of a different role. Most people have already checked in when they get to the airport but they will still use a kiosk for other functions, such as dropping bags and adding frequent flyer points. The kiosk here is a value added feature that will improve their experience."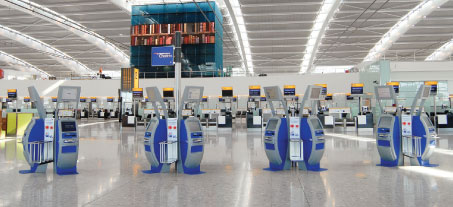 Kiosk versus airline agent
The premise behind self-service kiosks – to ease some of the stress of the airport experience and avoid lengthy queues at check-in desks, has also transformed the way airport staff interact with passengers, explained Miller. "Whether it's the baggage areas, or behind security or the check-in counter, the role of the agent has changed as well. They have a critical role in assisting the customer by getting in front of the check-in counter, to help the customer in a more engaging manner," he said.
As explained by the experts, CUSS kiosks look set to form part of an integrated check-in experience, which may begin with mobile check-in and then result in some interaction with the kiosk, depending on passenger's needs.