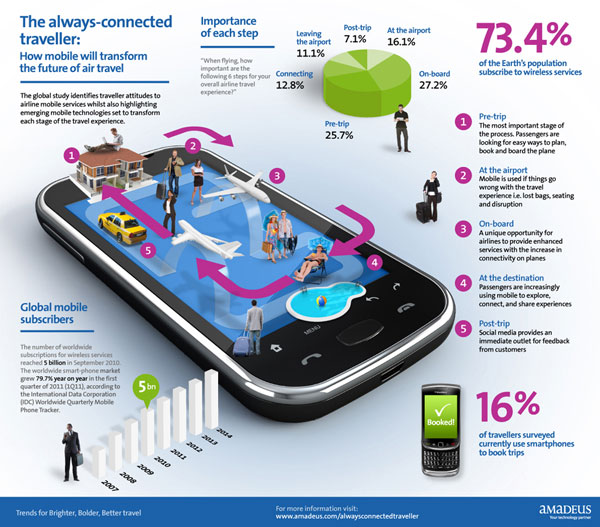 A new report published by Amadeus details how emerging mobile technologies coupled with changing traveller attitudes will revolutionise each stage of the travel experience over the next five years.
Titled 'The always-connected traveller: How mobile will transform the future of air travel', the report explores the increasing use of mobile technology by airlines for location-based services, social media, mobile payments and 'push notifications'.
Developed by Norm Rose of Travel Tech Consulting Inc., it states: "Whilst mobile services are still emerging in the travel industry, it is apparent that travellers are clearly beginning to expect, demand and adopt them: 16 per cent of travellers surveyed currently use smartphones to book trips. That figure rises to 18 per cent amongst the 18-35 age group and to 33 per cent amongst frequent travellers. In addition, 3.4 per cent of all travellers use their mobiles today to check-in for their flight, with this figure rising to 7.4 per cent in Asia." Asian and North American carriers are identified as having the greatest mobile functionality today.
Mobile payment and baggage updates
The report also explains that while 1.4% of travellers have used their mobile device to purchase ancillary services, for the majority of airlines, such a service is still over a year away. However, for Middle East and Scandinavian-based airlines, the mobile ancillary offering will be "aggressively" increased within just six months.
Many airlines will also implement 'push notifications' to deliver real-time information updates relating to baggage or flight status. Mobile payments are also likely to be introduced in the medium term, while location-based and social networking services have also been prioritised.
Julia Sattel, VP, Airline IT, Amadeus said: "The challenge for the industry is to deliver an intuitive and compelling mobile user experience and services that help travellers get the information they want and buy the things they need. However, instead of just transplanting what airlines do online to the mobile device, we encourage our customers to explore what can be done to exploit the unique characteristics of mobile."
For more information and to download the full report, click here.