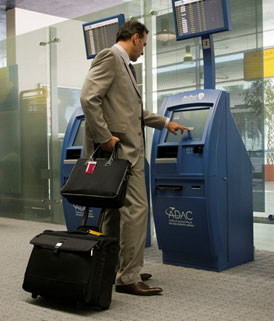 Abu Dhabi Airports Company (ADAC) has extended its offsite check-in capabilities with a new kiosk at the Crowne Plaza Abu Dhabi Yas Island Hotel. The latest installation follows the introduction of an offsite check-in kiosk at the Park Rotana Hotel last October.
The kiosks allow passengers to check-in, print their boarding pass and tag their bags before leaving the hotel lobby. When they arrive at the airport, the bag can simply be dropped at a bag drop counter.
Harib Al Hameli, VP Operations, Abu Dhabi International Airport, said: "ADAC is committed to delivering high-quality experiences for passengers and continuously strives to deliver new initiatives and state-of-the-art facilities ensuring the highest level of service and standards.
"The self-service kiosks in hotels across the city allow passengers to manage their own travel plans conveniently and easily, giving them maximum time to enjoy the city and minimising queues at the airport."
ADAC's offsite check-in kiosks are also available at the Abu Dhabi National Exhibition Centre (ADNEC) and Abu Dhabi City.