[jwplayer mediaid="8317″]
Uptake of the new home-printed bag tag facility already stands at 15%, and Billund Airport is hoping to increase this to 40%.
In what it claims is a world first for an airport, Billund Airport has launched an innovative solution that allows passengers to print their bag tags at home together with their boarding pass. Rather than queuing up at an airport desk or kiosk, passengers can print their bag tags onto a standard A4 sheet of paper. The passenger simply has to fold the paper and place it into a plastic cover, which is then attached to the bag. The bag can then be deposited at a dedicated Express Drop desk upon arrival at the airport.
The home-printed bag tag has been introduced permanently following a successful six-month development and testing period, in which Thomas Cook Airlines trialled the service. "This really will revolutionise the industry," said Kjeld Zacho Jørgensen, CEO of Billund Airport. "85% of our passengers already check-in online or at a self-service kiosk, so this was the next logical step for us."
Jesper Klausholm, the airport's Marketing Manager, added: "We want to make the check-in process as efficient and lean as possible, which is of course benefiting the passenger, but also the airlines in that we can reduce costs by using this system.
"I love the idea that you can actually sit in your own living room, get your boarding pass, print your baggage tag and prepare yourself for the journey. You can maybe come to the airport a bit later or use the additional time to have a nice cup of coffee in the departure lounge."
Strong uptake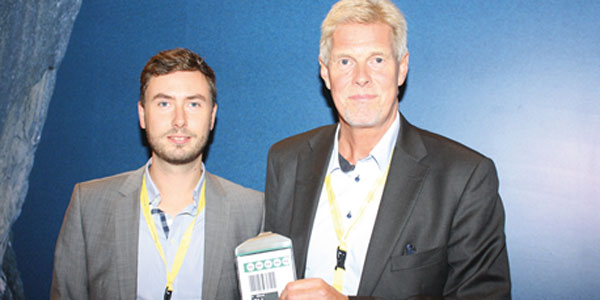 Although the home-printed bag tag service only became available to charter passengers on 1 September, around 15% of those eligible to take advantage of the service are making use of it.
"We're really pleased with this uptake and our aim is to increase this to around 40% in the future. So far, the feedback we've received has been 100% positive. Passengers save time at check-in and no problems have been reported for printing the tags." The project was made possible by the fact that Billund Airport, which handled 2.7 million passengers in 2011, also acts as a handling agent with its own check-in software.
The development of the service took place in close collaboration with service provider Unisys, and the home-printed bag tags have been certified by IATA. While the primary aim is now to increase uptake, Jørgensen explained that in the future, self-bag drop counters will be installed to give passengers complete control over their airport experience and remove the need for an airline agent to be involved in any stage of the check-in and bag drop process.