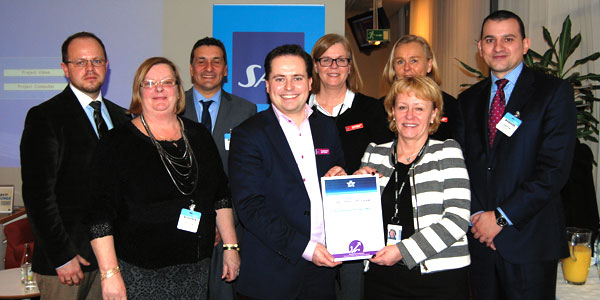 Scandinavian Airlines is the first airline in the world to earn IATA Fast Travel platinum status. The airline was given the award for implementing all six of IATA's Fast Travel project initiatives at 49 airport stations, meaning that more than 93% of passengers in its network have access to self-service options before, during and after their journey.
The six projects form part of IATA's Simplifying the Business (StB) initiative and include: self-service check-in using kiosks or mobile technology; baggage ready to go using self-tagging or bag drop; self-scan document check; self-service flight rebooking; self-boarding and self-service baggage recovery.
"We are very proud of this IATA award," said Philip Wågnert, Head of Product and Development, SAS. "We are actively working to constantly improve and develop solutions that make it easier and more convenient for our passengers throughout their journey. This award is a clear acknowledgment that we are an airline at the forefront of time-saving solutions."
So far 9.8% of all the world's air travellers have the opportunity to choose self-service options during their trip, and IATA aims for this number to be at 80% by 2020. Its goal is for passengers to be offered a range of options in order to create a simpler and faster flow through the processes involved in taking a flight.
More information can be found here »

IATA's Fast Travel initiatives will be a key topic at FTE Asia 2013, in Hong Kong, 7-9 May. At IATA's 1 Day workshop (14:00 – 18:00 Tuesday 7 May), Lufthansa's Thomas Jeske and British Airways' Barry Woolnough will lead interactive technical sessions on subjects such as: Checkpoint of the Future – its relevance for the Asian market; Near Field Communications and its impact of the passenger experience of the future; and experiences and opportunities in China for implementing IATA Fast Travel projects.
» View the full conference programme for FTE Asia 2013