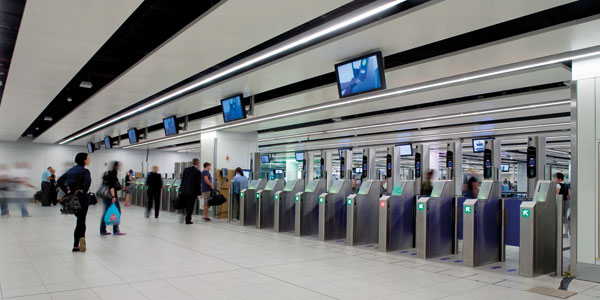 Biometric technology developer Human Recognition Systems (HRS) has successfully conducted a trial simulation of the passenger journey of the future at Gatwick Airport, illustrating how services can be used to develop an airport journey that is personalised to individual passenger needs.
HRS, the developer of biometric technology, carried out a demonstration of its innovative, forward-thinking airport journey earlier this month, facilitated by its development of a Gatwick Airport app.
Passengers were first biometrically identified at the airport's car park barrier and automatically notified of the travel details unique to their specific journey via the mobile application. This process of feeding the passenger personalised information – ranging from the location of their check-in desk to custom-generated retail offers – continued once within the proximity of certain airport waypoints, and the app acted as a constant source of information for the passenger, providing guidance and wayfinding assistance through the terminal.
Jim Slevin, HRS' Aviation Business Unit Manager, said: "HRS is proud to be partner of choice for identity management at Gatwick Airport.  This was an exciting opportunity to demonstrate an attainable tailored passenger experience and was a pleasure for all involved."
HRS is implementing its innovative concepts, technologies and biometric solutions at airports across the UK, including London City, Belfast, Gatwick, Newcastle, Liverpool John Lennon and Manchester airports.
» More information can be found here.
Have your say:
What are your thoughts on the personalised passenger journey – what are the advantages for the always-connected passenger?

What features and services do you think passengers would like to see appear in a mobile app like the one trialled by HRS at Gatwick?
The role of mobile technologies in improving the passenger experience will be a hot topic of discussion at FTE Asia 2013. The Fifth Working Session, lead by Stefan Rust, CEO, Exicon, explores the future opportunities in mobile technology for the benefit of the passenger, while Tarik Kiki, Ground Product Manager, Jetstar, will identify the role of mobility in Jetstar's self-service solution. 9:30 – 10.30, Thursday 9 May.