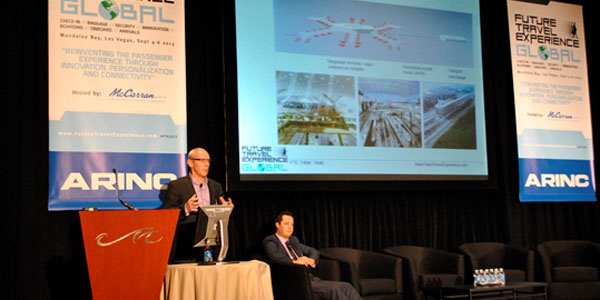 At Future Travel Experience Global 2013 in Las Vegas, the FTE Think Tank – an independent panel of air transport industry experts – unveiled its vision for the airport of 2025, along with a set of recommendations aimed at facilitating an enhanced passenger experience.
While FTE is well known for facilitating events and providing the latest news and features, the Think Tank represents a significant step towards actively facilitating industry change for the passenger. The idea behind it is to provide a truly meaningful piece of work that will start useful industry discussion on a global basis.
The FTE Think Tank members are Lena Rökaas, Chief Operating Officer, Stockholm Arlanda Airport; Cees de Vos, Director Innovation Outstations and Partnerships, Air France-KLM; Greg Fordham, Managing Director, Airbiz; and Daniel Coleman, Founder of Future Travel Experience.
In a presentation delivered to nearly 450 key industry executives from 28 countries worldwide, the Think Tank outlined a vision for 2025 that includes all passengers arriving at the airport already checked-in and with their baggage already tagged; biometric validation at all airport checkpoints using a single passenger token; a streamlined security process; close to 100% self-service immigration processing; and complete automated boarding of aircraft using self-boarding gates. Passenger interaction with robots roaming the terminal building will be commonplace, as will video link interaction with virtual members of staff who are based off-site.
Furthermore, every passenger will receive a push notification to their mobile device advising them when to proceed to the boarding gate and will also receive baggage-related notifications via their smartphones, allowing them to track their bags throughout the journey. The FTE Think Tank also explained that at new airports and terminals built between now and 2025, passengers will arrive at the airport at an integrated transport interchange, which will be linked to the terminal building via a high-speed automated people mover.
Fordham said: "Over the next 12 years, we are going to see some very significant changes in the way passengers and their baggage are processed at the airport. Widespread adoption of off-airport bag drop facilities, permanent and smartphone-programmable bags tags, and home-printed bag tags will revolutionise the baggage process, resulting in fewer queues at the airport and a simplified passenger experience at check-in."
Creating 'community processes'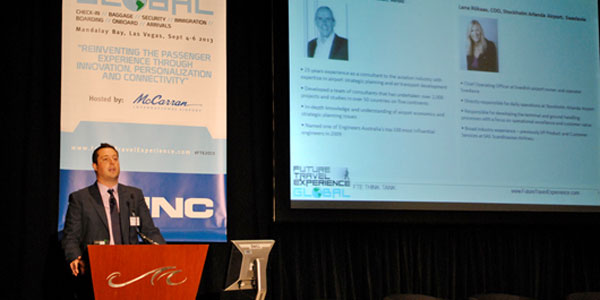 The FTE Think Tank recommended that airports, airlines and suppliers work together on developing 'community processes' to make systems and processes consistent across all airports.
"The development of community processes will mean airlines, airports and vendors will use common systems and services across all sites." Rökaas explained. "So, if an airport flies from 50 airports, they will not have to adapt to 50 different systems or approaches, making it far easier to deliver a consistent level of service across their network. This will directly benefit the passenger as each touchpoint will be recognisable, therefore removing the confusion and anxiety often experienced by today's passenger."
Making the vision a reality
The FTE Think Tank also highlighted challenges to its vision and put forward ideas on how potential obstacles can be overcome. The recommendations include:
Prioritising the passenger experience over aircraft turnaround times;
Putting an end to the debate about who 'owns' the passengers and treating them as individual guests instead;
Exploring the possibility of using independent moderators to help airlines and airports agree on developing, financing and completing passenger-focused initiatives;
Exploring 'crowd funding' as a potential source of investment for passenger-focused projects;
Offering airport charge-based incentives to airlines who embrace innovation to enhance the passenger experience;
Ensuring suppliers tailor technology to the solution, rather than vice-versa;
Encouraging the International Air Transport Association (IATA) and Airports Council International (ACI) to work more closely together to agree and lobby joint positions on industry standards that could significantly enhance the passenger experience.
De Vos said: "It's often difficult for airlines and airports to define a return on investment when exploring passenger-focused projects, which is why incentives for first movers and crowd funding would be beneficial. However, working to change the mindset of the top-level decision-makers is also vital."
Coleman concluded: "We feel that all of these recommendations are not only fair, but thoroughly achievable. It wasn't too long ago that people felt excited to fly, but a lot of the novelty and enjoyment has been lost in recent years. If the industry can implement these recommendations, it will be taking a major step towards regaining a sense of adventure and making the airport and air travel experience something to savour, rather than dread.
"However, if the industry fails to act, there is a very strong likelihood that global giants such as Apple and Google will take the lead on defining the airport experience of the future, taking the passenger experience out of the hands of the airports and airlines."
» Download the full FTE Think Tank presentation that was delivered at FTE Global 2013