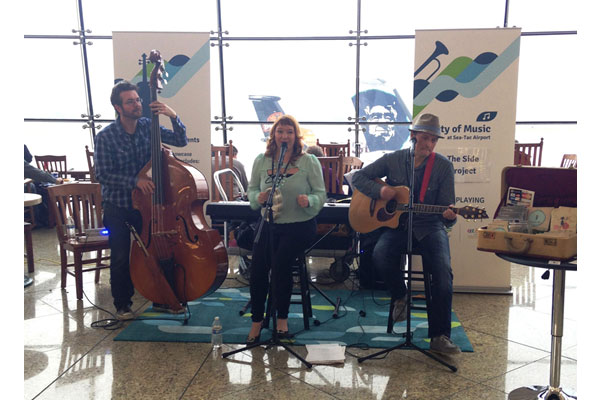 Airports are not often known for being an entertaining or relaxing place to be. For the vast majority of travellers, there are queues at check-in, more queues at security and then an anxious wait for the flight as you keep one eye on the information screen hoping not to see the words 'delayed' or 'cancelled'. However, some airports have taken steps to challenge this and rather than accepting that the airport experience can be nothing but stressful and unexciting, they have embraced innovation to make time spent in the airport something to savour.
Among them are Helsinki Airport and Seattle-Tacoma International Airport, both of which have made a concerted effort to stand out from the crowd by offering something different. Ranging from a dedicated Relaxation Area to live music in the terminals, improving and differentiating the passenger experience is high up on the airports' list of priorities.
"I feel, as an airport, if we want to set ourselves apart from other airports, we need to be able to provide the passengers with something that they weren't necessarily expecting to see," explained Tami Kuiken, Business Development Programme Manager at Seattle-Tacoma International Airport. And this – offering something unexpected – is exactly what Sea-Tac Airport has done through its 'Experience the City of Music' initiative, which Kuiken is in charge of.
The FTE Award-winning initiative, which was introduced last year on a trial basis, has recently been made a permanent fixture for at least the next three years. This means passengers passing through the airport will be able to enjoy live music in the terminal from local artists, as well as music-related exhibits.
Kuiken continued: "You may only have one chance to show a traveller what your city is all about. It's our hope to touch as many people as we can coming through Sea-Tac, to give them a real sense of place for the music that lives here in the Pacific Northwest. When passengers are from this area, the music provides them with a sense of pride of what our region is all about, and whether they are departing or arriving, it provides them with the feeling of being home."
Helsinki Airport: Relaxation Area, Book Swap and rocking chairs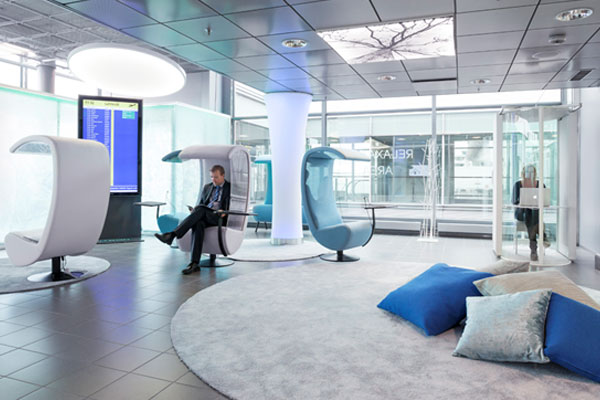 Elsewhere, in Finland, Finavia has been busy creating a very unique passenger experience at Helsinki Airport. Among the more recent initiatives are the opening of a dedicated Relaxation Area, which includes sleeping tubes and comfortable seating pods for passengers to take a rest. A free-to-use airport Book Swap has also been opened, where passengers can pick up a book they would like to read during their trip and swap it for one they have already finished.
As an alternative to traditional airport seating, Helsinki Airport has even trialled rocking chairs in the terminal in a bid to increase passenger comfort.  In addition, a team of 'Quality Hunters' work together to come up with ideas on how the passenger experience can be enhanced.
Johanna Metsälä, Manager, Customer Experience at Finavia, said: "We are all unique and the challenge is how can we make travelling via our airports smooth and memorable. The more we design services and basic airport processes from the customer point of view, the closer we are to reaching our target, which is 'smooth travelling'.
Metsälä also explained that to create an even more unique airport environment, Finavia plans to add elements of Finnish nature across Helsinki Airport. This is something that is on the agenda for 2014, meaning passengers could soon enjoy a truly Finnish experience even when they are waiting at the gate or in the baggage reclaim hall.
Increasing passenger satisfaction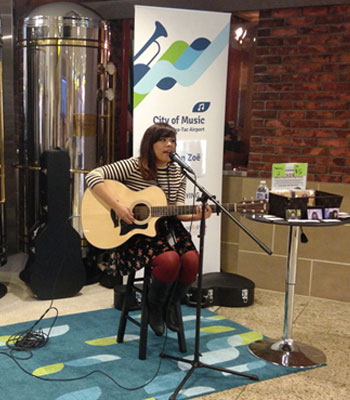 While all of these initiatives are eye-catching, it is vital that they actually have a positive impact on the passenger experience, and both Kuiken and Metsälä explained that the positive effect is tangible.
The former said that last year at Sea-Tac Airport, hundreds of passengers commented on the music initiative via the airport's Comment Tracking System (CTS). "The music programme is not the most commented about subject for CTS – those categories are TSA and Airlines – but it is our number-one most positive area of customer comments with 85% positive," Kuiken explained. Furthermore, the airport's sentiment score in the Airport Service Quality (ASQ) survey has risen to an impressive 4.14 out of 5.
The passenger-focused innovations at Helsinki Airport have had a similar effect. The feedback on the rocking chairs has been so impressive that Finavia will soon introduce them at other airports, while Metsälä explained that the Book Swap could be introduced elsewhere following its success in Helsinki.
Passenger experience as a true differentiator
At a time when passenger experience and customer service carry far more weight than at any point in the past, Seattle-Tacoma International Airport and Helsinki Airport provide two great examples of how going the extra mile can make a telling difference to travellers' airport experience. And the benefits go far beyond putting a smile on the face of existing customers. With passenger numbers set to continually increase on a global basis in the coming years, and with the travel and aviation industries becoming more competitive than ever as they try to grab a share of these new passengers, improving and differentiating the passenger experience is perhaps the best method of making your airport stand out from the crowd.
Want to learn more about how you can improve and differentiate your airport experience? FTE Europe 2014, which will take place in London from 3-5 March, will explore the theme: 'Differentiating your passenger experience in the world's most competitive continent'. Organisations confirmed to speak include: Heathrow Airport, Star Alliance, Ryanair, Swedavia, TUI, Fraport, Aer Lingus, Gatwick Airport, Air France-KLM, London Stansted, AirAsia, Lufthansa, London City Airport, Oslo Airport, IATA, Vancouver Airport Authority and Aéroports de Lyon.