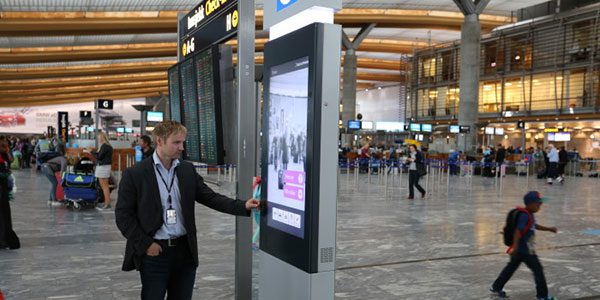 Oslo Airport has installed six self-service information kiosks, which passengers can use to find directions and estimated walking times to various points in the terminal.
The 46-inch touch-screen kiosks have been placed in the domestic and international departures and arrivals halls.
Departing passengers can scan their boarding pass to get directions to their gate, and view estimated queuing times at the security and immigration checkpoints. The kiosks can also be used to get directions to other facilities in the terminal, such as food and beverage outlets.
Alf-Einar Larsen, Project Manager at Oslo Airport, said: "This is a very attractive service for travellers. We know that many people have been looking for services that make it easier to navigate inside the airport. By using new technology we can now help each and every passenger."
Interactive touch-screen kiosks have emerged as an effective tool to help with passenger wayfinding in recent times, with the likes of Dubai Airports, McCarran International Airport and San Francisco International Airport also installing similar technology.