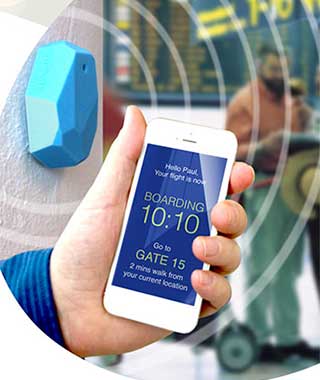 Miami International Airport has become the first airport in the world to have a complete and open deployment of beacons, which are available to all of the airport's stakeholders via the SITA Common-Use Beacon Registry, which covers entrances, check-in, gate, baggage claim and valet parking zones across the airport.
"The passenger experience at Miami Airport is our number one concern and iBeacon technology allows us to make it even better," stated Maurice Jenkins, Division Director, Information Systems, Miami International Airport. "We have installed beacons throughout the airport and made them available to all our stakeholders. Now we invite airlines and our other partners to invent new ways to make the passenger experience at Miami even better. With our beacons, they can now give passengers relevant information on their phones at every point of their journey through our airport."
The beacons make use of Bluetooth Low-Energy (BLE) technology to communicate with nearby devices, and offer opportunities to push notifications to passengers and staff alike. American Airlines has already installed beacons in Terminal D at Dallas/Fort Worth Airport to assist with passenger wayfinding via the carrier's app, while Japan Airlines has also trialled the technology to improve staff efficiency at the gate at Tokyo Haneda Airport.
Referring to the major deployment in Miami, Jim Peters, SITA's Chief Technology Officer, commented: "This is a fantastic move by Miami International and a great model for the industry to follow. By installing the beacons and registering them on the SITA Common-Use Beacon Registry, the airport has set the standard for being truly open and collaborative with its partners.
"Miami has made it easy for airlines, and other partners working at the airport, to take advantage of iBeacon technology and provide information that is relevant to the passenger's location or stage of the journey."