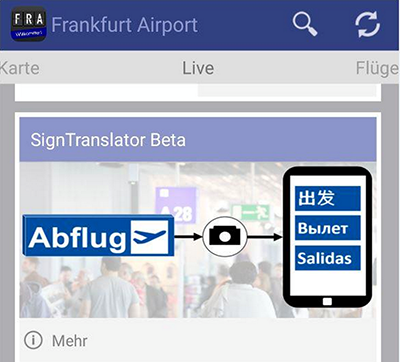 The Frankfurt Airport app has been upgraded to include the "SignTranslator" function, which allows smartphone users to translate German language signage into one of six different languages.
Passengers simply have to take a photo of the sign, which is then automatically translated into Arabic, Chinese, Korean, Japanese, Russian or Spanish.
As the signage in the airport is currently in German and English, the new app function will make it easier for foreign travellers to find their way around the airport. The translation function complements the live flight and gate updates, map-based wayfinding and the "opt-in" push notifications that were already offered via the app.
To simplify the airport experience for foreign travellers, Frankfurt Airport also recently added five new languages to its self-service information kiosks. The projects form part of the "Great to have you here!" programme, which has also seen the introduction of free Wi-Fi and a premium "Home to Gate" chauffeur and concierge service.