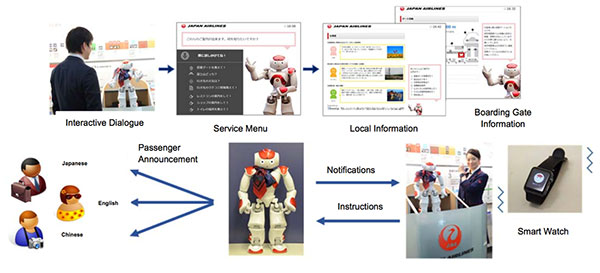 The latest example of how robotics technology can impact the passenger experience can be found at Tokyo's Haneda Airport, where Japan Airlines has partnered with Nomura Research Institute, Ltd. (NRI) to trial a service robot.
Robot NAO, a 58cm-tall humanoid robot created by Aldebaran, has been based in front of the JAL information counter and security checkpoint C in the South Wing of Haneda Airport's Terminal 1. The robot is linked to a digital information screen and as well as being able to hold interactive dialogue, it can present useful information on the digital screen when prompted, including airport facility information, arrival and departure flight information, and destination weather forecasts.
Interaction between JAL's human service agents and the robot is also being tested. Staff equipped with smart watches can communicate with the robot to request assistance with passenger service announcements. Instructions can be sent to the robot via the wearable technology device, while the robot can also send notifications to the smart watches. Language translation is also being trialled, with the multi-lingual robot able to provide service announcements in Japanese, English and Chinese.
Commenting on the trial, JAL Managing Executive Officer Kiyoshi Ishizeki said: "Through these demonstrative trials, we intend to measure the benefits surrounding the use of robot technology at the airport and also understand the differences between using a robot and conventional digital signage."
The joint JAL/NRI trial of Robot NAO is the latest in a growing list of robotics trials in the air transport industry. KLM is currently trialling the Spencer robot and will reveal more about this project at Future Travel Experience Europe 2016, while Haneda Airport has also hosted trials of luggage transportation and cleaning robots, as well as the Hybrid Assistive Limb to provide support to airport staff.