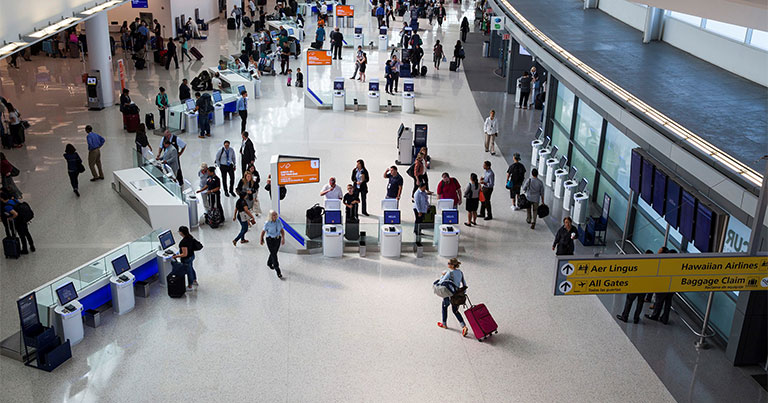 Following the opening of the new-look self-service check-in hall at JFK International Airport's T5 earlier this month, JetBlue Airways has revealed to FTE that it is trialling electronic bag tags and is open to exploring a number of unique partnerships as its seeks to redefine the air travel experience.
The upgraded T5 check-in hall at JFK International Airport features 70 self-service check-in kiosks with self-tagging capabilities, 12 bag drop locations, plus roving, hospitality-trained customer service agents. As JetBlue's Joanna Geraghty, Executive Vice President, Customer Experience, told FTE, the combination of self-service and customer service will help to remove queues. This will result in savings both in terms of the time it takes to check-in and the amount of emotional energy spent by passengers during the check-in and bag drop process.
"The hope is that they spend very little time at the front of the house in the check-in area, and the time they do spend there, we'll have crewmembers engaging them in meaningful ways…asking them if they need help or directions. It is ultimately a very seamless experience that's hassle free," Geraghty stated.
JetBlue trialling electronic bag tags
Plans are in place to roll out this self-service check-in hall concept to other focus cities, namely Boston, Fort Lauderdale, San Juan, Orlando and Long Beach. However, JetBlue's plans to simplify and speed-up the check-in process don't end there. Geraghty explained that the carrier is actively exploring the impact that permanent electronic bag tags could have on the passenger experience.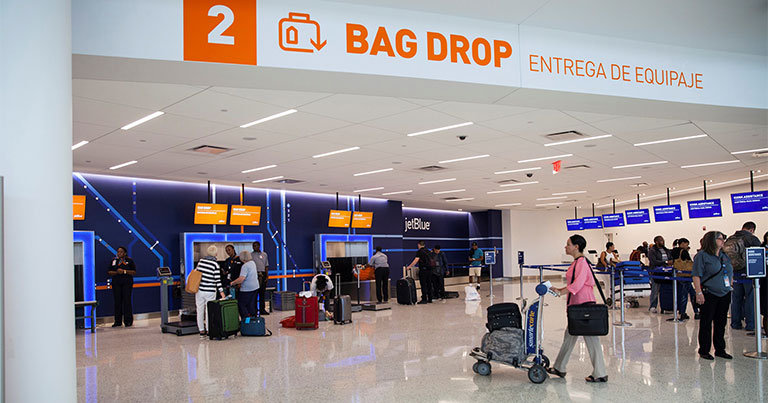 "We have an ongoing project with regards to permanent bag tags with an international carrier that we're partnering with," she said. "That trial is going really well. We think this space for permanent electronic bag tags will work well for very frequent customers…but it's also exciting trying to figure out how you would roll this out to the general population. That's the next big question that we have. We definitely think there's an application for our high frequency customers, though."
Geraghty also said JetBlue is examining home-printed bag tags, although she added: "We're trying to figure out that next big jump beyond just printing bag tags at home because most people probably aren't going to have printers in five years."
The future role of Uber, Lyft, FedEx and co.
Further highlighting JetBlue's pioneering mindset, Geraghty told FTE that technology companies from outside of the immediate air transport industry could well have an important role to play in creating a more seamless end-to-end journey. Name-dropping the likes of Uber, Lyft and FedEx, she explained that such companies could help "customers take some of the day-of-travel burdens off of their plate, and pull forward the whole check-in process and baggage process".
Possibilities in this space will be explored further at Future Travel Experience Global 2016 (7-9 September, Las Vegas), where JetBlue's EVP Innovation & CIO, and Chair of JetBlue Technology Ventures, Eash Sundaram, and Uber's Product Lead, Russell Dicker, will both deliver keynote addresses.
Upon the launch of JetBlue Technology Ventures earlier this year, the New York-based airline said it wouldn't limit its thinking to traditional airline operations, as it seeks new ways in which it can improve the air travel experience. Geraghty's comments highlight the fact that JetBlue is staying true to its word.