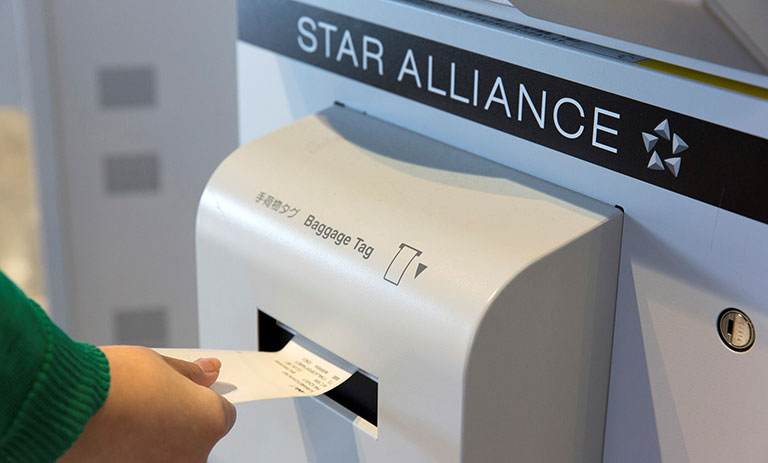 Star Alliance has unveiled its new automated check-in concept at Tokyo-Narita Airport, inspired by the customer experience at Heathrow Terminal 2.
The new layout is in Terminal 1 of the airport and will ensure that travellers move through it quickly and easily. One of the key differences is that the check-in desks are organised based on the airline, rather than what class the passenger is travelling in. It also features 116 new self-service kiosks, which can print boarding passes and baggage tags.
Users will be able to check-in for any of the 17 airlines flying from Terminal 1. These include the likes of Singapore Airlines, Scandinavian Airlines, Lufthansa and EVA Air. Currently, three of the 17 airlines support the self-printed baggage tags, with the rest coming online before the end of July.
Star Alliance says the need for this change was due to the rising number of airlines using Narita and also the higher number passengers using the airport. The alliance says this new concept was also based on the success of a similar project at Heathrow Airport's Terminal 2, which reduced required check-in space by 20 per cent.
Along with Narita, Star Alliance has also brought the concept to Sao Paulo Guarulhos Airport and Los Angeles International Airport.
CEO of Star Alliance, Mark Schwab, said: "Our initiative in Narita is part of our global strategy of reducing operational complexities and striving for standardisation with the aim of providing customers with a better travel experience. Initial statistics show that the majority of travellers are already making use of the new self-service option."
As Star Alliance Vice President Customer Experience & Technology Justin Erbacci explained to FTE last month, the alliance is investing in multi-million dollar technology projects to help improve and align back-end systems for its 28 member airlines.