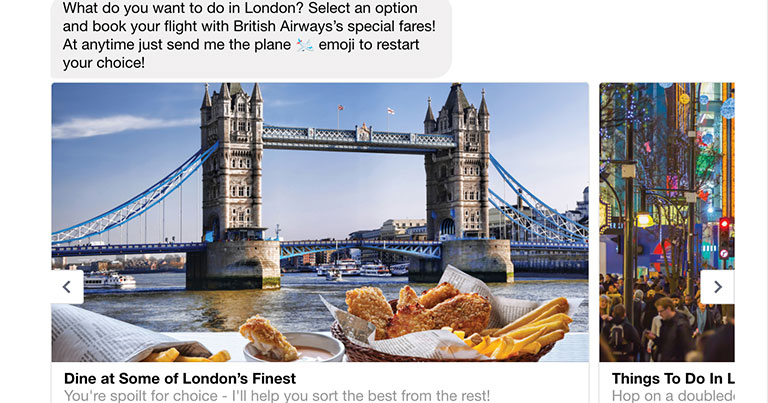 British Airways has become the latest airline to launch a chatbot for the Facebook Messenger platform. Initially available in Germany, France, India, Singapore, Japan and the United Arab Emirates, the service provides passengers with a 'best of the best' guide to London.
Users can also interact with the chatbot to find out about exclusive deals and personalised recommendations on top attractions and experiences in London. Exclusive deals include discounted stays at the Rosewood London hotel and discounts at Westfield London shopping centre. The bot is, however, only available during the month of December to coincide with BA's winter campaign.
Sara Dunham, British Airways' Head of Marketing Retail & Direct Channels, said: "As an airline we are continually reviewing the ways in which we engage with our loyal customers, that includes providing them with added value before they even fly with us.
"By launching the British Airways 'BOTler' across our core markets, we are providing our customers with a plethora of extra reasons – tailored to their personal tastes – to experience the magical city of London at its iconic winter best.
"Designed exclusively for Facebook Messenger, the British Airways BOTler will guide users through what to expect in the UK capital during the holiday season, highlighting exclusive deals across London to fuel that pre-holiday excitement."