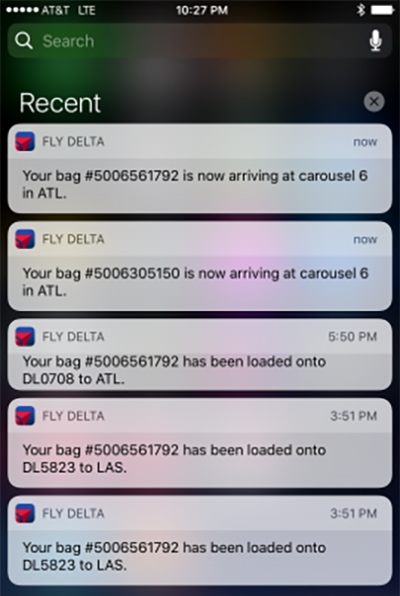 Delta Air Lines, which announced an investment of $50 million in Radio Frequency Identification (RFID) baggage tracking technology earlier this year, has now enabled passengers to track their baggage via push notifications to their mobile devices.
Passengers with the Fly Delta app installed on their device now receive live push notifications to tell them where their bag is at every stage of the journey.
For instance, they will receive a notification when the bag is successfully loaded onto the aircraft and then another to tell them which reclaim belt to collect their bag from upon landing.
The new feature delivers on the carrier's promise of offering "more transparent, interactive tracking on the Fly Delta mobile app".
The Fly Delta app also includes a number of other features designed to simplify the travel experience. For instance, electronic boarding passes are now dynamically updated to ensure seat, gate and flight information is always up to date.