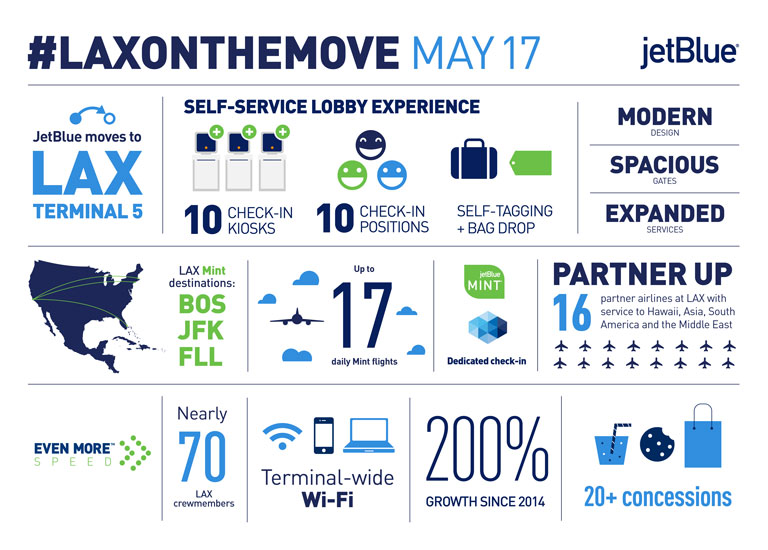 As the relocation of airlines at Los Angeles International Airport (LAX) nears completion, JetBlue has outlined how it is using its move from Terminal 3 to Terminal 5 to enhance the passenger experience.
The carrier, which completed its move to Terminal 5 on Wednesday 17 May, will start work on creating a self-service check-in hall, similar to what it introduced last year at New York-JFK. JetBlue has also brought the self-service check-in hall design to Boston, Fort Lauderdale-Hollywood, San Juan, Newark and Atlanta airports.
LAX T5 will feature 10 self-service kiosks with self-tagging and bag drop capabilities. There will be 10 additional check-in positions and a dedicated check-in area for JetBlue Mint and Mosaic members. JetBlue agents will also walk the floor to proactively assist passengers, who will have access to free Wi-Fi throughout the terminal.
JetBlue codeshare partner Hawaiian Airlines will also relocate to Terminal 5, meaning JetBlue customers connecting to and from Hawaiian flights can do so without leaving the terminal.
JetBlue's arrival in Terminal 5 comes after Los Angeles World Airports' previous investments in terminal upgrades. With more than a half million square feet of space, the terminal underwent a three-year modernisation project – completed in mid-2015 – resulting in spacious gate areas, expanded security screening checkpoints with TSA PreCheck, new jet bridges, new baggage carousels and a bright, state-of-the-art design throughout.
"The move to Terminal 5 means that our customers will enjoy the true JetBlue experience as soon as they step into our new home at LAX," said Joanna Geraghty, Executive Vice President, Customer Experience, JetBlue.
"The move supports our efforts to expand our customer base in Los Angeles as we add more flights with Mint, which has surpassed our expectations on every customer and financial measure."