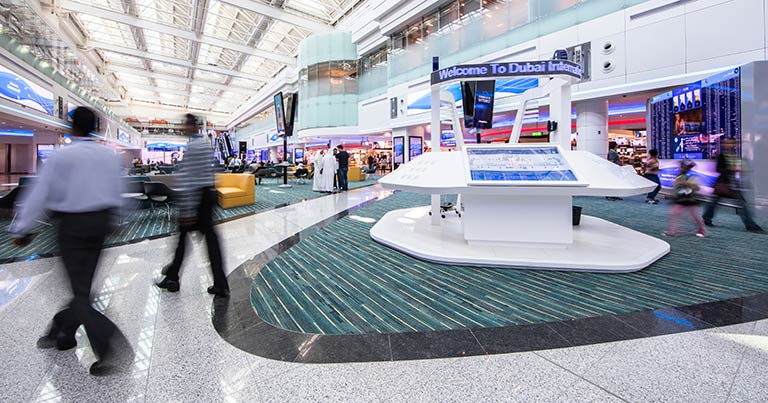 With global air traffic increasing year-on-year, many airports are presented with the conundrum of accommodating larger volumes of travellers within limited terminal space. Some are taking a tentative approach and biding their time before fully embracing the capabilities of new and emerging technologies to help improve efficiency, but others, like Dubai Airports, are taking a much more proactive role.
While work continues at Dubai World Central (DWC), which opened for passenger flights in 2013 and will eventually have capacity for up to 240 million passengers per year, records continue to tumble at Dubai International (DXB). During the first eight months of 2017, 59.35 million passengers passed through the airport ­– a 6.3% increase on the same period last year – and monthly passenger numbers have topped 8 million three times.
"We've been growing the airport by 7 to 8% a year but the queues have been shrinking and that's enabled this ever greater throughput," Dubai Airports' EVP, Technology and Infrastructure, Michael Ibbitson, told FTE. "Dubai International has become a landlocked airport – we have no more space to build more terminals so we have to do more with the same building footprint."
Beacons and location services
Technology is allowing Ibbitson and his colleagues to deliver both customer-facing and back-of-house benefits. For example, as FTE recently reported, the development of a super-fast free-to-access Wi-Fi network, coupled with a partnership with streaming platform ICFLIX, means passengers can now stream movies while waiting for their flight. The "world's fastest airport Wi-Fi" required the installation of new wireless access points throughout the airport, and each of these also includes a Bluetooth Low Energy (BLE) beacon, which will provide an assortment of benefits in the future.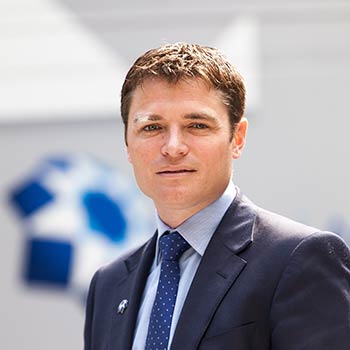 As opposed to being battery-powered, the beacons are managed as part of the airport's wireless infrastructure, which affords more control and flexibility, as well as reduced installation costs. "Obviously, Dubai International is a pretty enormous airport and it can be quite hard to navigate for passengers who haven't been there very often, such as those passengers on long migration journeys," Ibbitson explained. "So in the next few years or so, you will see a whole range of new, exciting and interesting services coming up from both ourselves and our airline partners, because we designed it in such a way that we can share the data more openly with our partners as well.
"We're hoping to build location services capabilities for all of our passengers, whether they're on our app or on our landing page, or on the Emirates app or the flydubai app, or whoever else they may be flying with. This is something we really hope is going to start making a difference from next year."
Passengers are not the only ones benefiting from mobile-focused investments. The Airport Community app, first deployed at Gatwick Airport, has been adopted by Dubai Airports and a number of the other stakeholders based on the DXB campus. The app has already been installed on over 6,500 staff devices to provide access to real-time and useful operational information.
Ibbitson told FTE that the Community App is delivering results across the airport. "In certain transfer security areas we've been able to half the queuing time by bringing the information and alerts about queuing issues directly to the hands of the police or immigration officers, and alert them in real time as to what's going on. It's had a really massive impact."
He also revealed that the new beacon-enabled location services engine will eventually be integrated with the Community App. When this is achieved, a passenger who needs assistance will be able to press a button on the consumer app to request assistance from a staff member. Via the Community App, staff members will be notified, shown the passenger's location in the terminal, and the nearest agent that speaks the same language will be able to quickly meet them to provide help. Such a feature could also provide benefits in the meet and greet areas, Ibbitson suggested.
Biometrics – 'I don't think there's a golden solution yet'
Another technology that Dubai Airports is monitoring closely is biometrics. Additional smart gates equipped with biometric technology are currently being rolled out at DXB, but there are no immediate plans to implement end-to-end biometric-enabled passenger processing throughout the airport. "There's such a lot of excitement about biometrics and about what the future holds, and also about blockchain," Ibbitson said. "We have our teams working with GDRFA, Emirates, flydubai, the police, and others, and we are reviewing lots of different ideas and options for how you implement and integrate biometrics into the passenger journey. The big challenge for us is how to enable it for transfer passengers."
Dubai-based Emirates has already outlined its own plans to implement biometric technology, but Ibbitson stated: "I don't think there's a single golden solution yet". "There is lots of experimentation going on, lots of trials, and that's fine as you learn a lot through that…I do think at some point in the next 12 to 18 months we – the airport community, all the stakeholders together – will come to some decisions over what needs to be done in that space," he added.
Before that decision is reached there are a lot of questions and issues that need to be addressed. Referring to potential biometrics use cases, Ibbitson said: "We've looked at them as an airport and we really believe it's something that requires a lot of cross-border cooperation and coordination, and I think there's a place for IATA and ACI to be involved in this to set some standards to help airports and airlines to get this right.
"And I think governments at some point need to get involved as well and decide how they want to play this. You can use biometrics for passenger experience, but there's also the government agenda of how do you manage a digital identity for passengers coming in and out of the country, and how do you register people and maintain that data over time? As an industry, we have to get this right."
Robotics to revolutionise baggage handling?
Like biometrics, robotics is gaining a lot of traction across the airport industry and Ibbitson admitted this is "something we're keeping an eye on". "A lot of people think of this as something that happens where the passengers are, with robots walking around greeting people but that won't happen in the short term," he said. "Behind the scenes is where I think it's going to take off first."
One area that could be revolutionised by robotics technology is baggage handling, and Ibbitson revealed that he is looking outside of the industry for inspiration on how to deliver efficiencies.
"Our baggage system includes about 140km of conveyor, and track and tray system. If you compare a baggage system, which is just a fancy sortation and security screening system that's fully automated, to something like an Amazon warehouse that's fully automated with individual robots moving around individual packages, you really start to think.
"To make the airport more efficient, do you want one big centralised conveyor and track and tray system, or do you want a massive open space with lots of individual robots taking, for example, individual bags and running them between aircraft and between feeding systems? If you think about the difference that makes – decentralising the intelligence of the system and putting it into the individual tray or carrier – the minimum connect time for bags would decrease immensely. I think there is so much fantastic opportunity in that space right now. Every airport needs to be keeping an eye on it."
He added: "If you look at Amazon and you look at Ocado and you look at all these fantastic retail companies, we've got such a lot to learn from them that we could adapt into our airports of the future."
Dubai Airports is now actively engaging with the government to share its vision for the future as part of the 10X initiative, which is all about keeping Dubai ahead of other world cities. Ibbitson told FTE that Dubai Airports has submitted ideas around things like transforming baggage management, and implementing ID management and biometrics not only in the airport but across the entire city.
It seems that Dubai Airports is keen to make the oft-referenced "airport of the future" a reality, and sooner than many might expect. As passenger numbers continue to rise, so too does efficiency across the DXB hub. In order to ensure this remains the case, technology will play perhaps the most important role of all.