Technological advancements are helping to bring about a much-needed change in the way airlines and airports assist travellers with additional needs. Airports can be challenging and complex environments for anyone, especially for passengers with reduced mobility or hidden disabilities. Improvements have been made by many airports and airlines, and here we provide a round-up of some of the latest technological advancements that can help create a more inclusive experience for all.
Smart glasses to assist visually impaired passengers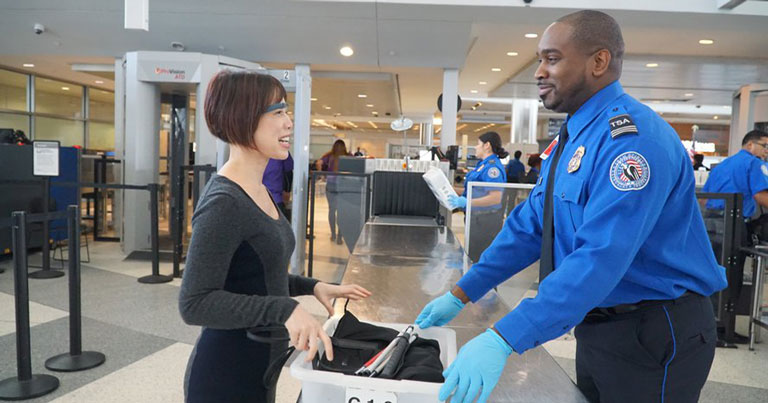 The Port of Seattle, Houston Airports and Memphis International Airport are among the airports that have in the last couple of years launched programmes to help blind and low vision passengers access a new assistive technology to safely and independently navigate through their terminals.
In partnership with technology company Aira, the airports have introduced smart glasses and a mobile app, which connect visually impaired passengers to certified, live agents to help navigate every step of the airport experience, from kerb-to-gate.
The technology uses smart glasses and a mobile app to seamlessly connect the user to a live, human agent that can see the environment around the user in real-time. Agents can then serve as visual interpreters to accomplish a variety of tasks in the airport – from viewing a flight information board to finding the queue line at a security checkpoint to verifying their luggage at a baggage carousel.
The agent narrates what is in the user's field of vision, assisting them with navigating the terminal, locating and identifying luggage, reading flight boards, dining and shopping options, and arranging ground transportation.
Gatwick Airport is also among those to have trialled Aira's app to assist visually impaired passengers in Europe. Instead of using Aira's smart glasses, passengers at Gatwick can now use the camera on their mobile phone to get help from professionally trained agents. The system is currently being trialled for six months at Gatwick in partnership with easyJet.
Self-driving electric wheelchairs for passengers with reduced mobility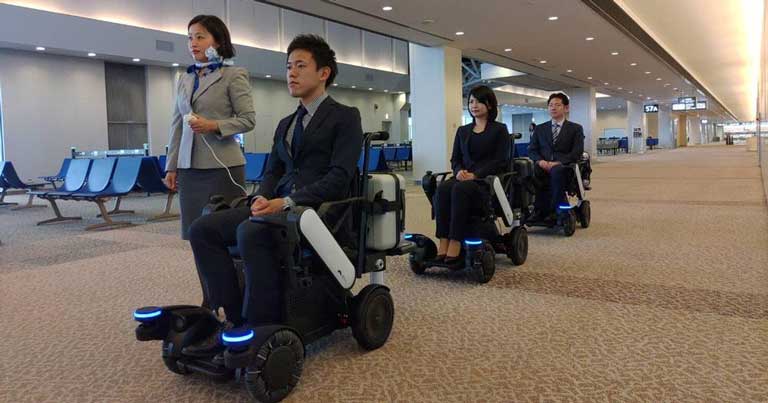 All Nippon Airways (ANA) has partnered with Panasonic Corporation to test the latest generation of personal mobility self-driving electric wheelchairs, as part of a far-reaching plan to increase mobility and accessibility options at Tokyo Narita International Airport. Incorporating robotic elements, these wheelchairs will be able to safely navigate through the airport independently, making them an ideal mobility solution for passengers with connecting flights.
The self-driving electric wheelchair jointly developed by Panasonic and WHILL Co., Ltd., is capable of independently detecting and avoiding people and obstacles on the way to their destinations.
The wheelchairs function by following a predetermined leader to a common destination, and ANA staff will be on hand to serve as guides. The smart elements and adaptability make the wheelchairs a perfect fit for Narita Airport, particularly in helping passengers reach their connections on time.
Accessible IFE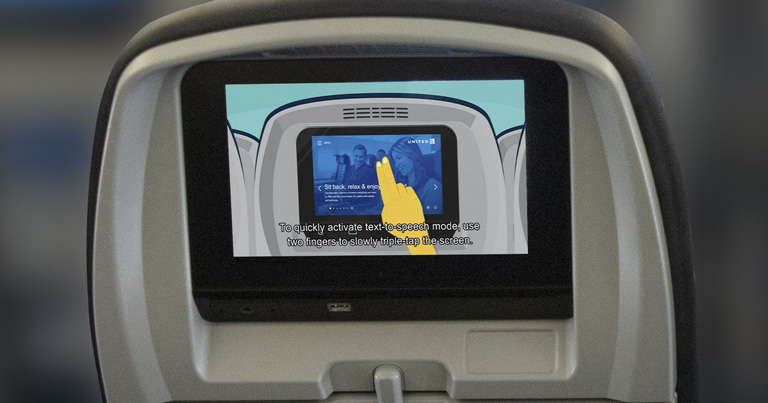 A new onboard entertainment interface, considered to be the most accessible airline entertainment system yet, brought United Airlines to the forefront of inflight entertainment (IFE) accessibility. The airline was awarded the Crystal Cabin Award 2019 for Inflight Entertainment and Connectivity for its inclusive Entertainment for All solution, which recently debuted on the airline's 787-10 Dreamliner fleet.
The system offers an extensive suite of accessibility features for seatback entertainment, which accommodates any level of vision, as well as provides support for customers with hearing and mobility issues. Some of the features include: text-to-speech with reading granularity options; customisable voice volume, speed and pitch; touch features including screen magnification, customisable text size, high contrast text options, colour correction options and colour inversion options; custom messaging tailored for customers with hearing disabilities; and additional navigation options for mobility impaired passengers who are unable to swipe or use handset features.
Back in 2017, Virgin Atlantic launched an accessible IFE (aIFE) platform to provide inflight entertainment for passengers with visual impairments aboard flights serving destinations across North America, the Caribbean, Africa, China, India and the Middle East. This made Virgin Atlantic the first global airline to make IFE accessible for passengers with sight loss across its entire fleet, and winner of the FTE Accessibility Leadership Award in 2018. The portable IFE platform was developed by Bluebox Aviation Systems with significant input from Virgin Atlantic and representatives from The Guide Dogs for the Blind Association. The result is an iPad-based IFE solution that includes controls and menus that are easy to detect and navigate, support in multiple languages, closed captions and audio-described content.
Since then, Etihad Airways has also followed suit to upgrade its Bluebox Ai iPads to include Bluebox aIFE.
Video technology and remote food ordering service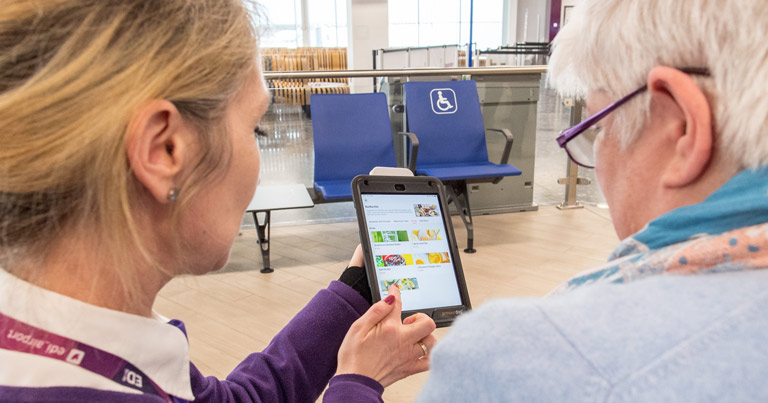 Earlier this year, Edinburgh Airport invested in a new video technology to provide better contact between passengers with reduced mobility and staff upon arrival. The airport has invested a total of £425,000 in the call points which are located at critical locations of the passenger journey such as the long stay car park, the drop-off area, coach park and tram stop. The initiative follows direct feedback from PRM passengers and from the airport's Special Assistance Consultative Committee, and is the latest improvement to the PRM and special assistance offering.
In another initiative, Edinburgh Airport is currently trialling a mobile ordering service, enabling passengers with reduced mobility to order food & beverages with ease.
Using the FetchyFox platform, staff will be able to ask PRMs if they would like to order food from restaurants in the departure lounge and have it delivered to them. The innovative technology is being trialled with Barburrito and The Gathering Deli, with a view to extending the service once the trial has been evaluated.
Going back to basics – the cultural shift
Airlines and airports have previously come under fire for failing to provide appropriate assistance to passengers with disabilities.
However, no one can deny that things in the air transport industry are improving, though at a much slower pace than needed. Some airports and airlines are really pushing the envelope in terms of improving accessibility through new technology. But while the industry is branching out with new solutions, it is important to remember that technology is just a small part of the equation. At a back-to-basics level, airports and airlines must invest in new infrastructure, facilities and most importantly staff training and raising awareness of different passengers' needs to create an inclusive experience for all.
In Europe, Gatwick Airport, for instance, is one airport that has been highly praised for its initiatives to improve its services for passengers with disabilities, including training all frontline staff to recognise and offer appropriate help to passengers with hidden disabilities such as autism and dementia. Virgin Atlantic also recently introduced a new scheme for passengers with hidden disabilities to ensure it provides extra assistance to those who may need it without them having to ask. A specially designed symbol, which can be worn as a pin badge or discretely tucked away in the passenger's passport as a bookmark, will alert extensively trained Virgin Atlantic staff that extra assistance may be needed by an individual, or their family, while travelling.
That said, it seems that the industry is in dire need of standardisation to ensure a seamless and consistent travel experience for passengers with disabilities, from one end to the other. It is positive, however, to see that airlines and airports are more determined than ever to cater for all passengers' needs.