In recent months, airlines and airports around the globe have been working closely with governments and health bodies to set up COVID-19 testing capabilities as a way to kickstart international travel.
One airline that has been committed to proving that testing is a safe alternative to travel restrictions and quarantine regimes is Lufthansa. Back in June, the German carrier opened the world's first, and largest, commercial COVID-19 test centre in Frankfurt Airport in partnership with Fraport and biotech company Centogene, later followed by centres in Munich, Hamburg and Düsseldorf airports.
In a conversation with FTE, Lufthansa Group's Senior Director Product Management Ground & Digital Services Björn Becker, who has been spearheading the carrier's efforts, shared some of the insights and lessons learned from setting up the pioneering testing facilities, ahead of his presentation at FTE APEX Virtual Expo, co-located with IFSA Onboard Hospitality Virtual Expo (8-9 December).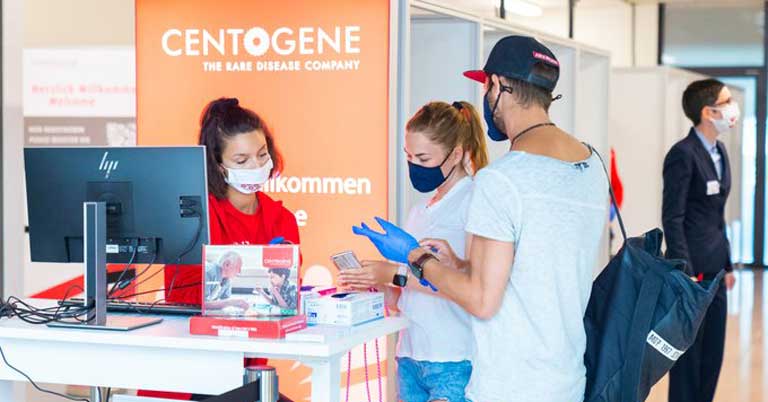 FTE: Lufthansa and Centogene disclosed that 400,000 passengers were monitored for COVID-19 at the Frankfurt Airport testing facility since it opened in late June. What feedback have you received from passengers on the testing procedure?
Björn Becker: We started the testing programme end of June and opened the first testing centre in Frankfurt with a capacity of 5,000 tests a day at the time. The capacity at Frankfurt is now 20,000 a day and we will further ramp this up, as it's still not enough. We have opened further test centres in Munich, Düsseldorf, Hamburg and we're planning to open one more in the new Berlin Brandenburg Airport as soon as it opens next week.
We're convinced that testing is definitely the best way to fight the pandemic, much better than the quarantine. It gives you specific information on your health status, which is good for fighting the pandemic, but also for the travellers, as it gives them security on whether they're infected or not.
In Frankfurt, there is a dedicated zone for Lufthansa passengers with an integrated premium line. Feedback from our customers has been very positive. The whole reason we started this is because we wanted to lower the hurdle of getting a test if you need it. About 60% get their test within 12 hours and nearly 100% within 24 hours, and if they use the express service it's between 3-6 hours. So, the results are quick and reliable.
FTE: What were some of the challenges that you experienced when implementing the testing system? And how did you and your team overcome these?
BB: Finding the right partner was key. We did this first project together with Centogene, which is our lab partner here in Frankfurt, and with Fraport. We set up the test centre within four weeks and without these two strong partners this wouldn't have been possible. It's always difficult to start a new project in an airport environment with all the rules and regulations we have there. So, you really need strong partnerships to get this going.
When we started, we thought we would have 300-400 test a day, but within a week we were at 1,000 tests a day. So, we had to scale up quickly.
FTE: Some governments have been reluctant to implement testing as a way to eliminate the need for quarantine and other travel restrictions, based on the assumption that testing might not always identify a positive case, especially in an asymptomatic individual. So, how reliable is testing based on your research?
BB: Testing is definitely the best thing we have. PCR tests are considered the gold standard for detecting the virus with 99% sensitivity. There's always a remaining risk, but it's so small that it's manageable. Quarantine is difficult to control and also in many countries, if one person from a household is under quarantine, the other members can still go out. So, quarantine is not really a secure way of doing it. Testing and being sure whether you're infected or not is much better. If you actually know that you're infected, then you will yourself make sure you don't infect other people.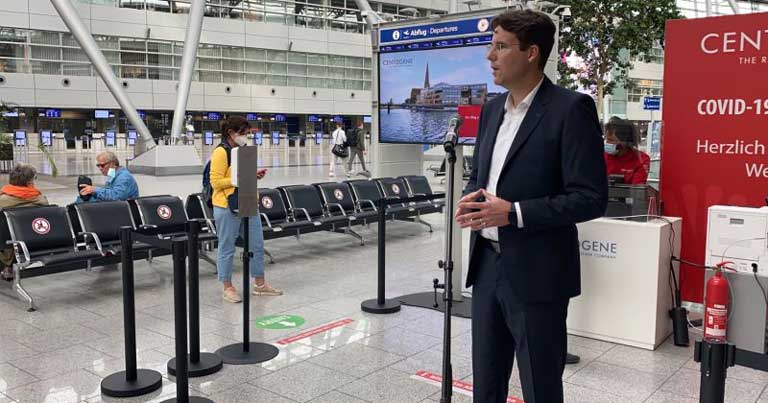 FTE: Recently, Lufthansa shared plans to introduce rapid COVID-19 antigen tests for passengers in October. Can you share some more details around this and what is the timeframe?
BB: When you do innovative things, such as the antigen test, you learn a lot. We started trials last week on flights from Vienna to Berlin with Austrian Airlines, where passengers were tested with the antigen test. First departures worked really well, we didn't have any COVID-19 positive cases. We want to do more things here, but that can take two to three weeks until it's implemented, but there's definitely more to come.
FTE: Lufthansa is also weighing the option of offering testing to its passengers in the United States and Canada. Can you provide more details around this?
BB: We work together with partners in order to provide testing opportunities for our customers. We are in contact with different airports as well as lab partners in the US and also other countries. There will be flights where we will test passengers, like the Vienna-Berlin flights, in these markets sooner or later. That depends on how fast we can set up these processes and the testing capacity and facilities.
There are a lot of airports that are really going forward with this, for instance San Francisco International Airport is doing testing with United Airlines to Hawaii; Los Angeles International Airport and JFK are also doing a lot. There's a lot going on and we contribute pushing it forward.
FTE: And how are you utilising digital technology to help prevent the spread of COVID-19? For instance, are you planning on introducing digital health passports?
BB: What we currently have is the digital PCR test certificate, which has been available since June. This is 100% digitalised. We're looking into other solutions such as the CommonPass digital health passport from the World Economic Forum. We're looking at various things here that we want to push, and we're also pushing for initiatives and solutions so that we're prepared when a vaccination comes.
Contact tracing is the other important part of the equation. It's not only testing, but we also need to work together with the governments to find more efficient solutions for contact tracing. And we can achieve this together, as we have all of the data. We just need to bring it all together in a safe way and in compliance with data protection.
FTE: During the upcoming FTE APEX Virtual Expo, you will deliver a joint opening presentation with Volkmar Weckesser, PhD, CIO, Centogene, in a session titled "Biosecurity in the post-pandemic world: Safety, security and sanitisation – examples of best practice". Can you provide a brief outline of some of the main points you will be covering?
BB: We'll provide insights on testing and how we are bringing together all different elements we have for infection protection and biosecurity. Testing is an important element, but also for instance how the process is changing for boarding and deboarding, or our HEPA filters in the aircrafts. We want to do everything in a rational way so that we can ensure maximum protection. We're in the hospitality industry, so we still want to offer a good experience.
FTE: And what are your main aims and expectations from the event?
BB: I'm really interested in how the FTE APEX Virtual Expo works virtually. It's the first major event I will be attending virtually this year. I have done some recent webinars e.g. with our customers, but personal interaction is missing, so that's something I'm really curious of how it can be achieved. I'm convinced that we would have a good exchange, but I am also looking forward to being able to meet face-to-face.