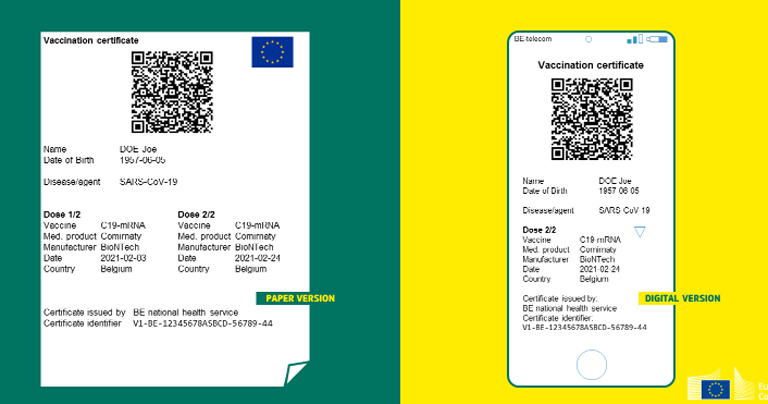 This week, the European Commission announced plans to introduce a joint vaccination passport to facilitate free movement inside the European Union during the COVID-19 pandemic.
The Digital Green Certificate will be a proof that a person has been vaccinated against COVID-19, received a negative test result or recovered from the virus. Ultimately, the passport will free travellers from quarantine obligations, which will help boost the travel and tourism sectors. A notable example of the concept was recently introduced in Israel, where vaccinated citizens can download an app that displays their "green passport", which gives them access to certain places, such as gyms, restaurants, theatres, hotels, concerts and other venues.
How would it work?
Similar to Israel's green passport, the EU certificate will be available in digital or paper format with a QR code, which contains the necessary data and a digital signage to ensure security and authenticity of the certificate.
The European Commission has also stated that it will "build a gateway and help member states to develop a software for scan & check" of the digital certificates.
Věra Jourová, Vice-President for Values and Transparency, explains: "The Digital Green Certificate offers an EU-wide solution to ensure that EU citizens benefit from a harmonised digital tool to support free movement in the EU. This is a good message in support of recovery. Our key objectives are to offer an easy to use, non-discriminatory and secure tool that fully respects data protection. And we continue working towards international convergence with other partners."
Commissioner for Justice, Didier Reynders, also said: "With the Digital Green Certificate, we are taking a European approach to ensure EU citizens and their family members can travel safely and with minimum restrictions this summer. The Digital Green Certificate will not be a pre-condition to free movement and it will not discriminate in any way. A common EU-approach will not only help us to gradually restore free movement within the EU and avoid fragmentation. It is also a chance to influence global standards and lead by example based on our European values like data protection."
While the certificate will be available for EU member states, it is not yet clear whether the digital tool would also be made available for other countries such as the United Kingdom and the United States, for instance. Tourism-dependent countries, such as Italy, Cyprus and Greece, have already stated that they will be ready to welcome British tourists this summer, following announcements that the UK aims to vaccinate all adults by end of July. The Commission has stated that it is working to make sure that the certificates are compatible with systems in third countries outside the EU, and that it will encourage other countries to recognise the Digital Green Certificate when lifting restrictions on non-essential travel.
The initiative, however, doesn't come without its controversy around privacy and ethical issues. Some EU countries like Germany and France have previously expressed concerns over privacy and social discrimination, so it'd be interesting to see whether all member states will fully embrace this vision. Meanwhile, the World Health Organization (WHO) has also stated that it is working to "create an international trusted framework" for safe travel, but that vaccinations should not be a condition, as it might be discriminatory.
In response to these concerns, the Commission is working towards adding not only an interoperable vaccination certificate, but also COVID-19 test certificates and certificates for persons who have recovered from COVID-19. This will ensure that all people, regardless of whether they have been vaccinated or not, should benefit from a Digital Green Certificate when travelling in the EU.
The Commission has also highlighted that the new passport will respect data protection, security and privacy, however, it is still not clear what technology will be used to ensure that sensitive data is stored appropriately.
https://twitter.com/EU_Commission/status/1372450196718645249
Next steps
In order to put the health passport in place before the summer season, the next steps will require a swift adoption by the European Parliament and the Council.
In parallel, Member States must implement the agreed trust framework and technical standards to ensure timely implementation of the Digital Green Certificate, their interoperability and full compliance with personal data protection. The aim is to have the technical work and the proposal completed in the coming months.
What does this mean for the air transport industry?
Over the past few months, airlines have been increasingly trialling a number of digital health passports, from the likes of IATA Travel Pass, CommonPass, VeriFly, AOKpass, YOTI, and CLEAR Health Pass, just to name a few. However, in the past couple of weeks, airlines have taken it upon themselves to create their own digital health solutions. Ryanair announced that it is launching a COVID-19 Travel Wallet, while British Airways this week shared plans to trial an app-based digital health passport, allowing customers to upload health documents such as negative PCR tests and vaccination certificates.
The new EU initiative raises some questions around how the Digital Green Pass might align with other industry initiatives, such as the IATA Travel Pass. The Commission has stated that it is working to make sure that the certificates are compatible with systems in third countries outside the EU. The proposal is open to global initiatives and takes into account ongoing efforts of specialised agencies such as the World Health Organization (WHO) and the International Civil Aviation Organization (ICAO), to establish specifications and guidance for using digital technologies for documenting vaccination status.
Meanwhile, Europe's aviation sector has welcomed the European Commission's proposal for a digital health pass. Industry associations Airlines for Europe (A4E), ACI EUROPE (Airports Council International), ASD (Aerospace and Defence Industries Association of Europe), CANSO, European Regions Airline Association (ERA), and International Air Transport Association (IATA) view these certificates as a key tool to facilitate a safe and efficient resumption of travel and tourism in Europe.
The associations are urging EU governments to ensure the certificates are operational in time for the peak summer travel months – with vaccination certificates, in particular, enabling the elimination of all restrictions to travel whilst recognising that vaccination should not be mandatory in order to travel.
However, the organisations have warned that a more detailed plan is needed to ensure economic recovery and restore freedom of movement as soon as governments are able to re-open their borders.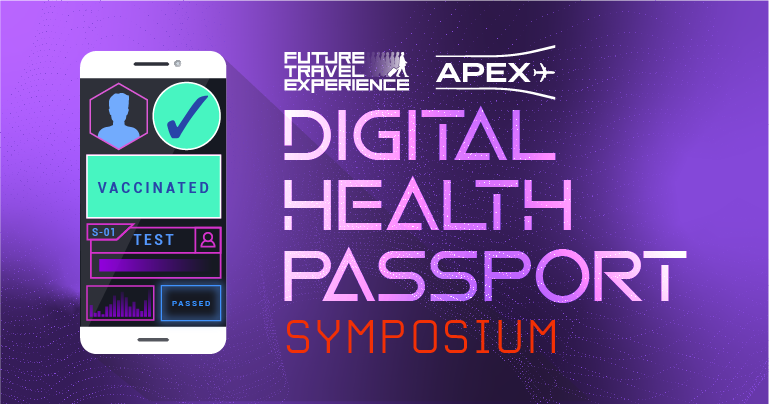 FTE will continue to closely follow the topic around digital health passports and the restart of the global aviation industry. At the upcoming FTE APEX Virtual Expo (25-26 May), we will be hosting a dedicated Digital Passport Symposium to bring together the first movers and key players in the digital health passports space to share the main lessons learned so far, and their final recommendations to the industry ahead of a major summer rollout.