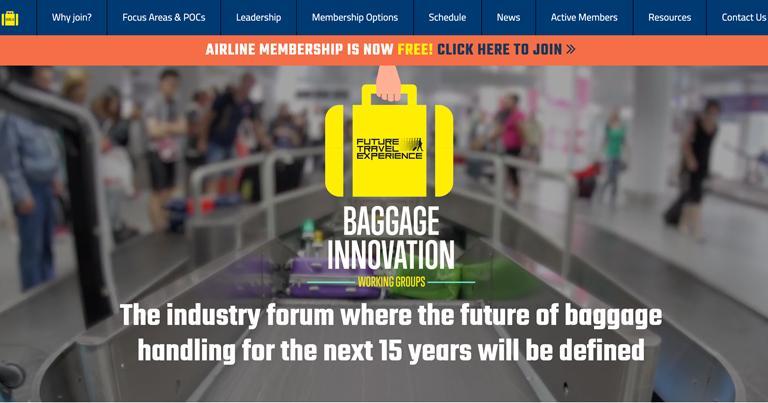 Future Travel Experience is excited to announce the launch of the brand-new website for the FTE Baggage Innovation Working Group (BIWG), the industry-leading forum which aims to define the future of baggage. The new digital hub is part of the ongoing evolution of the BIWG, offering members a source of inspiration and a plethora of useful resources.
The BIWG brings together the most innovative and progressive baggage supply chain companies, airlines, and airports from across the industry to provide a unique community for cooperation and industry advancement. It is the platform for developing new techniques, technologies, and business models to deliver tangible change in the baggage sector.

The members meet every six weeks to share industry insights and learnings, develop innovative industry POCs and pilots, and deliver a framework for a long-term baggage revolution, driven forward by some of the sector's most respected and progressive figures including Andrew Price, Head OF Baggage Transformation, FTE (and former Head of Global Baggage Operations, IATA); Samuel Ingalls, Principal, Barich, Inc.; Darin Juby, Director Baggage Services, Greater Toronto Airports Authority; Jason Odey, Director, Global Baggage Excellence, Air Canada; Idar Sørgjerd, Manager, Baggage Handling Service, Technical Infrastructure & Innovations, Avinor; and Kevin Kleist, Emerging Trends Advisor, Southwest Airlines.
Current members include some of the world's leading airlines and airports namely American Airlines, Air France, Etihad, Iberia, ITA Airways, SkyTeam, Air Canada, Southwest, Hamad International Airport, Dublin Airport, Harry Reid International Airport, Auckland Airport, Avinor, Neom and Greater Toronto Airports Authority, as well as the most innovative baggage supply chain companies including Amadeus, AirPortr, BagsID Network, BagTag, Brock Solutions, SITA, Collins Aerospace, Copenhagen Optimisation and many more.
The next BIWG virtual members meeting will take place on Tuesday, 10 May and will look into some of the latest baggage trends, such as data gathering and sharing and rolling out strategies for automated guided vehicles (AGVs) for baggage. The group will also discuss the latest findings of the ongoing Proof of Concept (POC) around reclaim optimisation, currently taking place at Toronto Pearson International Airport.
Following that, the next in-person members meeting will take place at Dublin Airport on 7 June, coinciding with the upcoming FTE EMEA show.
Interested in joining? Visit our brand-new website to find out more about our membership options ­– airlines can sign up for free >>