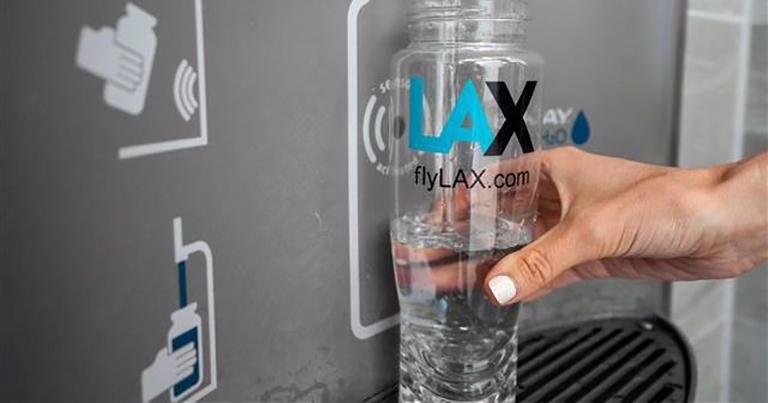 Los Angeles World Airports (LAWA) – host of FTE Global on 19-21 September 2023 – has prohibited the sale of single-use plastic water bottles at Los Angeles International Airport (LAX) and Van Nuys Airport (VNY) as part of its bold sustainability plan to reduce plastic waste at LAWA facilities and move toward zero waste.
Under the policy, LAWA and businesses with lease or concession agreements at LAX and VNY are required to substitute single-use plastic water bottles with containers made from sustainable alternatives, including recyclable aluminium or glass. In addition to restaurants, concessions and lounges, the policy also applies to vending machine providers and airport events. Pre-packaged single-use plastic bottles of all sizes containing non-carbonated and unflavoured purified water, spring water, mineral water, artesian water, well water, tap water, and electrolyte-enhanced water are subject to the policy. Bottled water served onboard aircraft is exempt.
In anticipation of the ban on single-use plastic water bottles, the Los Angeles Department of Water and Power worked in partnership with LAWA to install additional hydration stations throughout LAX's terminals to provide passengers with convenient access to drinking water.
"We encourage our guests to help us reach our goal of eliminating plastic waste at the airport by bringing a reusable water bottle and filling it up at one of our many hydration stations," said Justin Erbacci, Chief Executive Officer, LAWA. "Eliminating single-use plastic water bottles is essential to improving our environment and enhancing sustainability across our airports."
Waste reduction and water management are just two important elements of LAWA's Sustainability Action Plan, which includes plans for LAX and Van Nuys Airport to achieve net zero in the following areas by 2045: no potable water consumed for non-potable uses, and zero carbon emissions from LAWA operations. LAWA is also committed to using 100% renewable electricity by 2045.