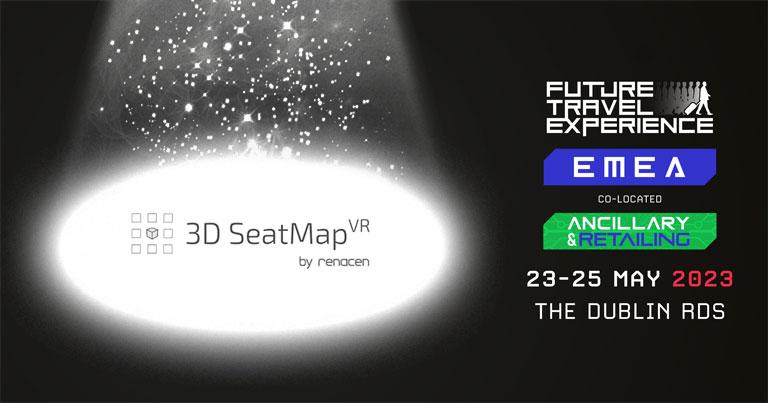 3D SeatMapVR is the world's leading 3D seat map visualisation solution integrated into Booking, Check-in and Manage Your Booking. Thanks to our 100% web-based technology, passengers can see a photorealistic 360º representation from the selected seat's point of view, thus knowing all its details: legroom, position in relation to the windows, connectivity, IFE, materials, etc.
Thanks to this, we are generating new ancillary revenues, boosting the sale of extra legroom tickets, emergency exits, higher classes, etc., while increasing user satisfaction.
What makes your products / services stand out?
---
The company behind 3D SeatMapVR is Renacen. A company specialised in the creation of state-of-the-art software and integrations in critical systems with more than 12 years of experience.
Our company mixes like no other the most advanced IT capabilities with a 3D and VR creation studio to deliver industry-leading content thanks to our deep knowledge of the technology.
Our 3D SeatMapVR product is 100% based on web technology, allowing us to achieve maximum compatibility and meet the strictest accessibility requirements.
This, together with our own generation engine, allows us to obtain photorealistic results in the shortest possible time, facilitating the updating of content, and always showing the most realistic and true-to-reality views.
All these features mean that we have won awards such as the Crystal Cabin Award, finalists in the German Design Awards, Skift Awards, etc., and that today we have clients such as Emirates, United Airlines, Etihad, Iberia, Finnair, Avianca, Evelop, Air Europa, Level, World2Fly, etc.
What brings you to the EXPO this year?
---
We believe this is a fantastic opportunity to continue gaining visibility, closing deals and opening new opportunities. The airline industry ecosystem comes together at this event, so we can't miss the opportunity to showcase our latest developments and where the technology is evolving.
Why should visitors come to your stand and what can they expect to see?
---
We will be conducting live demonstrations of our technology, so airlines can see for themselves the speed of loading, ease of use, simplicity of implementation and visual quality of our product. We will be able to discuss best practices, success stories, and how our technology can be adapted to each airline to help them achieve their goals, especially in terms of boosting ancillary revenues and user experience.