Venue
The Istanbul Congress Center comprises a world class technological infrastructure, professional staff and unrivalled quality of service to guests, making the organisation the shining star of Turkey in the regional and international arena. With an auditorium of 3,705 seating capacity and the only congress centre in Turkey that can simultaneously host different events on each floor and answer to every need, ICC is one of the few elite event complexes in the world with its modern architecture and wide range of facilities. Istanbul Congress Center has taken its place in the tourism sector as the biggest congress and fair complex in Turkey and the honour of Turkey for national and international organisations. Moreover, it is within easy walking distance of hotels and close to the Taksim cultural district as well as shopping, dining and nightlife.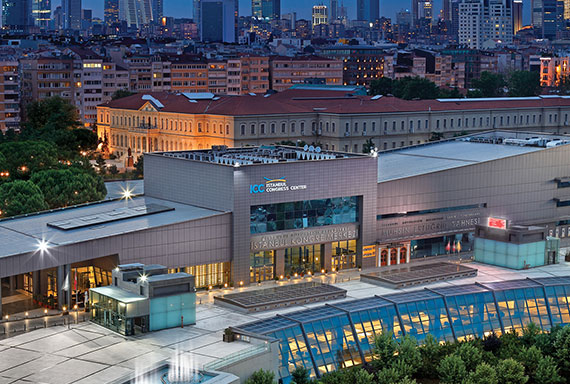 Venue Address
Istanbul Congress Center (ICC),
Harbiye Mahallesi,
Darülbedai Caddesi No:3, 34367
Şişli/İstanbul, Turkey

Accommodation
Future Travel Experience will be offering discounted rates at a variety of hotels within convenient proximity to the event venue, for attendees seeking hotel accommodation during their visit. Booking details will be shared shortly.
IMPORTANT - PLEASE READ
Attendees wishing to book accommodation should do so directly through the FTE website. We are aware that a number of unauthorised service providers, including "Housing Services," "Exhibition Housing Management" and "Trade Show Housing" make contact with attendees to offer hotel reservation services. These companies charge significant booking and credit card fees and can enact stringent cancellation policies. This is unfortunately beyond our control and we urge all attendees to avoid making their reservations with any means other than that provided on this page.
Visa Information
Delegates attending Future Travel Experience EMEA – Co-located with The New Airport Show Istanbul 2019 should be mindful of visa entry requirements prior to travel into Istanbul, Turkey. Travel and visa arrangements are the responsibility of the individual. For further information on entry requirements from your country, please visit your embassy website.
e-Visa
From 29 October 2018, self-service e-Visa kiosks and Wi-Fi areas where visitors can apply for an e-Visa on arrival will no longer be available in Turkish airports - you must apply for your e-Visa before you travel.
You can get an e-Visa online before you travel through the official Republic of Turkey e-Visa website. An e-visa costs $20 and you can pay using a credit or debit card. You can apply up to 3 months in advance of your travel date.
Who is eligible?
Please consult the e-Visa website for a full list of countries who's citizens qualify for an e-Visa (provided that they meet required criteria). To find out these criteria, go to Main Page, click on Apply button and select your Country of Travel and Type of Travel Document.
Should you encounter difficult in completing your application, or would like to receive further information on e-Visas please visit: https://www.evisa.gov.tr/en/feedback/
A Word of Warning
Some unauthorised websites may charge for information about e-Visas, and for submitting applications. These websites are not endorsed by or associated with the Turkish government. Be wary of such sites and businesses, particularly those that seek additional fees for other services. Some unauthorised websites have also issued fake e-Visas.
In case of problems with the computer systems at the Turkish port of entry, print off and carry a paper copy of your e-Visa, or make sure you have an electronic copy on a smart phone or other device to show to the immigration officer.
Further Information
Individuals requiring information to support their Visa application (not needed for those applying for an e-Visa) must request the appropriate documentation no later than Monday 3rd June 2019.
Please submit your enquiry including the below information, to allow for us to assist you in a timely manner:
Full Name (as appears on passport):
Job Title:
Company:
Passport Number:
Date of Birth:
Place of Birth:
Nationality: