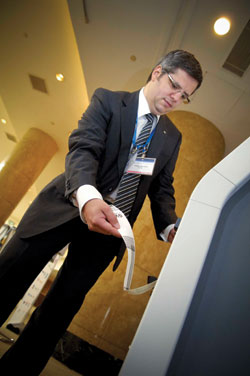 Malaysia Airports will host the inaugural Check-in Asia conference and exhibition at the Pan Pacific, Kuala Lumpur, on 24-26 November 2010 – a new check-in forum specifically for the Asia Pacific region. Kuala Lumpur International Airport (KLIA) is also one of the first Asia Pacific airports to become 100% BCBP (bar coded boarding pass) capable – one of several IATA Simplifying the Business (StB) projects now live at the airport in collaboration with Malaysian Airlines and SITA. Louise Driscoll reports.
IATA's 65th Annual General Meeting at KLIA from 7-9 June was an opportunity to showcase the airport's adoption of the latest self-service technologies – achieved in collaboration with IATA, SITA and the airport's home carrier, Malaysian Airlines.
One key element of StB has been KLIA's move to 100% bar coded boarded passes earlier this year – a further milestone for IATA, which has already achieved an industry standard for 2D bar codes.
Mohd Aminuddin Yaakub, general manager, Malaysia Airports Technologies, said: "Having already implemented CUSS in our check-in operations, it was the next logical step for us to adopt IATA's BCBP standard. Before this was implemented passengers using internet check-in had to validate their boarding passes before leaving the departure lounges." IATA believes that CUSS is now mature, given the wide adoption of web and mobile check-in platforms.
At KLIA passengers are now able to print IATA standard 2D bar coded boarding passes via the web, mobile phone, CUTE workstation or using SITA's new fully functional CUSS AirportConnect kiosk, which is designed to take up half the space of a conventional kiosk. The first of these were launched and demonstrated at the airport during IATA's AGM. Each kiosk is capable of printing bag tags, but progress is still being made to implement this at KLIA.
Next year, IATA aims to meet key targets for bar coded boarding passes and across its other initiatives: IATA e-freight, Baggage Improvement Programme (BIP) and the Fast Travel Programme.
Paul Behan, IATA's head of the passenger experience, said: "72% of all boarding passes meet the IATA 2D standard now. Our target is 100% by the end of 2010." The focus will be on achieving standards across the remaining projects and then mass implementation across the programme, he added.
Self-boarding standards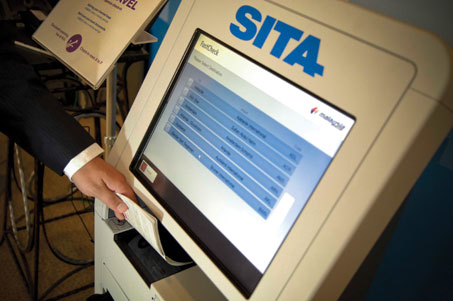 The self-service standards in IATA's Fast Travel programme aim to capture the major touch points of a passenger's journey: bags ready to go (where passengers can print their baggage tags from a kiosk ready for an agent), document scanning (using a self-service kiosk), self-boarding (automated ID checks at a kiosk) and bag recovery (using a kiosk to report a missing bag).
Among the projects is IATA's continual development of self-boarding standards. KLIA has been involved in trials for Etihad and Malaysia Airlines passengers, who were able to self-scan their boarding passes and board the aircraft following positive identification. Trials were limited to domestic routes, enabling large volumes of passengers to test the technology. Feedback from passengers has been positive, reports Aminuddin, but there is still some work to be done with the scanner technology where identification checks require passengers to show a boarding pass and passport. "Having a scanner is not beneficial and the process is under review. With the right combination and location of scanners, integration with an airline's DCS and possibly some biometric identification, self-boarding can be successful."
Behan added: "This is a known technology but is new to the airport environment – we are starting to see hotspots appear and our job is to consolidate that and ensure delivery at airports."
IATA's target is 10 airlines capable of self-boarding at the gate by the end of 2009 and with one airline using automated ID checks as required for international travel.
Under IATA's Baggage Improvement Programme (BIP), which focuses on minimising baggage mishandling, KLIA is focused on further improving its automated baggage handling system. The process involves scanning baggage tags for sorting and matching the tag with Baggage Source Messaging data received from an airline's departure control system. An IT upgrade will address how to optimise the scanning and sorting process and further improve their baggage tracking record, he said.
For the last two years, the airport has been focusing on RFID as a tool to improve the baggage handling process, but this is not the solution, said Aminuddin. "With the uncertain costs of RFID to airlines, no progress has been made with RFID. A more realistic focus will be to measure the queue time for passengers at service points – to measure service rates and identify opportunities for further improvement. The other focus will be driving the self-service process from check-in to boarding."
He added: "Our collaborations between IATA and SITA have been essential to the success of the project. The commitment of the local Airline Operations Committee has also been crucial and their part in sharing the StB objective for KLIA and supporting our activities."