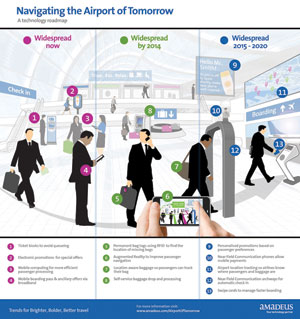 The 'Navigating the Airport of Tomorrow' industry report – which focuses on the role of new technologies to improve the travel experience – is based on a survey of almost 3,000 passengers to establish the greatest frustrations for passengers and the future trends for the next decade.
Commissioned by Amadeus and authored by Norm Rose of Travel Tech Consulting Inc, the report highlights that baggage management, security processes and flight disruptions are currently the greatest cause of frustration for passengers, while Near Field Communication (NFC) technology, baggage tracking and passenger tracking could play a vital role in the future.
Looking ahead to 2020, the report outlines that NFC-enabled smartphones could enable the widespread rollout of one-touch check-in, permanent Radio Frequency Identification (RFID) bag tags could become the norm, and roaming agents with tablet computers could become commonplace to provide passenger information and supplement check-in desk processing.
Julia Sattel, VP Airline IT, Amadeus, said: "We see a bright future for those players that are willing to collaborate in order to overcome the challenges presented by airport operations. Airlines, airport operators, ground handlers and retailers must work together if the vision presented in this report is to be realised. Our priority is to help deliver a better experience for the passenger by providing solutions that underpin how airlines and airports better relate to their customers."
View more information and download the full 'Navigating the Airport of Tomorrow' report.