Having surpassed its target of achieving 60 new Fast Travel implementations in 2010, IATA (International Air Transport Association) has set another ambitious target for this year, as it aims to implement all five Fast Travel projects at five major airports.
The five project areas are: bags-ready-to-go (self-tagging and fast bag drop); document check; self-boarding; flight re-booking; and bag recovery (lost bag registration).
Alongside providing a complete self-service suite to improve the passenger experience, industry cost savings are also central to Fast Travel. By the end of 2010, 66 new implementations had been achieved over the course of the 12 months, taking the overall total to 120.
"We are very pleased with the industry appetite for Fast Travel, which illustrates the recognition of the value represented by the Fast Travel self-service projects," said Chris Goater, IATA's Communications Manager. "There is now a critical mass of implementations that allows us to move to the second phase of the project – namely a focus on providing an end-to-end self-service experience for the passenger. By 2020, our vision is that 80% of passengers will have access to a full self-service suite when they travel."
Portraying the global appeal of self-service, recent implementations have taken place in Australia, France and the United States. Qantas, for instance, has incorporated bags-ready-to-go and self-boarding, Air France has adopted self-tagging in Bordeaux, and American Airlines has launched self-tagging at Austin-Bergstrom International Airport.
Goater said: "The attraction of the Fast Travel programme is that it represents a win for airports, airlines and passengers. Airports have more flexibility in using existing infrastructure to meet current needs, as self-service facilities take up less space. Airports and airlines can also enhance throughput and better manage passenger flows at peak times. Airlines have the opportunity to enhance the passenger experience, reduce costs and delays. Passengers can have more choice, convenience and control throughout their journey."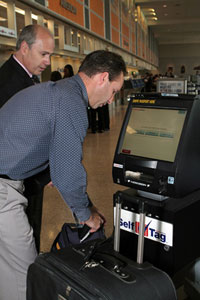 Fast Travel confidence
While the project has enjoyed great success to date, the target that has been set for 2011 clearly highlights IATA's firm belief in the potential of Fast Travel. Although the target may be ambitious, there is no shortage of confidence that the objective can be achieved.
"This year's board target is challenging, as it involves bringing all initiatives together in one location," Goater explained. "Only one airline – Lufthansa – has implemented all five projects to date, so the task at hand is significant.
"Industry cooperation amongst airports, airlines and ground handlers is critical to implement the self-service suite in the same place. IATA is introducing tools that can help with that cooperation." Known as the 'Fast Travel Matchmaker', this tool will allow airports and airlines to plan implementations together and will also allow stakeholders to share project information and communicate with each other on the status of implementation worldwide.
"Industry commitment and interest is critical to meeting the target," Goater added. "We are optimistic based on the response so far and our success in previous years. IATA is committed to supporting the industry in introducing a self-service suite for passengers."