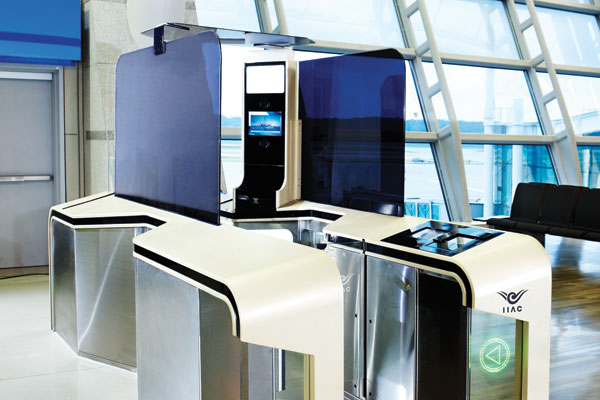 Incheon International Airport boasts one of the industry's most innovative self-service solutions by way of its 'U-Airport' concept. Essentially, the concept relies on the e-Passport and biometric-based technology to expedite the airport experience. However, with such limited human interaction throughout the process, how can passenger security not just be maintained, but further heightened?
U-Airport focuses on the four basic processes that the passenger encounters in an airport environment: check-in, security, immigration and boarding. At Incheon International Airport, each of these processes can be completed with just the e-Passport and biometric information.
"Biometric technology is essential for the u-Airport concept," explained Anna Park, Senior Manager, U-Airport Team, Incheon International Airport Corporation (IIAC).
For example, passengers using the U-Immigration gates can simply place their e-Passport on a reader and then confirm their identity via either fingerprint or facial recognition technology. This allows the immigration process to be completed in less than 20 seconds, or in as little as nine seconds for transfer passengers. Facial recognition technology has also been applied to the boarding process.
Enhancing security
Although human intervention is on standby to deal with any "emergency events" that may arise, Park explained that biometric technology, coupled with use of the e-Passport, is the most secure way of accurately identifying a passenger.
"Each passenger possesses their own biometric information – face, iris, fingerprints. Through this biometric information, we can acquire not only fast service, but also a high level of security," she said.
Having so far proved to be reliable and secure, The U-Airport concept is continually being developed and it currently covers U-Self Check-in, U-Departure Gate, U-Immigration and U-Automated Boarding. According to Park, the key enabler for each of these processes is the use of biometric technology – both to expedite and secure air travel.
"We are absolutely sure that biometric technology will become the most important component of the future travel process," she explained. "In the near future, we expect that the travel process will be completed only with biometric technology.
"At that time, we will no longer need passports and boarding passes."
Anna Park, Senior Manager, U-Airport Team, IIAC, is among the expert speakers already confirmed to speak at Future Travel Experience 2011. She will address delegates on the issue of 'Automated self-service projects in a common use environment'.