About Raymond Kollau
Founder of independent trend research agency airlinetrends.com, which monitors the global aviation industry for commercial innovations in response to changing consumer behaviour.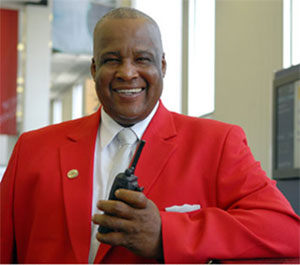 At a time when airlines are finding more ways to reduce face-to-face contact with passengers at airports, expanding the number of self-service options with do-it-yourself baggage check-in and self-boarding gates, airlines such as Delta, American Airlines and Iberia are also investing in 'mobile' service agents to improve customer service. Equipped with handheld devices and bearing names such as Red Coats, YADAs, LineBusters or Experience Agents, these agents are trained to be pro-active, approaching passengers without waiting to be called upon.
Delta Red Coats
Responding to passenger feedback for a more personal touch on the ground, Delta in recent years has revived its service programme known as 'Red Coats'. Considered a kind of super service agent, the Red Coats' primary mission is to fix problems, and their coloured jacket makes them easy to spot for passengers. Delta's agents carry hand-held computers that let them handle an array of customer issues on the spot, such as helping customers make connections, handing out new boarding cards, or providing food vouchers if there is a need. Over 800 agents are currently deployed airside at airports across the US, as well as at Delta's Asia hub at Tokyo Narita.
American Airlines YADA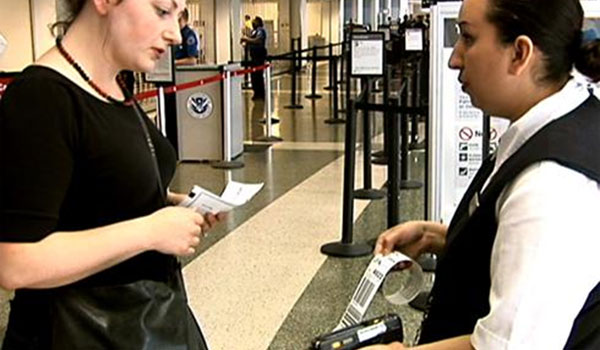 American Airlines in 2009 introduced a program called 'Your Assistance Delivered Anywhere' (YADA) to tackle long lines at check-in counters and self-service kiosks. Equipped with the YADA hand-held device, airport agents can come out from behind the check-in counter to provide real-time information on flights, gates and baggage directly to customers anywhere in the airport.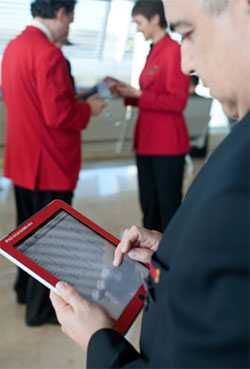 AA agents roam airport departure and arrival halls with the YADA device during peak traffic hours, after cancelled or delayed flights, or when international flights land and passengers need to make a quick connection. YADA-carrying agents can also scan boarding passes, check bags, print bag tags and boarding cards, provide connecting information, and pull up maps of other airports. The device, the size of a large cellphone, is attached to a small printer that hangs from the belt of the airline employee. AA's CIO Monte Ford said: "Our customers are mobile by definition, and when we can equip our employees with real-time mobile technology that enables them to make better decisions on behalf of the customer, we all benefit."
AA also sees the handheld as a revenue-generating tool. YADA agents are also often stationed at security checkpoints to monitor customers who may be carrying on bags that should have been checked. Because the devices also read credit cards, agents can charge a bag fee directly at the boarding gate. YADA has been deployed at nine AA hubs, including New York JFK, Chicago O'Hare and Dallas/Fort Worth.
United LineBusters
United Airlines is equipping United service agents with so-called 'LineBusters' devices. The Motorola MC75A handhelds, which can scan boarding passes and read credit cards, display which customers have been automatically rebooked on another flight after a cancellation or missed connection. Agents in the post-security area then pro-actively approach customers standing in line to determine if they are better off going directly to a kiosk to print a boarding pass, thereby reducing the line and the time spent waiting for information. "So many people just have simple questions that can be answered without waiting in line", said Guy Zalel, Project Manager for Airport Strategy at United. According to Zalel, two agents using the units can clear a line of about 100 people in 20 minutes.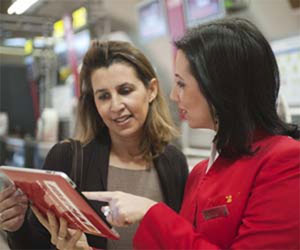 United says the LineBusters are a third line of defence against missed connections; the best-case system delivers the message by cell phone; the first back-up is provided by large screens above the kiosks, but they are sometimes overlooked by anxious travellers. The airline has deployed about 40 of the handheld computers across its five hubs, including Chicago O'Hare, LAX, San Francisco and Washington Dulles.
Iberia IBPad
While the likes of Delta, United and AA have equipped airport staff with more traditional handhelds, the Apple iPad has also made its way to airport customer service. In early 2011, Spanish airline Iberia provided customer service staff at its Madrid-Barajas hub with iPads to provide them with real-time access to information in order to enable them to make better decisions and keep passengers informed. Iberia's so-called IBPad is loaded with 30 different applications, which, according to the airline, together put the entire airport in the palm of the employee's hand. Iberia says the IBPad has improved everyday operations and dealings with customers, boosting communications and staff decision-making autonomy, while eliminating the use of paper.
Changi Experience Agents
On a similar note, so-called Changi Experience Agents (CEAs) have been walking the grounds at Singapore Changi Airport since March 2011, helping passengers with check-in or transit needs, locating missing luggage, and assisting passengers with their onward connections. Each CEA is equipped with an iPad with which they can retrieve information, such as the latest flight updates, store location, and check-in gates.
Although airlines have automated much of the airport process by installing self-service kiosks, provide text message alerts to notify travellers of rescheduled flight times (for example, Air France KLM's Connect service) or have developed smart phone applications to help passengers navigate an unfamiliar airport, advances in handheld devices also allow airlines to improve face-to-face customer service, as well as ensure that the right numbers of staff are in the right place at the right time.
About Raymond Kollau
Founder of independent trend research agency airlinetrends.com, which monitors the global aviation industry for commercial innovations in response to changing consumer behaviour.