In recent years, the uptake of CUPPS (Common Use Passenger Processing Systems) has been more steady than speedy, and while positivity still remains around the initiative, IATA has decided to "leave it to the marketplace to roll out CUPPS as and when it's needed", rather than treating it as a priority to directly enhance the passenger experience.
"In the grand scheme of things, CUPPS is not a priority in terms of airline investment," explained Paul Behan, Head of Passenger Experience, IATA. "Airlines are focusing on making sure that what they deploy has mass-market benefits for the consumer."
This is not to say, however, that the widespread rollout of CUPPS will not materialise. In fact, from West to East, various major airports and airlines are showing their support. For instance, Las Vegas McCarran International Airport has been a keen advocate of CUPPS since its inception, the new Berlin Brandenburg International Airport will be CUPPS compliant, and Incheon International Airport has recently implemented CUPPS alongside Asiana Airlines and Korean Air.
"Our newly deployed CUPPS, called AirCUS, is a faster system and can offer prompt A/S and system troubleshooting support as it's using a locally developed common use system," explained Hyung Jun Kim, Senior Manager, U-Airport Team, Air Marketing Division, Incheon International Airport Corp. "Also, it gives airlines increased work efficiency with optimised customer-oriented functions.
"Using CUPPS, Incheon Airport can manage the possible events in the airport on our own and maximise the overall airport process." Also of importance, he said, is the fact that CUPPS allows the airport to "escape from dependency on expensive commercial IT solutions".
CUPPS progressing in Asia
Elsewhere in Asia, there are notable examples of CUPPS adoption. For example, China TravelSky has participated in the development of the standard for a number of years and Sam Ingalls, Chair of the CUPPS Leadership Team, explained "they are now on the verge of rolling out the platform at airports across China".
"Given the rapid move into the marketplace, the CUPPS Group is just finishing up the CUPPS Implementation Guide, which contains general guidance to airports, airlines and to vendors regarding CUPPS installations, whether in a 'greenfield' situation, or in a move from legacy CUTE to CUPPS," Ingalls said.
Progress is also being made, he said, with regard to the Payment Card Industry Data Security Standards, while another part of CUPPS, Aviation Information Data Exchange (AIDX) – which allows simple, direct communication of flight information into flight information systems by airlines – "is also realising uptake around the world".
Creating a standardised platform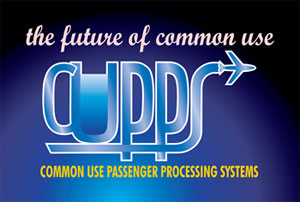 So, if uptake of CUPPS is seemingly on the rise, why is it not being treated as a priority by the IATA Passenger Experience Management Group? Behan explained: "The adoption of CUPPS will happen naturally. It doesn't 'touch' the passenger directly, like initiatives such as Fast Travel or the Checkpoint of the Future. If you take those on their own, they directly touch the passenger, but CUPPS is effectively 'once-removed'."
He continued: "I do think CUPPS will happen, but it's a cyclical thing. If the CUTE system is still working well, airports and airlines will be reluctant to move across to CUPPS. Five years from now though, I would say that CUTE systems will generally be upgraded to CUPPS."
Ingalls leant his support to this theory, explaining that "the industry had to take the step forward at some point in time".
"CUPPS will not be something that is evident out front, just as a building's foundation is not evident or obtrusive to the users of the building," he said. "It will facilitate lower cost peripherals and will support new technologies such as Near Field Communications (NFC) and self-tagging and self-boarding. It also directly supports single queue, multi-carrier functionality, which most legacy CUTE systems never did very well, if at all.
"The biggest benefit," he added, "is that there will be one standardised common use platform, rather than a multiplicity of standards."
While uptake remains steady, even if CUPPS is not necessarily a priority in terms of providing an immediate enhancement to the passenger experience, its eventual widespread adoption appears almost inevitable.