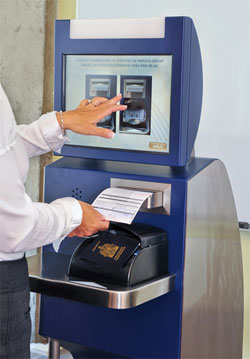 Aéroports de Montréal (ADM) is recognised as one of the pioneers of self-service in North America and further cementing this reputation, the airport authority has just introduced 18 new automated border control (ABC) kiosks and is putting the finishing touches on an innovative video-based passenger tracking solution.
ADM has embraced the concept of the self-service kiosk since as far back as 2004 when it installed seven common-use self-service (CUSS) kiosks. Self-tagging kiosks were introduced in partnership with Westjet earlier this year and on 6 June, the notion of self-service was applied to the Customs process with the introduction of the latest generation kiosks.
"This service is offered to all Canadian citizens returning to Canada and provides the ability to quickly go through the primary Customs inspections using a self-service device," explained James C. Cherry, President and CEO, Aéroports de Montréal. To make use of the service, the passenger simply has to follow the on-screen instructions before proceeding to a designated border services officer who can quickly verify their documents.
Cherry continued: "This new system can process passengers five times faster than the traditional process. Results and feedback have already been excellent since the first few days of operation."
Video-based passenger tracking
Although the ABC kiosks have only been in place for just over a week, ADM is already focusing on finalising its next initiative to enhance the passenger experience. Again, the project is designed to improve the immigration and Customs experience for arriving passengers and involves using a video-based passenger tracking solution to obtain live data on passenger numbers and generate real-time waiting times.
Cherry said: "This system will provide opportunity for better pro-active operational response, facilitate planning, validate the impact of new technologies or new queuing layouts, and will soon provide the opportunity to offer arriving passengers the estimated wait time at Canadian Customs."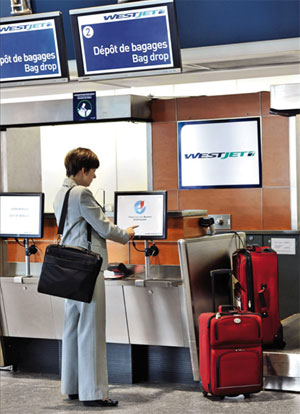 Passengers are already able to view the actual waiting times at security checkpoints via the Montréal-Trudeau Airport website and ADM is also planning to make this information available via its dedicated mobile website, so passengers can check queuing times while they are at the airport. Cherry explained that ADM also plans to apply this queue measurement technology to the US Pre-clearance and baggage collection processes.
Offering choice
Many of these initiatives that have been deployed by ADM rely heavily on self-service and the passenger actively taking control of the journey, but Cherry clarified that the aim is to offer choice, rather than to replace the traditional human-facing approach to air travel.
"Today's passengers want to be more in control of their journey and want to have more choices," he said. "By being able to offer the possibility to customise the process, passengers can utilise the process that best fits their needs and provides them with the best experience.
"The goal of self-service is not to remove the human touch when needed or requested; it is there to offer a fast track alternative to passengers that do not require assistance. Those that need additional support can continue to have access to an agent process, but because this number is becoming smaller, better and more personalised services can then be offered to those that require it."
So, while self-service is being increasingly promoted, it is certainly not something that is being forced upon the passenger. For those that wish to utilise self-service to expedite the airport experience, the option is there, but for those that don't, human-facing agents are always on hand – surely a win-win situation for the passenger.