In a recent analysis of its users' activities, Skyscanner, the metasearch engine of global flight networks, found that the amount of mobile engagement on its site is experiencing strong growth, with 30% of searches coming from the Skyscanner app and mobile web, and as many as half of search sessions in markets such as Singapore and Australia taking place on mobiles. This has led to the prediction that by 2014 more travellers will be searching for their flights from mobile platforms than from desktops.
Travellers' propensity for taking to mobile devices to book and plan journeys – as well as to navigate terminals and occupy themselves during layovers – has seen the rapid adoption of apps by airports in order to enhance the passenger experience.
Amsterdam Airport Schiphol's 'Schiphol App' will, in the next few months, receive its millionth download, while, since its launch in 2010, Singapore Changi Airport's iChangi app experiences over 1.5 million monthly usages by its 1.1 million downloaders.
The success of individual airport apps such as these has prompted industry commentators to ask whether one overarching app for all airports may be the next innovation to emerge in passenger-facing technology.
Steve Lee, Chief Information Officer, Changi Airport Group, commented: "I have heard suggestions for a common app from the technical teams in some airports, but the key impetus to developing such an app would be strong demand from users for it. My personal assessment is that there is no immediate need for such an app yet."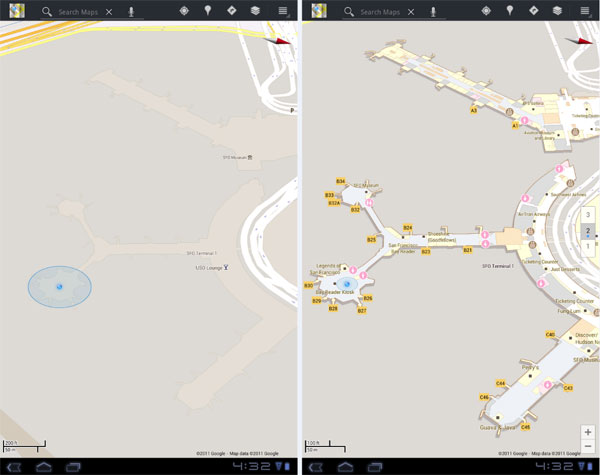 The next step?
Within the burgeoning travel application market, initiatives are beginning to emerge to fulfill the passenger need for information, providing details of flight times, gate changes, and basic wayfinding assistance for many airports in one application.
With an ever-increasing number of locations, the interactive floor plans in Google Maps' 'My Location' feature enables Android users to find their bearings in nearly 50 international airports. IONOS' FlySmart platform combines real-time flight details with terminal maps and concessions listings at a variety of major international hubs, while Gate Guru aims to guide passengers all the way to their plane from their front door.
Petr Otoupal, Product Director for Simple Way, provider of state-of-the-art passenger information systems, designed one of the latest airport apps to infiltrate the market, for Prague Václav Havel Airport. He identified that while start-ups such as FlySmart and Gate Guru do answer to a traveller demand, there are physical difficulties with developing a facility that incorporates every global airport. He said: "There are more, but they have never really gained any traction in the market. The US market has more examples. One of the hidden reasons this concept works better in the US is that if you have data plan in your cellphone in the US it works all over the country – at all the airports, so you access the information in the mobile app everywhere.
"The same thing doesn't typically apply in Europe and other areas. The majority of people have local SIM cards; local data plans and data roaming charges are a nightmare. If you cannot access the internet, you don't have up-to-date data in the app and it loses its purpose."

Competitive challenges
Otoupal explained that any current airport app strives to provide the following: a source of-up-to-date information about flights and services, a tool to improve the customer services level and general travel experience and also as a marketing channel to boost non-commercial revenues at the airport.
Therein lie further challenges confronting the generation of a universal app. Otoupal added: "What we are talking about here is basically the same problem as with airline applications. Why isn't there a comprehensive application for all airlines enabling me to do check in, buy tickets, look up my frequent traveller bonuses and get real-time data from one place? The applications are still used mostly as a marketing tool. In a very similar manner as airlines, airports compete with each other. There aren't that many reasons for them to work together, or to provide all contents to a third party. If you share 'screen space' so to say, with someone else, your promotions will be less effective and the channel becomes less interesting."
Collaboration between air-travel hubs across the globe may be limited without a commercially-appealing incentive for airports to provide a third-party app with the details necessary to the passenger experience. Christa Bakker, Senior Digital Developer for Amsterdam Airport Schiphol's e-Business Department, was responsible for the introduction of the Schiphol App in 2010, as well as the airport's Chinese App, developed in collaboration with Aéroports de Paris in January last year. She said: "I think, because a mobile phone is so personal, people will use the app that suits them the most. I think it will be a big challenge to get all the important information – together with each airport's experience – in one app. We are responsible for offering the best travel experience from home-to-home for our passengers and the user will expect us to provide all the information he needs for his journey."
Meeting a passenger need
With the use of mobile technology becoming so intrinsic the travel process, and the question of whether increasingly mobile-savvy passengers will continue to endure a multiplicity of apps and websites in preparation for one trip, industry experts have speculated that the development of one universal app for all the world's airports to replace the hundreds of individual airport applications may be the next logical step in passenger-facing technologies and enhanced traveller convenience.
Ian Berman is Vice President Business Development of WorldMate, the company behind the WorldMate travel itinerary building app that has become the most popular travel app in the world. He said: "On any given trip, a person isn't going to download one app for his airline, a second for his hotel, a third for his car rental agency, and then a fourth and fifth for his departure/destination airports, let alone do that for each and every trip.  Only independent apps, which take a holistic view of the trip, will win out."
Though the result would be advantageous to the airport-passenger relationship, it seems that the development of an app that has flight and terminal information on airports from Aalborg to Zurich all in one place is faced by a number of challenges. But, that does not mean that one may not eventually come to fruition. Berman added: "The early winners will be the first to have a critical mass of airports covered plus a critical mass of content for each of the airports, plus a viable economic model."
As with every development in an industry that has the passenger at its heart, if there is enough consumer demand for a universal airport app, the need will almost certainly be met.
Do you think that one app for all airports is something that will develop as passenger-facing technologies progress? Leave a comment and let FTE know your thoughts.